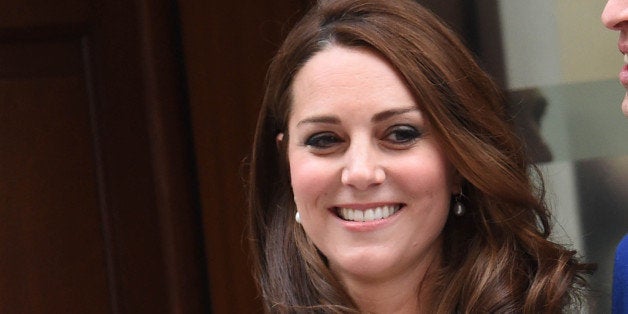 We had a big week for glamorous women.
We all sighed and cheered when Princess Kate gave birth and looked beautiful as she carried her newborn girl from the hospital to the car to be taken to her country home to recuperate with her family. All the world loves a princess.
Then we all went to the Met Ball with, among others, arguably three of the most glamorous and famous women in entertainment -- Kim Kardashian, Beyoncé and Jennifer Lopez. There wasn't much to their dresses -- they seemed to be held together by beads, netting and magic -- and they looked gorgeous. As they should. They are celebrities.
These women -- Princess Kate and the Hollywood threesome -- are confident, with style, beauty and money to burn. They work it. They use their assets -- whether bestowed upon them by the royal family or by the luck of genetics or the hand of God -- to make their lives better, make a lot of money, get a lot of attention. They are, whatever your opinions of what they do (or don't do) very successful. Personally I am not a big fan of Kim Kardashian; I have never watched her show, but I respect the fact that she has made something out of, let's face it, nothing. Wouldn't we all like to make money just because we exist?
Why is it wrong for women to use their beauty to find fame and fortune? What is wrong with taking your best attributes and making them work for you? No one talks about Hillary Clinton or Meg Whitman or Oprah and says, "She's using her brain to make money and it's wrong." Their intellect and business sense are, among other things, what those women have that's valuable. So what's wrong with women who choose to use their beauty, their bodies, their faces -- and their brains, it must be said -- to make their mark on the world?
Many people were criticizing the dresses worn by Kim, Bey and J.Lo at the Met Ball because they were too revealing. And I suppose they were a bit much. But that's the point of the Met Ball. It's a place to go over-the-top because it's all about fashion. It's not an awards show or a state dinner -- it's an event honoring the history and beauty of fashion. In a different time and place, miniskirts were considered obscene. See how that works? What seems revealing and inappropriate today may very well someday day be quaint.
Even Helen Mirren wore a dress with a see-through bodice. And no one wants to criticize Helen Mirren because, well, she's Helen Mirren.
There were some who thought it was wrong that these women were dressed in such revealing clothes and escorted by men in tuxedos -- fully covered up and showing off their women. You know what I think? I think the women enjoyed looking fantastic in their custom dresses that were designed for their bodies, which they obviously work extremely hard to keep fit and beautiful. This is their stock in trade -- it's what they do. Just as Meg Whitman uses her education and intellect to run Hewlett Packard, Beyoncé uses her beauty and her talent (and, I'm sure, her substantial smarts) to be one of the most powerful and admired women in Hollywood.
We need to let women excel and succeed in whatever way they can or want to. While some women have intellect and education to make their way in the world, others have beauty and talent. And there are a lucky few who have it all.
As for Princess Kate -- she did look incredible for having just given birth. Some people complained that she was making them feel bad about their own post-baby photos and bodies. Well, that's just how it is when you're a princess. Looking good is part of the job.
Calling all HuffPost superfans!
Sign up for membership to become a founding member and help shape HuffPost's next chapter