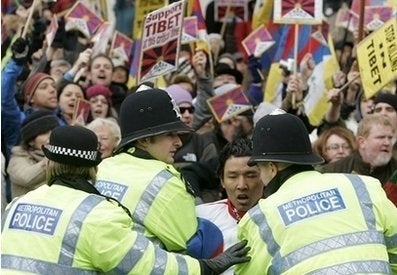 While the world was awash in money, no two Western cities benefited more from the spending spree than London and New York. Mayfair, like Madison Avenue, glistens with high gloss shops, where designer labels and diamond dealers now outnumber discreet men's tailors. A little more than a decade ago, it was tough to find a good restaurant in Knightsbridge; today some foodies swear they can dine better in London than in Paris. The boom, of course, was fueled by the City's success as a financial capital. First came the investment bankers (and their families) from across America and Europe. They brought customs that shook up British traditions like extravagant benefit parties and a penchant for manicures and blow-drys. At the time of the American invasion that included Madonna and Gwyneth Paltrow moving to town, a British friend remarked with a sneer, "You can spot the American women before they speak because they are so polished." Investors from Russia, Dubai, China and India soon followed, snapping up property with such gusto that prices were going up 25 percent a year in central London. Trendy restaurants, glamorous art galleries and beauty salons providing that polished look moved in with them. Many longtime Londoners found the rising costs of living so outrageous that they decamped full-time to the country.

So maybe it shouldn't be shocking to discover that the English response to the financial meltdown is different from the American one. In New York for the past few weeks, the press and the people have been full of panic. There's no other word for it. Forget nouveau riche. Everyone is nouveau pauvre and paralyzed by the shock of it. Will the city return to what it was like in the '70s? How long will the hard times last? Will my 401(k) go to zero? Who is going to go bust next? Is this the Next Depression, a Deep Recession or just Greatly Reduced Circumstances? These are the worries relentlessly pondered.

Last week in London, I noticed something else. There is not the terror, though the stores on Sloane Street are as uninhabited as those in New York and the property prices maybe falling even more quickly. (One friend reported hearing that a quarter of all property agents were to be laid off and another that a posh grade school had had more than ten percent of its pupils withdrawn since September.) Despite their ancestors' experience with war-time thrift, the average Brit may be deeper in debt than their American cousin. According to the New York Times, "Britons now owe, on average, 180 percent of their disposable income." But it wasn't a stiff upper lip I witnessed, rather a sense of relief. As London-based Times correspondent Sarah Lyall wrote, "perhaps the downturn, however difficult, will usher in a return to that elusive concept, traditional British values." India Knight in the Times of London put it even more bluntly, "I am happy to observe that the decades of vulgar excess are finally over. It's like a huge national reality check." And a few weeks back in the Daily Telegraph, A.N. Wilson speculated that the primary value that will reascend is austerity. "We should not underestimate the pleasure that discomfort brings to the British," he wrote. "All their 'finest hours' and 'happy memories' tend to be of wars, family holidays on rainswept Welsh beaches or periods at boarding school -- experiences that would be expected to reduce human beings to despair. Austerity cheers us up. Already we look back on the past twenty years with disgust -- the wastefulness of it seems nauseating. There will be positive pleasure in the cold mornings, before we don our darned and mended garments and eat our austere meals. All the things one hates -- air travel, 'abroad', new cars, new clothes and the company of the rich -- are now things of the past." The English are going to go back to their old ways of understatement, discretion and thrift.

So while most Americans are mourning their losses in a stupor, the British will embrace austerity with national pride -- and a bit of prejudice. For "affluenza," which is the term that was coined by British psychiatrist Oliver James to describe the fever of spending that gripped the country, seems to be a disease that was foreign. Whether you argue that others were responsible for bringing excess and all of its consequences to Britain or that excessive behavior just never fit the true British personality, now it is being banished in all of its forms. Which made it all the more fitting that last week Madonna and Guy Ritchie announced their separation. The original Material Girl is going back across the Pond. As always, she has impeccable timing.