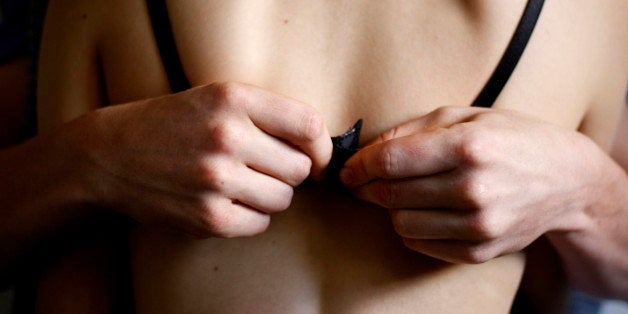 In my post-divorce dating life, I've made a magical transformation from the jealous, love-sick, relationship-addict I once was, into that really cool girl who rarely gets her feathers ruffled. I'm cool with open relationships, undefined relationships, and friends-with-benefits arrangements. I don't need a man to commit to being exclusive, and in fact, I prefer that he doesn't so that I can continue enjoying my freedom... and my glorious nights of sleep sans snoring. On first dates, I boast about how I don't get jealous, how I don't get attached to men the way I used to, how happy I am just being me, and all sorts of cool-girl jabber that makes men go, "Wow, she's different from all the rest."
Or perhaps they're thinking, "I can take her to bed and I don't even have to text her the next day? Sweet!"
And yes, I am essentially telling them that they can do just that, and it's all cool because I'm the cool girl who doesn't get upset about anything!
Well, let's just back it up a bit. As calm and collected as I may be in matters of dating, I'm still human. I still care deeply about the man friends with whom I share "benefits." I respect them and would never want to hurt them. But the problem, I'm finding, with being the ever-desirable Cool Girl, is that I end up getting hurt quite a bit because I have given the men in my life the impression that anything goes.
Boys, sorry to break it to you, but I do have my limits, and those limits have been seriously tested in the last year.
In no particular order, I'd like to share four cautionary dating tales* which illustrate why being the cool girl perhaps isn't so cool after all.
*Names and certain identifying details have been changed in the following stories to preserve anonymity.
1. The man with whom Jane has been in an undefined relationship for a couple of years -- let's call him Dick just for the sake of this story -- suddenly emails Jane to tell her that his child was born last night. This is exactly seven days after Jane spent a lovely week at Dick's house, both as his close friend and a bit more. During said week, there was no mention of an impending baby. Or of the mother of that baby. Not a bib or a onesie in sight. But Jane's a cool chick who can overlook the fact that Dick spent multiple nights in her company without mentioning the imminent birth of his child, right?
2. Jane spends a week with a man who falls into the friends-with-benefits category -- let's call him Dick just for the sake of the narrative. Dick spoils Jane with massages, chocolate, and mind-blowing orgasms, only to leave her bed for a yoga retreat where he falls for a girl who might be "the one." With only two days of side-by-side down dogs under their belts, they are entering into a bi-coastal long-distance relationship. Jane thinks about how Dick has reiterated at least five times in recent months that he doesn't see a future with her, but that he still loves her (and her bed). Granted, Jane doesn't see a future with him either, but considering they were just intimate a few days ago and now he's suddenly floating into her house on a yoga love cloud, Jane does feel that this transition has been rather abrupt. When Dick showers in Jane's bathtub, steals her towel, and jets out of her house to sleep on a cot in his office, Jane wonders if perhaps she is playing this a little too cool.
3. A sexy cowboy with whom Jane spent two spectacular nights last year -- let's call him Dick just for the sake of... well, you know -- reappears unexpectedly at a friend's party. Jane remembers how Dick never texted last year except for when he swooped into town and needed a booty call. And yet, when Jane spots him at the party looking like a replica of Bradley Cooper, she is powerless to his charms, and she spends a third spectacular night in his arms. She knows Dick is not going to text her after he leaves town the next day. And she's totally cool with it. Until he actually leaves town and doesn't text her the next day, or the day after that...
4. A dashing surgeon who Jane met on a flight to Paris -- let's call him Dick just for the sake of patient/doctor confidentiality -- turns out to be the best flight buddy Jane has ever had. Dick and Jane talk for hours, and when the lights go down, Dick kisses Jane on the plane! Just as Jane thinks this flight is taking her straight to heaven, Dick asks her to join him in the bathroom for the mile high club. Even though Jane is a super cool chick, she tells Dick that she doesn't usually go mile high on the first flight. In fact, she never plans to go mile high in a cramped, smelly bathroom in coach. Dick is so intrigued by Jane's chill attitude on relationships (namely that she's not going to ask him to be in one) that he asks her out for a drink in the City of Love. Two glasses in, Dick tells Jane that he can't invite her over to his apartment because his "ex" girlfriend still has a key, she still has "some" of her belongings at his place, and she still sleeps there "sometimes." As an alternative, Dick invites Jane to his friend's empty AirBnB apartment for a clandestine meet-up where he hopes she will sleep with him in the one hour he has free before he rushes off to dinner with "friends." It's cool, right?
No, Dick, it's not cool. Jane can only take so much jackassery before she realizes that perhaps it's time to throw Cool Girl out the plane window and take a new approach to dating. Granted, she doesn't yet have a clue what that approach will be, but she knows one thing: she values herself too much to play the Cool Girl any longer.