My dream destinations tend to be far flung and exotic, which doesn't always bode well for a week away during our son's spring or fall break. This year, we decided to investigate a closer option that turned out to be just as alluring as our explorations in Thailand and Vietnam, but less than three hours away. My husband, Mitch, son Luke and I hadn't yet explored Central America, and the little country of Belize – with its mysterious jungles and beautiful barrier reef – caught our eye. After a short flight, we could explore under the sea, trek through caves and zip line through the palm trees.
Welcome to the Jungle
After an easy direct flight from Atlanta, we rented a car from Belize City and drove inland about 90 minutes to the Cayo district. We arrived at the Belize Jungle Dome, aptly named, and met our host family, Andy and Simone Hunt and their boys Aidan, 11, and Lucas, 14. Fleeing the London city life more than 15 years before, they adventurously bought this small hotel alongside the Belize river and chose a simpler life of homeschooling their boys in the remote and rustic countryside.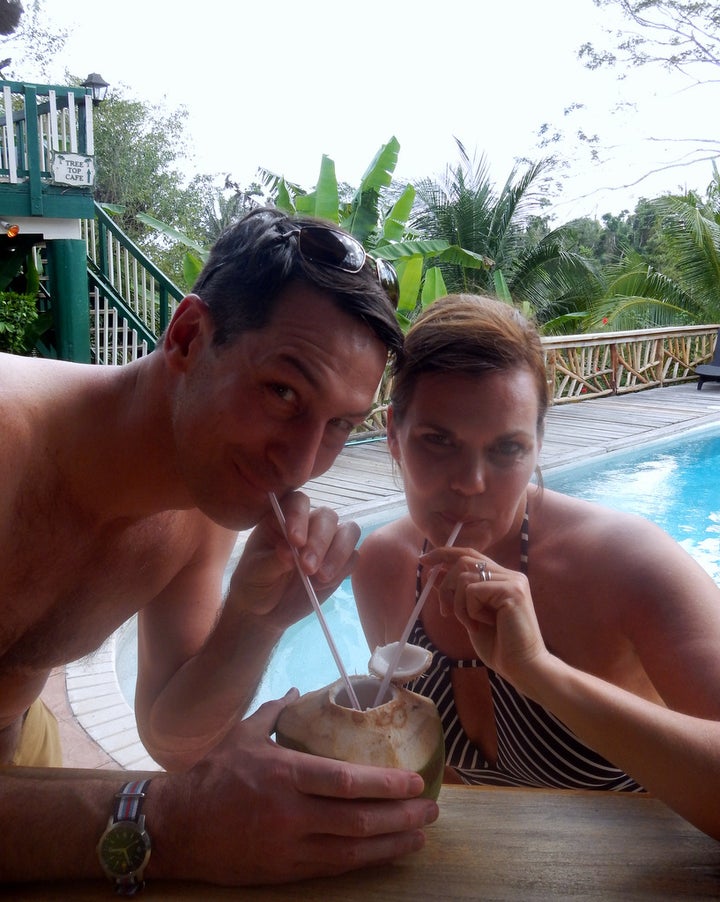 They arranged fantastic excursions for us, our favorite being the famous ATM temple cave. I've never experienced anything quite so intense! We hiked through the jungle for 30 minutes, swimming and walking through the river multiple times. Once we reached the mouth of the mountain cave, we jumped into a refreshing, blue pool of water 15-feet deep and swam straight into darkness. From there, we climbed rocks, swam through dark, narrow openings that I felt sure Mitch would get stuck in, and finally reached the back of the cave where our guide revealed pottery remains and skeletons that suggested religious rituals dating back to 700 AD. It was a full day of intense physical activity and interesting history…an amazing opener to our Belize experience.
The next day we had a much tamer morning, zip lining through the treetops and tubing through quieter caves at a much more relaxed pace. Our afternoons and evenings were spent relaxing at the Jungle Dome, where Luke joined the other boys jumping off overhanging trees into the rushing river below. The rustic resort is truly a paradise for adventurous and playful kids, and I watched along the riverbank with a coconut cocktail in hand.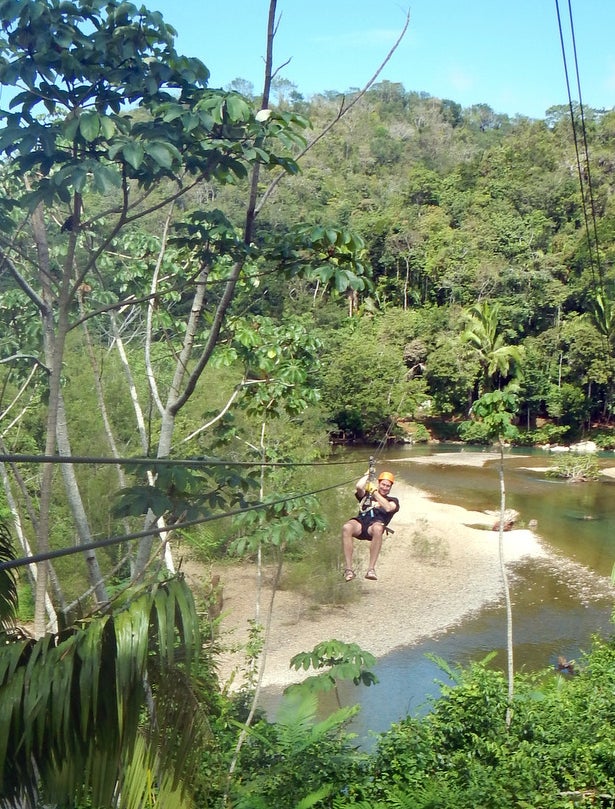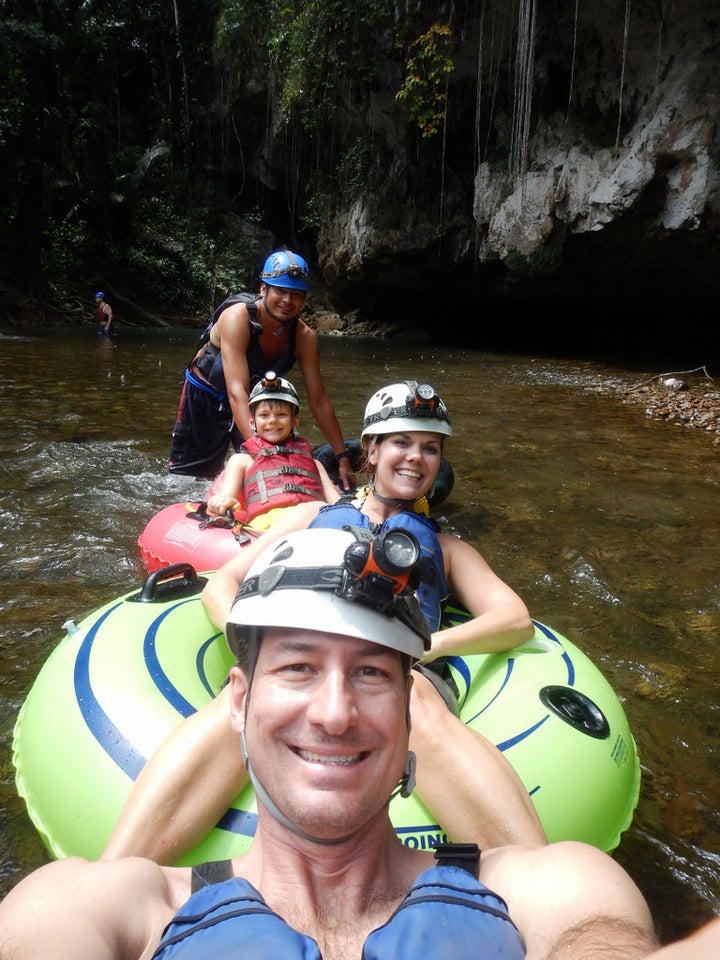 Under the Sea
The second half of our week was spent on Ambergris Caye, one of the barrier islands off the coast within view of the breaking waves of the barrier reef. We opted for the local passenger ferry ride from the mainland and stayed at a budget boutique hotel with a beautiful oceanfront view, Caribbean Villas. The highlight of the accommodations was the 20-foot slide straight into the ocean!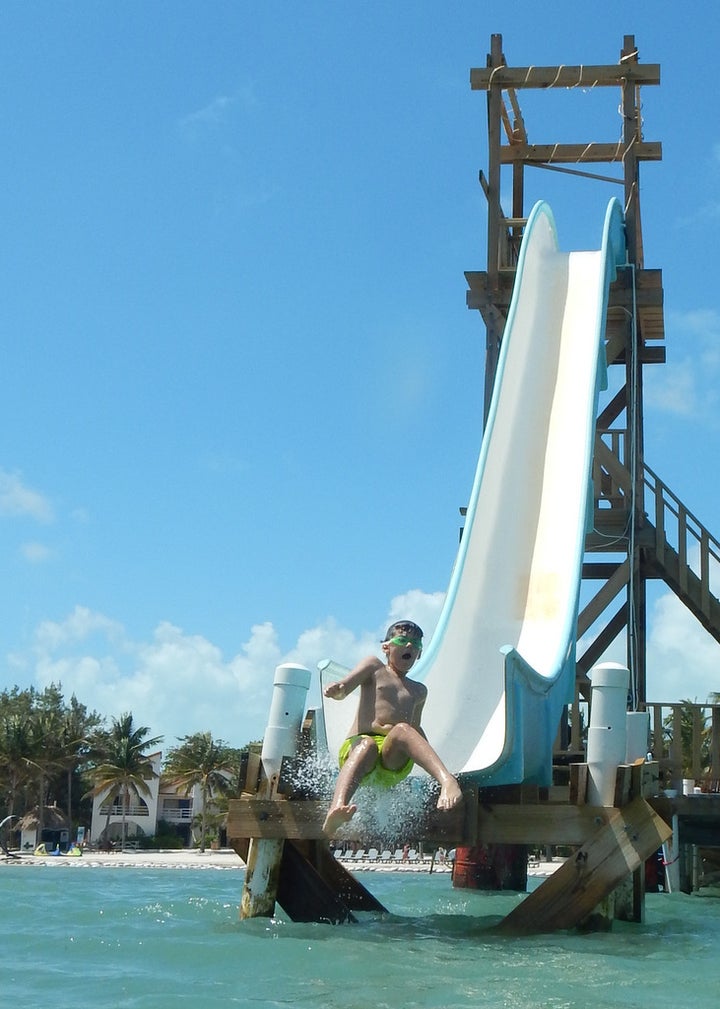 Each morning we were picked up off our pier and whisked off to a dive shop for snorkeling and diving expeditions. My favorite spot was Mexico Rocks, but we all loved Coral Gardens and swimming with the sharks and rays at Shark Ray Alley. Mitch dedicated an entire day to diving the famous Blue Hole, a 410-foot sinkhole in the middle of the ocean discovered by Jacques Cousteau, filled with stalactites and bragging rights.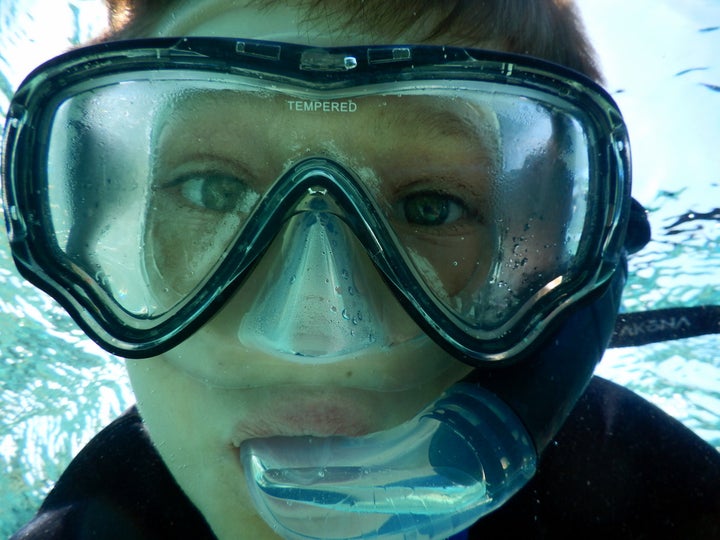 Flip Flops and Local Spots
The main town of San Pedro on Ambergris is a bit gritty but gave us the local vibe we are always seeking, preferring to find the best hole-in-the-wall restaurants and street food instead of being enclosed behind resort walls. Some of our favorites included Neri's Tacos, Wild Mangos and Two Tree Banh Mi. Luke gained celebrity status around the island after being asked to participate in the locally-renowned "chicken drop" at Caliente beachside bar. On Thursday nights, bets are placed on a Bingo-like patio floor where a local bird is placed and cheered on until he relieves himself on one of the numbers as the DJ spins thumping tunes. Luke was asked to be the chicken assistant who firmly holds the birds and (gently) spins them around before placing them on the board. He worked the crowd with his antics and wild grin as he clutched the chickens, three of them in total, before watching them work. It was all good, clean fun and Luke was recognized around town the rest of the week as "chicken drop boy!"
We were all relaxed and in good spirits when we boarded the ferry and headed back to the mainland for our flight home. To find another place that is full of adventure and beauty without a sterilized tourist whitewash – just three hours away – was good for my soul. We don't have to fly halfway around the world for an authentic experience, and we will be back soon to Belize.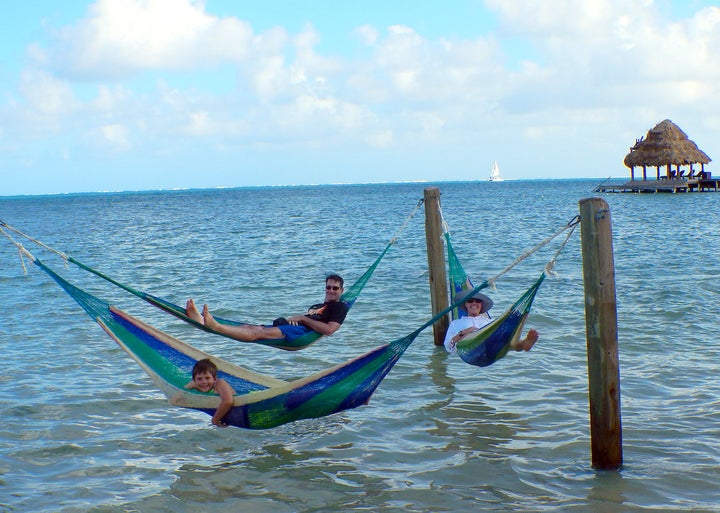 Popular in the Community