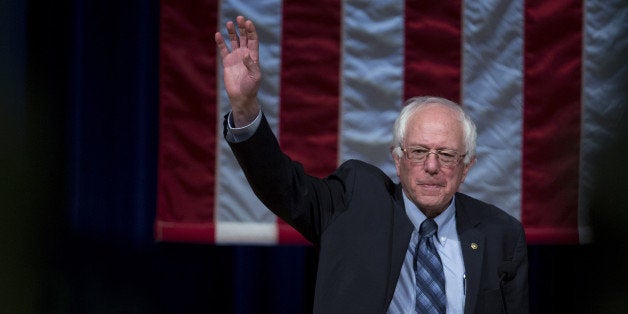 We are less than a month away from the Iowa caucus, where the fate of the Democratic Primary will essentially be decided. Senator Bernie Sanders (I-Vt.) has a commanding lead in New Hampshire, which has a primary just over a week after Iowa's caucus, and he is still close enough in Iowa to make the Clinton camp sweat just a bit.
For Sanders to have any real shot at winning the Democratic primary with his national poll numbers so far behind, he will need victories in both states. Even then, there is no telling if the momentum gathered from those victories will be enough to neutralize Clinton's super-delegate advantage, as well as her lead in the polls.
Simply put, and coming from one of the most die-hard Sanders supporters you'll find, Bernie Sanders is probably not going to be the Democratic nominee for president of the United States. The Party, led by former chair of Hillary's 2008 campaign Debbie Wasserman Schultz (in a conflict of interest so blatant it's amazing there isn't more outrage about it), anointed Clinton long before Sanders even entered the race. By scheduling their laughably few debates on nights designed to draw the lowest possible ratings, they cut Sanders's exposure and safeguarded their candidate from any possible missteps she might have made (like her bizarre, Family Guy-esque use of 9/11 to defend her ties to Wall Street).
But Bernie Sanders is like Obi-Wan Kenobi: if they strike him down, he shall become more powerful than the Democratic establishment could possibly imagine. The common narrative is that Sanders's support is strong among liberal white men, and weak among minorities and women. While this in general is likely to hold true, among one specific demographic, it falls flat.
I'm talking about millennials. My generation.
Every single god-damn one of us supports Bernie Sanders. Don't take it from me, the straight-white-male: my black friends, my gay and lesbian friends, my Hispanic friends, my female friends, even my formerly-non-political friends. And they will all tell you the same thing about their own friends.
We're all feeling the Bern.
As I said, I am not under the delusion that my life's echo-chamber of Sanders supporters means he will win the nomination. I may be young, but I've been following politics religiously since I was fifteen. I know how the game works, how it's rigged. Bernie Sanders will probably lose the Democratic primary.
But if the primary is a single (albeit important) battle in the war for a progressive America, then, well, Bernie Sanders has already won that war.
What does it mean that the youngest generation is so unified in our political choice?
It means that we can see the future, and the future is Bernie Sanders, if not the man, then the idea. It means that while our parents and grandparents may complain that "America will never be a socialist state," the fact is that someday they'll all be dead, and the ones taking their place aren't so afraid of socialism.
It means that down the line, healthcare will become a right of everyone. It means that eventually, the wealthiest Americans will be forced to pay their fair share to ensure that every single American is afforded a standard of living befitting of the self-proclaimed "Greatest Nation in the World."
It means that America's next generation has said no to the myths of capitalism and American exceptionalism. That the old ways of doing business, the ways that the Gen-Xers and the Baby Boomers used to utterly trash the economy, the environment, and the geopolitical scene, will be rejected.
So while conservatives and certain elements among Clinton's supporters may snigger at the "lazy Millennials" who just want free stuff, they'd do well to remember that we'll live longer than them. Their time as the agenda-setters will someday be over.
Bernie Sanders, with his fiery passion and appeal to the better angels of our nature, has awakened something among the disenchanted members of the youngest voting generation that will endure long after this presidential primary season.
The old guard, the members of the establishment, and moderates and conservatives alike should tremble.
They will probably win this battle, but they've already lost the war.
Popular in the Community