Bill Nye is positively gushing about the recent discovery of liquid water on Mars--not so much about the water itself but about what its presence means for the chances that the red planet harbors life.
"With salty water flowing every Martian year, it is very reasonable that there is something alive there, or still alive from when Mars was a very wet world," America's beloved "Science Guy" told The Huffington Post in an email. "If we were to discover evidence of ancient life, or stranger still, something living there now, some sort of Martian microbe, or 'marscrobe,' it would change the way every one of us feels about being alive, about being a living thing in the cosmos."
(Story continues below image.)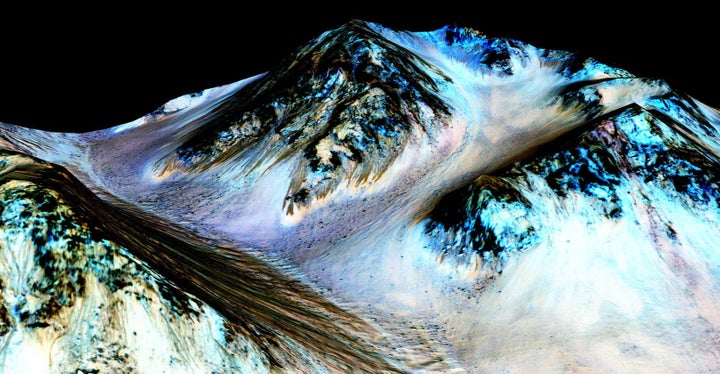 But evidence for the presence of liquid water--essential for life as we know it--was confirmed only on Sept. 28, 2015. That's when NASA held a press briefing to announce the results of new research showing that mysterious dark streaks seen on the sloping sides of certain craters on the Martian surface are evidence of flowing water.
"But if we do find living marscrobes," Nye, CEO of The Planetary Society, wondered in the email, "do they have DNA like us? Or is it a completely different type of life?"
To answer questions like those, NASA might need to send astronauts to Mars for an up-close look, according to Time. In any case, Nye continued, "It is certainly worth 0.036 percent of the federal budget to investigate," a reference to the tiny portion of the budget devoted to planetary exploration.
Also on HuffPost Science:
Calling all HuffPost superfans!
Sign up for membership to become a founding member and help shape HuffPost's next chapter