I don't know where to even start, as I sit, watch, feel. I observe, consume, and admire in awe and wonder at what just happened before me.
When I write I normally have a series of randomly placed words on a list, that have over time fallen out of my brain, through my fingertips, and landed here... on screen. This time my list is so long, with names, feelings, observations, hashtags, quotes, song lyrics, and snaps.
I just finished watching Black Girls Rock, a stunning and beautiful celebration of Black women and #BlackGirlMagic.
In a time when it takes a Black woman being wrongfully arrested and mysteriously found dead in her cell to sustain a news cycle... in a age when Black women (and men) are found to be "least desirable" for dating... in a day when being proud of, excited about, and flaunting one's blackness is considered threatening, racist, or anti... I beamed, glowed, and all but wept (ok, yes, I cried too). I reveled in the beauty of the moment we annually celebrate Black women in all of their glory, their talent, their strength, and their beauty.

#REPRESENTATIONMATTERS
This celebration brings women of all shapes, hues, styles, capabilities, and backgrounds that all wear the badge of honor "Black." It made me think back to a moment I had just a few months ago, thinking about my little sister.
It was the night of The Wiz Live! on NBC, Twitter was ablaze with responses of pride in the beautiful Black images and sounds that had just gone out around the world for millions to see. One tweet knocked a pause in me.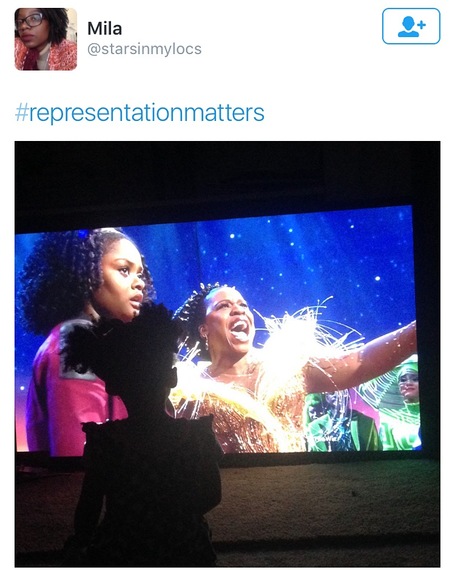 Unable to feel anything less than full already, I saw this little Black girl, watching this older Black girl, Shanice Williams, have her shining moment, and I couldn't help but wonder what seed had just been planted in her mind.
"I want to sing like her."
"I want to dance like her."
"She's so pretty and she looks like me."
Watching Black Girls Rock, I had the same pause watching Jazmine Sullivan. Jazmine, in all of her talented, beautiful gloriousness performed the profound song Masterpiece from her latest album Reality Show. The song opens with the following:
My eyes ain't used to these rays
I'm feeling exposed, but I can't hide no more
I can't hide
As the sun shines on all of my glory
My flaws don't look so bad at all
What was I so afraid of?

Every part of me is a vision of a portrait
Of Mona, of Mona Lisa
Every part of me is beautiful
And I finally see I'm a work of art
A masterpiece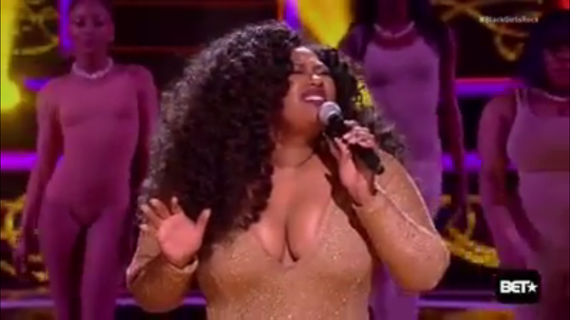 At the end of the song, as Jazmine sings "every part of me is beautiful" the face of young Marsai Martin comes on-screen. She's gazing up at Jazmine, with a subtle knowing nod, as she declares "I'm a work of art, a masterpiece."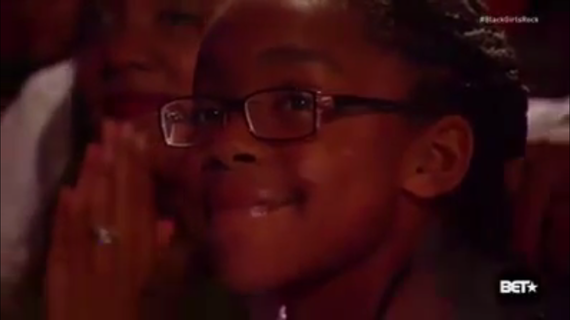 Marsai is better known as "Diane Johnson" on ABC's hit show black-ish. She's one of the funniest children on television and feels like the little sister you dream of and dread, because she's about 10, but easily smarter than you.
As she stared up at Jazmine, I couldn't help but wonder what she thought as she nodded in affirmation, what seeds were just planted in her mind, what fruit they would bear:
"I'm beautiful, like her."
"I'm special like she is."
"What can I achieve like these women."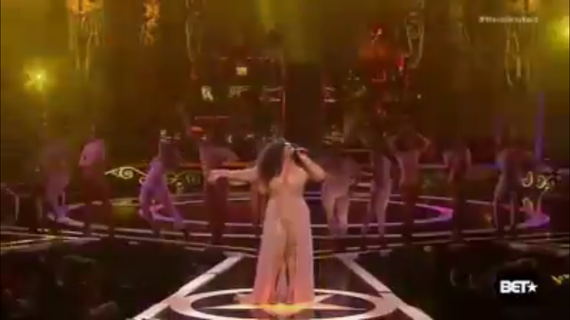 THIS (BLACK) WOMAN'S WORTH
There's so much to say, to write, to think and to feel about Black Girls Rock - even for me as a man - that it's hard to choose where to begin, and where to end. I think the founder of Black Girls Rock, Inc., Beverly Bond, said it best when explaining the need for a space like this to honor our Black sisters in all of their Rock-ing:
"10 years ago I started Black Girls Rock to showcase the value, diversity, and complexity of Black women and to challenge the narrow, degrading, and often stereotypical narratives in media that were so prevalent at the time. Today, Black Girl Magic is in full effect. This message of Black Girls Rock-ing has grown exponentially over the past 10 years and has had a tremendous impact in forging a paradigm shift regarding the ways that Black women are depicted and viewed. But there's still a systemic devaluation of Black women and girls in our society.

"Our safety is still compromised, our bodies are still victimized, objectified, and commodified. Our narratives are still being pushed in the margins. And there still continues to be a lack of diversity in mainstream media. Black girls still have to grow up with pervasive and paradoxical messages that say that our Black is not beautiful, but our features can be bought and sold to enhance the beauty of other women.

"When Black girl swag and the Black girl aesthetic are only dope without the Black girl, but it skyrockets in value and it's put on a pedestal when it's appropriated, purchased, and placed on other bodies our girls internalize this to mean that they are less beautiful, and less important, and less valuable, and less lovable therefore less worth defending and safeguarding. When Black girls and women are abused and violated, assaulted and molested, or go missing at alarming rates and there's minimal media attention around their stories, it sends the message to the world that Black girls' lives do not matter. But we do matter, our presence matters, our voices matter, our complexity matters, our vulnerability, our resilience, our strength, our safety, all that we are matters."
...

To all the Black girls all over the world, own your magic, walk in your purpose, and rock your truth.
Finally, I try to make a decided effort not to objectify women, not to address women as just beautiful, but as talented, of great value, diversely necessary for our collective greatness. Now, with that said, I think in this space it's immeasurably important to honor the beauty of the Black woman also. We don't celebrate your beauty often enough - in addition to all that you bring beyond your physicality, provide to the world, and simply are.
To all of the women honored this year, and the Black girls whose names we may never know: We're all watching, cheering, believing in and championing you on. You're beautiful. You're magic. You're a masterpiece.
Black Girls Rock will re-air on BET Thursday, Apr 7th at 8PM & Monday, Apr 11th at 8:30PM, and finally on Centric, Saturday, April 16th at 4PM.
Watch Jazmine Sullivan's above-mentioned performance of Masterpiece.
Popular in the Community