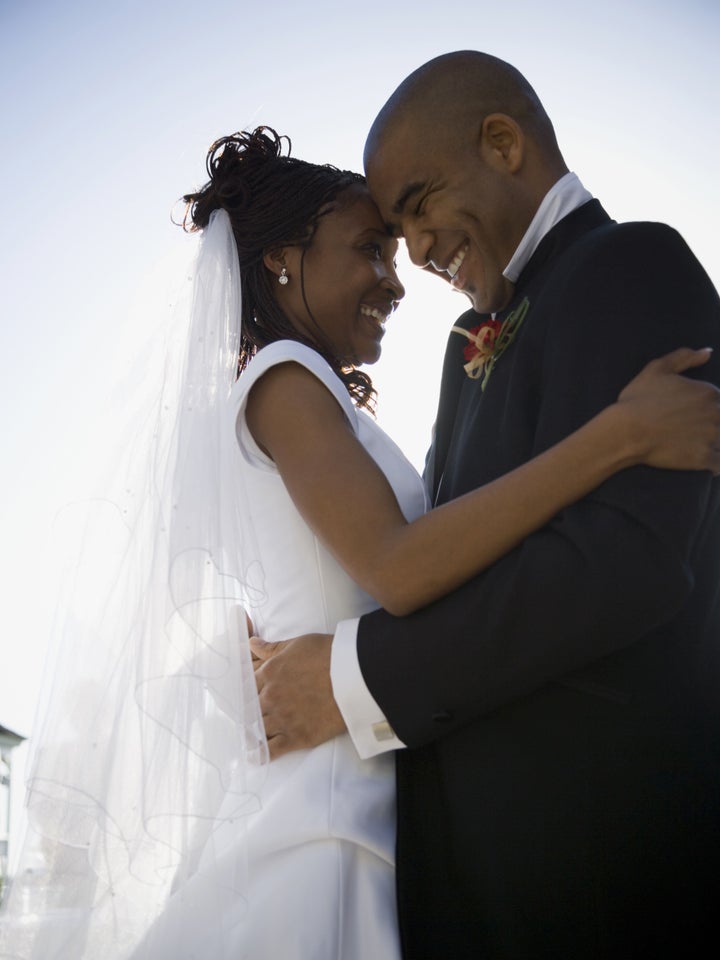 Over ten years ago, Muhammad, a journalist raising her own five children, went searching for answers to the problems plaguing the African-American community. She found her way to a Smart Marriages conference, and left "mesmerized" by all the information available about the benefits of marriage.
"Black married people make more money, their kids do better in school, marriage rescues blacks from poverty, their kids are less likely to go to jail, become teen parents and get divorced," Muhammad says. "I started thinking, does anyone in the black community know this stuff?"
She asked around and nobody did. Even among the well-educated. She couldn't find anyone promoting marriage within the black community either.
Mainstream cultural cues mostly excluded blacks. No black Bachelors or Bachelorettes. Muhammad thought "27 Dresses" was a cute movie, but notes that the average black woman doesn't have 27 married friends, much less has attended 27 weddings. When Muhammad spoke at Morehouse College, a distinguished all-male black college in Atlanta, Georgia, she asked the young men in the audience to name a song where a black man says "I love you" to a woman in the lyrics.
"They look baffled," she says. "They couldn't name one song. College students being nursed on music that offers sex without responsibility."
Relationship stories in the black community typically center on "somebody did me wrong" or "woe is me," she points out.
When Muhammad couldn't find anyone offering portraits of healthy marriages, she took on the task herself. "Our silence co-signs a lot of negative behavior. We say it's not me, but then it becomes you. That bothered me."
So she founded Black Marriage Day in order to shine a national spotlight on all the positives. Stories of black couples married 50, 60, 70 years. Relationship workshops, celebratory dinners, vow renewal ceremonies, inductions into a Black Marriage Day Hall of Fame. She praises President Obama's example of regular date nights with the First Lady.
Her philosophy focuses on building communities that embrace the concept of "wedded bliss." A few years ago, one Dallas community organization asked black couples their secret to marriage and curated an exhibit that traveled throughout the city, from City Hall to museums to the airport.
"When marriages succeed, communities thrive," Muhammad explains. "It is to the community's benefit that marriages are successful." In those communities, she says, marriage goes hand in hand with lower crime, increased property values and better schools.
Still, though, the task of fostering marriage as the norm within the black community remains an uphill - and delicate - challenge.
"We are the poster child for single moms, and in the black community, single mothers are glorified. We don't want to criticize or disrespect the awesome work single moms do." Yet, at the same time, marriage remains critical to the economic and social vitality of the black community. Some experts suggest the correlation between poverty and the African-American community and its progeny -- and the crucial broken link i.e. family structure i.e. marriage -- has been known for decades and widely dismissed by law and policymakers.
The first time I met with Nisa I asked her how the first Black Marriage Day got started. She laughed, and then proceeded to tell me. When I spoke with her by telephone again a few weeks ago, I asked her to relate the story again. I knew what it was; I just wanted to hear it one more time.
She'd spoken at a conference, and made an off-hand comment that someone ought to start a black marriage celebration. Someone from Essence magazine just happened to be in the audience, and called her later to follow-up.
"Tell you more about what?" Nisa asked the reporter, confused.
"What's the date for Black Marriage Day?" the reporter asked. Nisa told the woman she'd call her right back, hung up, then looked at the calendar. January, February and April-June were out -- New Year's, Black History Month, Easter, Mother's Day, Father's Day. March was empty.
"So I called her back and I said 'Black Marriage Day is celebrated on the fourth Sunday of March," Nisa told me.
In 2003, Black Marriage Day launched in 30 cities. Today that number has risen to over 300. This year the celebration will take place on March 25.