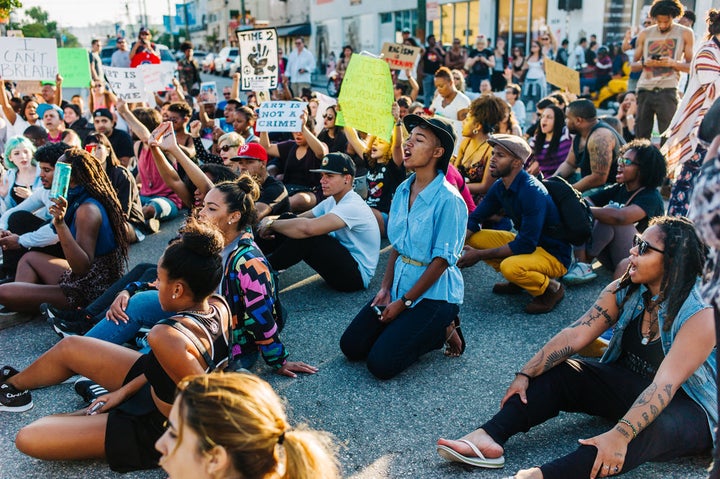 "Confronting chronic emotional pain in Black life is the terrain of political resistance we must now explore, the new revolutionary frontier—" -bell hooks
Black psychologists, psychiatrists, social workers and therapists are essential to the work of Black healing. But they alone are not enough. In addition to licensed mental health professionals, we need more Black people who have a baseline understanding of mental health: more Black teachers who are trauma informed, more Pastors who can support those living with depression, and more Black activists who organize to challenge traditional mental health systems. This is a part of the reason I created BEAM (The Black Emotional and Mental Health Collective).
BEAM is an organization whose vision is to "create a world where there are no barriers to Black healing." One way that BEAM works to achieve this vision is by teaching mental health literacy in Black communities. Mental health literacy was created in 1997 by researcher Anthony Jorm. It is defined as "knowledge and beliefs about mental disorders which aid their recognition, management or prevention." There has been little research on mental health literacy in Black communities, but the research that has been conducted reported lower levels of literacy amongst African Americans than those of whites [1].
For BEAM, mental health literacy means we need folks in all sectors of our communities to understand what depression, schizophrenia, or anxiety can look like, and what they can do to support others and themselves. With that understanding comes less stigma and fear, and as research shows [2], an increased likelihood to refer others to services and/or engage in help-seeking behaviors.
However, BEAM realized that we could not in good confidence teach Black folks about mental health, without addressing the legacy of harm inflicted on Black bodies historically through psychiatry and psychology. We also could not teach mental health without helping our communities expand and create models of care beyond traditional mental health systems. If we wanted to educate our communities, it couldn't be just "mental health literacy". It had to be more. It had to be a social justice-informed Mental health literacy (SJM).
We define SJM as, "Mental health education framed in the social-historical context of inequality that aids in the skills building, healing and liberation of communities." We created SJM because traditional mental health literacy models fail at contextualizing how the histories of racism, misogynoir, and homophobia influence mental health stressors and outcomes today. For example, it is not enough to simply state that Black people report higher levels of psychological distress than whites [3], we have to address the historical context that has created this reality. From our desire to affirm the legacy of Black people's experiences with psychology, SJM was born.
In addition to the definition, BEAM has created principles for SJM, built upon the pioneering work of multicultural and Black feminists and womanists [4]. These principles state that in relation to Black communities an SJM approach must:
Validate and give voice to the legacy of harm in Black communities.
Affirm and acknowledge the historic and present-day resilience, defiance, coping skills and strategies in Black communities.
Coach community members on how to offer first-responder support to mental health challenges and crises.
Cultivate skills that promote agency in engaging mental health professionals and basic knowledge of mental health interventions/treatments and systems.
Facilitate consciousness-raising and direct action to address social inequities and conditions that impact Black mental health––such as transphobia, racism, ableism, misogynoir, HIV/AIDS, and homophobia.
Advocate and organize for accessible, innovative models of mental healthcare.
Equip community members with knowledge and tools that support healthy mental health coping skills and healing.
SJM guides all of BEAM's trainings and programs. For example, in our Mental Health and Masculinity training, participants engage in exercises that explore the link between male socialization and mental health stressors. They then unpack how mental health stressors that are a byproduct of male privilege can negatively impact the lives of women, girls and femmes, which often show up through justifying violence and abuse. This is SJM in action.
Furthermore, SJM is also about organizing and resistance. A part of that resistance is advocating for current mental healthcare systems to be more accessible to our communities. It's also about creating our own models of care, models that incorporate wellness strategies Black folks have always utilized; ------ such as herbs, yoga, dance and art.
SJM also means working alongside broader movements for social justice. Movements that address gentrification, racialized police brutality, child abuse, intimate partner violence, and HIV/AIDS need to incorporate innovative approaches to mental health and wellness.
For BEAM, SJM is a tool for a transformative justice. We use it to guide how we create healing spaces for our people. We allow it to help us dream of a world where Black healing is interwoven into all aspects of our lives. SJM is one part of a larger healing justice movement which asserts that Black healing is essential to Black liberation. We hope that you will join us in our efforts.
"I dare myself to dream of us moving from survival to potential, from merely getting by to a positive getting over." - Joseph Beam
This piece was edited with the support of Jeff Baker, M.Phil.Ed., Dr. Moya Bailey, and Dayo Akinyemi, MPH.
[1] Jorm, A. F. (2012). Mental health literacy: Empowering the community to take action for better mental health. American Psychologist, 67(3), 231-243. doi:10.1037/a0025957
[2] Stansbury, K. L., Wimsatt, M., Simpson, G. M., Martin, F., & Nelson, N. (2011). African american college students: Literacy of depression and help seeking. Journal of College Student Development, 52(4), 497-502.
[4] Goodman, L. A. (2004). Training Counseling Psychologists as Social Justice Agents: Feminist and Multicultural Principles in Action. The Counseling Psychologist, 32(6), 793-836. doi:10.1177/0011000004268802
Support HuffPost
The Stakes Have Never Been Higher
Related
Popular in the Community