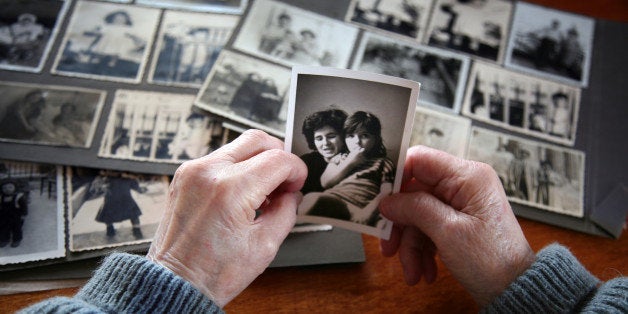 A cardboard box marked "photos" lay undisturbed for I-don't-know-how-long in a dusty corner of our attic. Searching for something else, I stumbled upon it last week.
And by "stumbled upon," I mean literally. Not via the social media platform.
As soon as I opened the flaps, I felt a sense of glee akin to the discovery of a sunken treasure chest. My eyes widened at the sight of dozens of photos of my children when they were very young. Photos I had not seen in many years.
I sat down to examine them one by one, my heart racing with excitement. Whatever I had wanted in the attic would have to wait.
Taken years before we would know the instant gratification of digital photos, the pictures harkened back to a time that seems almost like ancient history. Remember when you had to take a roll of film to the camera store to be developed? And have to wait for a week to get the photos back?
In those days there was no cataloging of your baby's every expression, no iPhone camera at the ready to capture first steps. "Kodak moments," as they were called, happened infrequently. Photos were mostly taken when special occasions called for them. Birthday parties. The first day of school. Sitting on Santa's lap. And sharing? Only if you displayed them in picture frames or dropped them in the mail to the grandparents, who ooh-ed and aah-ed and showed them off to their friends.
We were years away from learning about photo enhancing, about light and color adjustments that would bring the photo closer to perfection.
I examined these photos and savored each one, even the imperfect, out-of-focus ones. The expressions on my children's faces -- sometimes posed, sometimes candid -- evoked tender memories long forgotten. There was my darling firstborn bundled in his infant snowsuit, wrapped as tightly as a mummy, just before we strapped him in the car seat. I remember the way he blinked twice in surprise when a snowflake feathered from the sky and landed plop on his nose. There was another photo of my sweet older daughter at the tender age of two weeks, secured in an infant seat set in the middle of the dining room table as a centerpiece for my father's 60th birthday. My adorable younger daughter at one year old, holding onto the edges of the coffee table as she tentatively took her first steps toward independence, steps that would reverberate more loudly as she and her siblings approached adolescence and then adulthood.
A professional photographer would cast these aside as blurry rejects, but to those of us parents who were behind the camera, they are priceless. And just as they immortalize a time in our children's lives, they tell our story: a parent's eagerness to capture a memory, an unsteady hand, the inability to retake... these were the hazards for amateur photographers, a.k.a. parents, who cared more for preserving the moment than striving for perfection.
REAL LIFE. REAL NEWS. REAL VOICES.
Help us tell more of the stories that matter from voices that too often remain unheard.