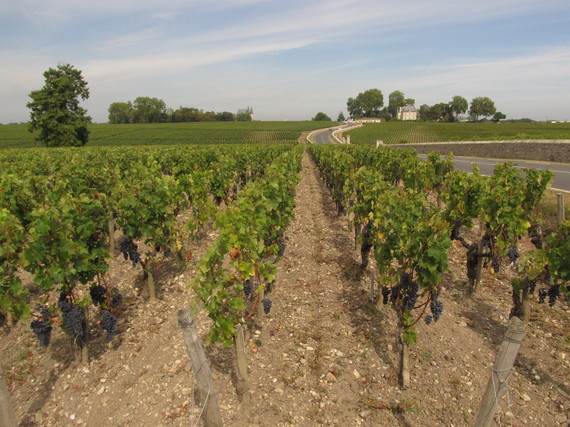 The two women at Chateau du Taillan are debating over the rind on a large, beautiful wedge of Saint Nectaire cheese. There are two types of people in this world, one of them declares: those who eat the rind and those who do not.
At this wine and cheese pairing workshop led by Les Médocaines, I am holding a glass with the last dregs of wine, waiting for a refill and pondering my remaining bite of cheese. I've been eating the rind on all the cheeses we have sampled so far--hell, I'm in Bordeaux wine country, enjoying locally made, aged-to-perfection cheese--I will eat the wrapping and all.
I realize that's my answer: I'm a rind-eating kind of girl. I want to try it all. Why selectively indulge?
In Medoc, the northwestern part of the Bordeaux region, my visit had been an entirely non-selective, no-holds-barred kind of indulgence: jumping into the outdoor pool at Chateau Mayne Lalande even when the sky threatened rain, coveting the melon-prosciutto skewers at Chateau Marquis de Terme's tres chic post-tour apéritif, ordering the lamb or duck at every meal and always always saying YES to dessert, especially if it involved the Bordeaux specialty, the canelé--the most delicious (and cutest) pastry I've ever tried.
So I felt both giddy and full of glee when I discover that Bordeaux's wine country is ready to play--apparently there was more to indulge in aside from wine tastings and fancy feasting in elegant estates.
For starters, you could get down and dirty in the vineyards--and by that I mean cutting and sorting grapes during the wine harvest with the other workers. The women of Les Médocaines could put you to work in the vineyards and then treat you to a traditional harvest lunch afterward. I myself opted for a less hands-on education at the surprisingly thorough wine museum at Chateau Maucaillou--free screening of wine-making documentary included. Many chateaus offered wine blending workshops, and you could even tour a barrel-making factory and build your own barrel. In case you want to bring a darling French oak barrel home as a souvenir, be advised--those go for 600 euro ($760) a pop!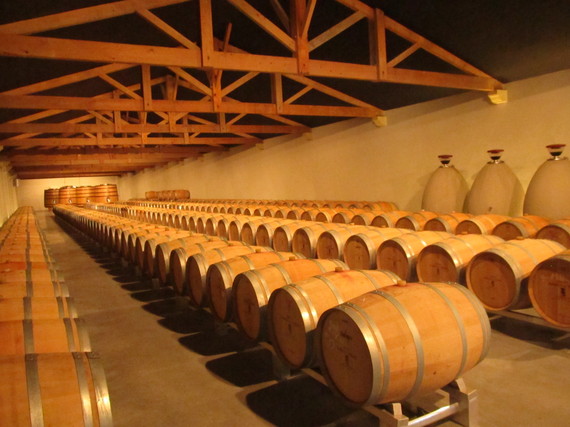 Beyond the usual tours through cool, dark cellars and aisles of vinegary vats, some chateaus really showed off distinct personalities. One of the chateaus, Chateau Saint-Ahon, kept farm animals, led a kid-friendly tour with grape juice tastings and even had a place to overnight park your RV for free, should you choose to motorhome your way through Medoc. I spent a night at the 17th century, riverfront Chateau Loudenne that really stands out with its rosy-cheeked pink facade. But besides the Steven Tyler paint job, the chateau hosts concerts of classical and jazz music in its ancient cellar room and its tasting room doubles as an exhibition space for local artists.
I also uncovered a secret juicier than a sun-plumped, ready-to-burst Merlot grape hot off the September vine--Patiras Island. This small island in the Gironde estuary was like a humble oasis in the midst of Medoc's proud vineyards. Just five minutes by boat from the village of Pauillac, Île de Patiras features a renovated lighthouse, whose 132 spiraling steps we, with foie gras running through our veins, reluctantly agreed to climb. The reward--a sweeping view of Medoc's vineyards and the estuary. Our strenuous exercise was also rewarded by a scrumptious lunch of estuary fish and shrimp at Refuge Patiras, a recently built dining and event space in a tree-shaded, grassy spot beside the lighthouse.
I really wanted to stay on tranquil, little Patiras Island forever--maybe help tend to the few vineyards, catch some white shrimp with my bare hands, take naps in the long grass. But I finally had to remind myself that I was a rind-eating kind of girl--and there was much more Medoc to see.
Related