It's becoming increasingly difficult for professionals to communicate face-to-face, since teams have become so widespread. Even if your business has every employee report to an office every day, you likely find that some or all of them leave the office for client or vendor meetings. This means much of your conversation takes place over email, text, or by phone.
But a new type of app is becoming more popular, due in large part to its potential for keeping teams connected. Branded employee apps can be used to facilitate HR activities, keep projects moving forward, and allow employees to socialize. The company sets up the app to meet its own unique needs, with employees downloading the software to their own devices. Here are a few reasons branded apps stand to change the way we communicate in the workplace.
They're Versatile
For an app to be successful, easy setup and deployment is a must. Most small businesses today don't have a full IT team on site to program and troubleshoot issues with the apps they use. It's
an easy-to-use, all-in-one solution that businesses of all sizes can add to their suite of tools.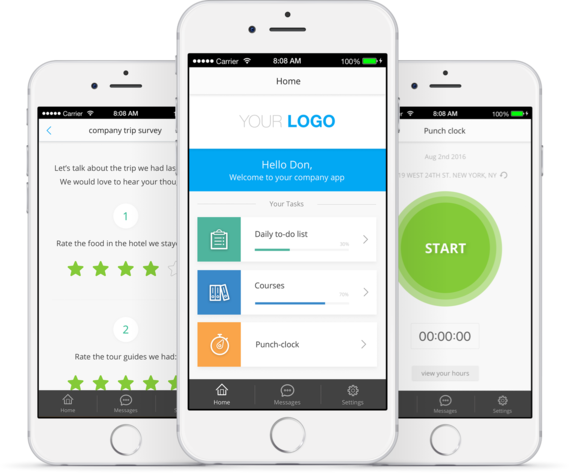 "Brand apps are similar to a Swiss Army Knife in that it has many applications and everyone can use it for different purposes," Amir Nehemia, CEO and co-founder of Connecteam, says. "The right branded app has plenty of features and it all fits nicely into your pocket. Whenever you need it, you can instantly pull it out to solve the task at hand."
They Boost Productivity
Email is one of
in offices today, with employees constantly required to stop what they're doing to read and reply to incoming messages. With an employee app, team members can continue working and log into the app when they're between tasks. Since employees can communicate in one place instead of forwarding emails to appropriate people, they also save time. All approved users can see the information that relates to them, which helps reduce the risk of someone important being left out.
They're Accessible from Anywhere
Mobile apps can be accessed whether employees are in the office or at home, which means
and communicate whether they're commuting on the train or waiting on the runway for takeoff. For traveling employees, they can access information they need for meetings and log expenses while on the road. This improves turnaround time on reimbursements and keeps employees connected to news and information no matter where they are.
They're Transformative
As helpful as collaboration tools can be in keeping project teams updated, they still don't address every internal communication need. Many tech-savvy businesses have separate apps for HR, marketing and sales, and project management, which
within the organization. Branded employee apps can bring everything together, letting a worker move from one task to another, whether it's asking for a vacation or logging in a sales call.
"In the next five years we're going to see a strong shift towards branded employee apps," Nehemia says. "We believe that by 2021, 65% of all U.S.-based companies will have launched their own employee app. When PCs became available in the 80s, there was a similar mindset and we know how the PC has revolutionized the entire business world."
They're DIY
Branded employee apps are part of a
of do-it-yourself business solutions. When apps can be easily customized to meet a specific need, they're attractive to business owners that need an out-of-the-box solution. Branded employee apps walk employers through the process of setting everything up, similar to a DIY website tool. Best of all, businesses can extract reports that provide insight into employee interactions, which can help them improve morale through making changes in response to what they learn. This makes a branded employee app a great alternative to using separate apps for different business functions.
Collaboration and communication provide the foundation of any workplace. With branded employee apps, businesses can use technology to keep workers in touch whether they're in the office, in the field, or working from home. As branded employee apps become more popular, companies will find innovative ways for their various departments to conduct daily operations using the new software.
Popular in the Community