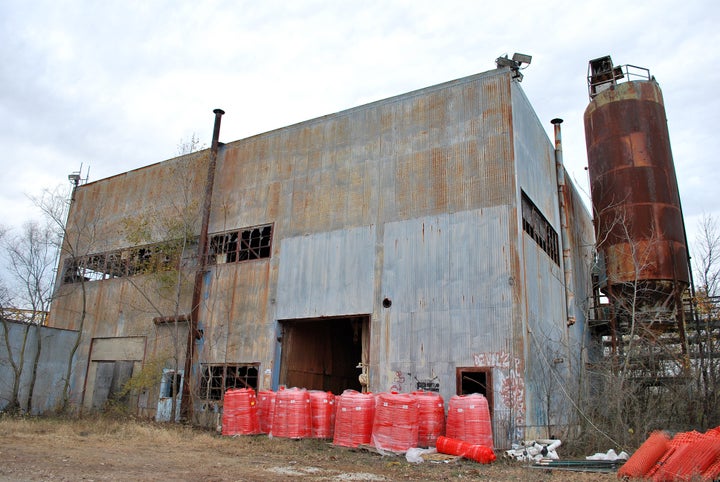 My people are from Brooklyn, going way back. Way, way back. My father, actually born in the Bronx on his mother's kitchen table, lived on Dahill Road off Ocean Parkway, before moving in 1934 to Avenue T with my aunt and grandparents to a building directly across the street from a Spanish-style house owned by Jay Silverheels, of Tonto fame. Fifty-six years later, with my grandfather long gone and my grandmother having just passed, I moved into their apartment after a bad breakup. Cavernous and rambling, possessed of uninterrupted views of the Coney Island parachute jump, and with what my cousin still calls "ripply walls" (faux stucco), the place had sat unoccupied for a few years except for all of my grandparents' furniture, my grandmother's clothes, bags of long-forgotten photographs from the Old Country taken right before Hitler marched into Poland, and a jar of two year old gefilte fish sitting in the (thankfully still running) refrigerator.
My mother was born in Williamsburg and grew up on Grand Street off Havemeyer, where my grandfather owned a furniture store in a building that had been owned by his mother. My grandmother was also born in Williamsburg, in 1901; her father was a kosher butcher in the neighborhood, and after he died, her mother ran a popular boarding house where Gatti Casazza stayed overnight with Enrico Caruso, who performed in her parlor as his way of saying thanks.
The Brooklyn of my parents and grandparents was white, black, Italian, Polish, German, Puerto Rican, Mexican, Jewish, Catholic, Lutheran, and everything in between. My grandmother grew up speaking Italian, Polish, German, and Spanish; when my mother, who was raised kosher, came down with mono as a teenager, her upstairs Italian neighbors sent down a lasagna, which she ate. During the war, when a local family couldn't afford to send their children to parochial school, my grandfather paid their way. That's what you did in Brooklyn. Mass is still said for him.
But I loathed having to move back in 1990; I was a Manhattanite, born and raised. Still, I began to be more comfortable in the outer borough when I allowed myself to be a member of my local community on Avenue U, which was and still largely is Italian: every night on my way home from work in Manhattan, I'd stop at the butcher, who would invariably insist that I try a bit of sausage that he'd been curing in the walk-in. I'd hit the cheese shop; the green grocer; the fish guy. And every night, standing on line to pay for my purchases, someone's grandmother would demand to know what I was going to do with the oxtail or the pork belly, the squid or the Taleggio; then she'd inform me that I was wrong.
Twenty years later, and finally realizing what I had and took for granted--the roast beef sandwiches at Brennan & Carr, the shrimp Fra Diavolo at Randazzo's, the breads and pastries on Avenue U, the steaks at Peter Luger's, the pizza on every corner--I've been desperate to pack up my family and move back to Brooklyn after ten years in Connecticut. But there are two problems: I can't afford it, and I'm clearly not cool enough, even though at a recent brunch at the Roebling Tea Room, my server wanted to know where I'd gotten my reading glasses.
So I live vicariously; I visit Brooklyn for the shopping, for the food, for the artisanalia, which I cherish. I'm enormously grateful for the young people who have, in many cases (and especially in this economy), given up proper lives as tie-wearing corporate wonks with steady paychecks to instead devote themselves to older, analog culinary crafts, like world-class pickling and butchering, bread making and mozzarella-pulling, beer brewing and spirit distilling. The vast, great, often dangerous wasteland that was Brooklyn in the 1970s has all but disappeared, replaced by a population that is, in fact, traditional to the borough from its earliest existence: craftspeople. Instead of so-called gentrification, Brooklyn has been returned to itself.
But with the now-international acknowledgment of Brooklyn as a must-visit culinary destination; with hotels cropping up everywhere; with everyone and their brother shoe-horning themselves into a sort of prefabricated Halloween-costume fauxcavore hipsterism about as authentic as Sarah Palin, that will vanish from their interest as soon as the trend does; with Ikea setting up shop near the robustly odorous Gowanus Canal, Brooklyn is precariously close to replicating exactly what happened to another community across the bridge when its appeal to artists and its inherent cool ran amok: Soho became a mall, no different from the ones that line every suburb in this country. The artists who made it what it was could no longer afford to live there. In most cases, they no longer wanted to.
So when I think of my grandparents and great-grandparents; of the nice lady on line at the salumeria on Avenue U and the shopkeeper who handed me a glass of homemade, hot red wine when I had the flu; when I remember the jus at Brennan & Carr and the shrimp at Randazzo's, the Blackout cake at Ebinger's, and the pickled eggs at The National; when I think of the young culinary artisans who have given Brooklyn back to itself; I pray for one thing: that my beloved borough doesn't become a caricature of itself.
REAL LIFE. REAL NEWS. REAL VOICES.
Help us tell more of the stories that matter from voices that too often remain unheard.