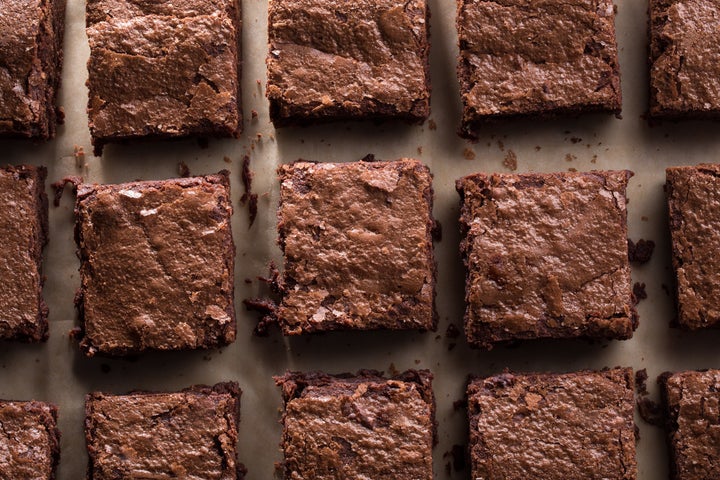 For almost 20 years, Mark Bittman's brownie recipe reflected the way most reasonable people on the planet make brownies. It goes like this (please note that I'm typing this from memory, which I can do because I've made them so many times): Melt 1 stick of butter with 2 ounces unsweetened chocolate. Whisk in 1 cup sugar and two eggs. Fold in a pinch of salt and 1/2 cup flour. Pour into a greased 8- or 9-inch square pan and bake for roughly 23 minutes, then impatiently eat a hot brownie, burning your tongue.
For as long as I've been making brownies, I have followed this method — always using unsweetened chocolate as a vehicle for flavor even on the rare occasions I strayed from Bittman's minimalist teachings. I raised an eyebrow at recipes that used bittersweet or semi-sweet chocolate. And I rejected outright those recipes that used no chocolate at all — that, somehow, had the nerve to substitute cocoa powder instead.
So when I turned to page 180 in Bittman's new book, How to Bake Everything, and saw that he had changed his brownie recipe from a chocolate-based version to a cocoa-based one, I felt enormous sadness. My beloved Bittman — a luminary of home cooking — had clearly lost his damn mind.
A few days later, an eerie coincidence: my boyfriend made a random batch of brownies. And reader, I kid you not: he used this cocoa brownie recipe by Alice Medrich. When he told me about this sinister baking adventure over the phone, I almost dropped said phone to the floor. Had everybody gone crazy?
After all, a brownie's currency is its richness; dry, pale, airy brownies are a crime. That's why I firmly believed that when it came to brownies, chocolate, with all of its fatty solids, is non-negotiable. But now two important men in my life (albeit one that I'd never known in person) were telling me that cocoa brownies were superior. "These are the best brownies I've ever had," my boyfriend told me between bites.
The next day I tried one of those cocoa brownies, and to my disbelief, I agreed with him. The brownie was not dry at all. It was silky, rich, luscious. And though there wasn't technically any "chocolate" in the thing, it was flush with all those chocolate notes: the bitterness, the sweetness, the spice.
So I'd been wrong. But I took solace in the fact that Bittman, too, had been wrong. Though he didn't really put it like that when I asked him about his new brownies.
"The brownies in How to Bake Everything were re-developed for a fudgy center with a crackling-chewy crust on top," he told me in a (very important) statement. "Cocoa achieves that better than melted chocolate because it's a purer form of chocolate and adds no moisture. To maintain the richness I added a little more sugar and butter than my old recipe. For more even more gooeyness you can add some chopped chocolate, but it really isn't necessary."
What's more, Bittman maintains that this break with brownie tradition does not mean he's a baking flip-flopper — he's a pragmatic cook. "In a way, this emphasizes the kind of approach I've always taken, which is that there is more than one good way to do almost anything, at least in the kitchen. I love my old recipe (my kids still make brownies that way), but found this adaptation exciting."
With all due respect, I have to disagree with Bittman on one point. More than one way to make a brownie? No. The only way is with cocoa. Is this dude crazy?

Support HuffPost
A No-B.S. Guide To Life
Related
Popular in the Community