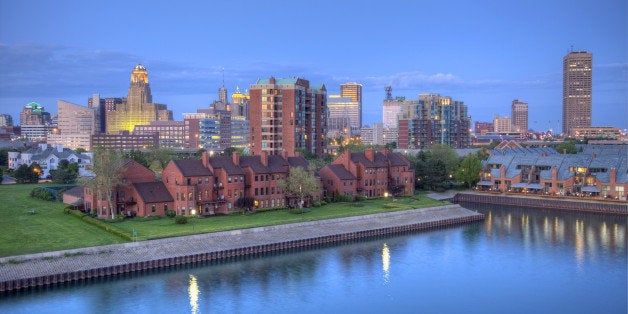 It's no secret that as Buffalo's manufacturing behemoths shuttered their doors in the 1970s and 1980s, our population, economy and communities were decimated, too -- but after decades of struggling to rebound, would you believe that more than $5.5 billion's been invested in just the last handful of years?
As someone steeped in marketing and business development in the region, I can tell you it's true. But the real question is, why? Why is it that people around the country and world are packing up their brownstones and heading to Western New York?
The local economy's current turnaround is happening because people of all ages, backgrounds, experiences, and areas of influence -- sole proprietors and CEOs, state and local officials, artists and academics, economists and environmentalists -- have come together to make it work. What began with Governor Andrew Cuomo's Buffalo Billion has exploded into additional private funding pumped into the local economy.
It's spectacular -- certainly, the greatest melding of vision, strategy, creativity, and cooperation that this city's ever known -- and everyone's got a position to play.
And it's about more than growing our economy.
It's about valuing everything in this region that makes it unique. It's about having great choices for where and how to live -- and being able to afford and enjoy your life. It's about the phenomenal options we have for our free time from kayaking on the Buffalo River to ice skating at Canalside, from playing pond hockey at Riverworks to taking in outdoor concerts and hanging out at local brewpubs -- and, of course, cheering for our beloved Buffalo Bills and Buffalo Sabres.
If, as the saying goes, it takes a village to raise a child, then Buffalo is thriving proof that it takes a team for a city to rise.
This 'new' zeitgeist is really the fruition of more than a decade of investment and it's created a tremendous environment for entrepreneurship. That's why it's not just about us anymore. Nearly every week, national media like The New York Times, Forbes and CNBC take notice. And when Steve Case and Revolution.com's national Rise of the Rest Tour rolls into town on September 30 to spotlight entrepreneurs here, we're ready to show what we've got.
And here's where they'll find us:
Looking for answers to critical questions about climate change and how to feed a growing world through forward-thinking innovations in green-energy technologies, advanced manufacturing, education, and agriculture
Collaborating at our region's 22 colleges and universities and at the booming Buffalo Niagara Medical Campus for life-giving and life-saving breakthroughs in medicine, biotech and more
Building new facilities including Solar City -- the largest solar-panel manufacturer in the Western Hemisphere -- and building stronger communities with projects like Buffalo Manufacturing Works to ensure that new jobs and the new economy offer opportunities for all
Developing an active entrepreneurial ecosystem led by innovators, techies, and thought leaders that care deeply for our city and volunteer their time to lead efforts such as Buffalo Startup Weekend, Startup Grind, and Pitch-In events
Challenging the ways people do business in the city's burgeoning business incubators, accelerators and co-working spaces -- Z80Labs, 'dig', VCAMP and more
Entering business competitions like 43North -- the world's largest business idea competition with five-million dollars in funding and support -- andStudent Sandbox and Bright Buffalo Niagara to fuel the next generation of college students' and startups' ideas
When AOL Co-founder and Revolution CEO Steve Case and his Rise of the Rest tour is here on September 30, they'll meet with players like Bak USA, City Dining Cards and Empire Genomics -- showcasing our ability to grow local businesses and attract international companies here. And they'll find them at destinations like Larkinville, Canalside and Riverworks -- which weren't even on the map just a handful of years ago and now attract millions of visitors each year.
This unprecedented -- and, just a decade ago, essentially unimaginable -- boom means that we have incredible opportunities to show the world the great things we always knew about Buffalo Niagara. And we're eager to hear what Case and the Rise of the Rest team has to say, too, so we can learn from their experiences to make ours even better.
Bring it on, Rise of the Rest -- we're ready.
Related
Popular in the Community