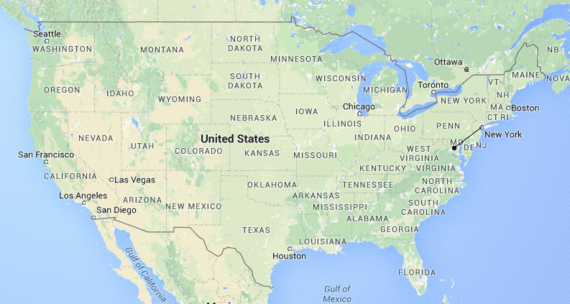 It's All in the Setting (or Is It?)
Busking, or street performing, is a staple of New York City -- just as street art is to the city's alleyways, bicycling is to Brooklyn and really good pizza is, well, throughout this hub of a city.
But while New York can boast variety within its music scene, there is still a New Yorkesque tone that comes with its music ... and all other aspects within the city limits (pizza included).
Many wandering musicians -- carrying acoustic guitars, loopers and pipe dreams galore -- flock by the hundreds to New York. But, is this because they think that they fit into the city's existing music environment? Or, do they move to New York with the intention of changing and shaping their surroundings?
It could be the amount of opportunities available, but it still brings up a legitimate question about the effects of backdrop, with music migration considered. Does the city influence the musician or do the musicians influence the city?
Maybe it's both. But this is where I choose to investigate.
But in respect to pipe dreams, when have bold aspirations ever seemed all that practical in the first place? Art and practicality rarely dwell in each other's company.
Knowing how to play a guitar and write a song with three chords may make you a musician, but does it necessarily make you an artist?
In 1974, Philippe Petit gained worldwide recognition after his daring high-wire walk across the Twin Towers. When asked why he decided to dangle himself more than 100 stories above New York, Petit responded: "There is no why. When I see a beautiful place to put my wire, I cannot resist."
As a die-hard inspirational quote consumer, I often witness a multitude of eye rolls whenever I share words of insight. To me, insight from those who have achieved great things is like gaining an inside scoop into how to take on our grandest aspirations. Which is why I was always taken aback at the eye rolls. The word "cheesy" (not the hole-y kind) would often be tossed out, offered as a reason for the scoff.

But words of insight do not fit what "cheesy" means -- that is an invalid tie. (I'd like to see the eye roll someone would receive from Philippe if they told him he was "blatantly inauthentic.")
It seems to me that there's something about insight and hope that our culture tries to discredit -- which is ironic, because often times, the most noticeable characteristics of cultural trailblazers are insight and hope. (Yes, there is also the brash, depressed, alcoholic sides to the "tortured" artist type -- I'm looking beyond that.)

The closest answer I've come up with so far as to what makes an artist balances never-before-touched innovation presented to the world with a certain hope that the work will add to the larger picture in some way. Carving and shaping your ability, sweating through the work and hope.
What Does This Have to Do With Busking Across America?
My reason for bringing up Mr. Petit's artistic endeavor is to say that my trip this summer is my version of Philippe's high-wire act. This is not to suggest that my venture will have the same cultural effect as Petit's or that someone has to busk across the states to become an artist.
What I am saying is that in this time in my life, this trip is where my fear compass is pointing. Our first inclination is to turn away from our fears, but that isn't how growth works.
So, why busk across America? The answer is, there is no why. When I think of something beautiful that I'm afraid to do, I cannot resist.

"The impossible -- we are told -- cannot be achieved. To overcome the 'impossible,' we need to use our wits and be fearless. We need to break the rules and to circumvent -- some would one say to cheat." -- Philippe Petit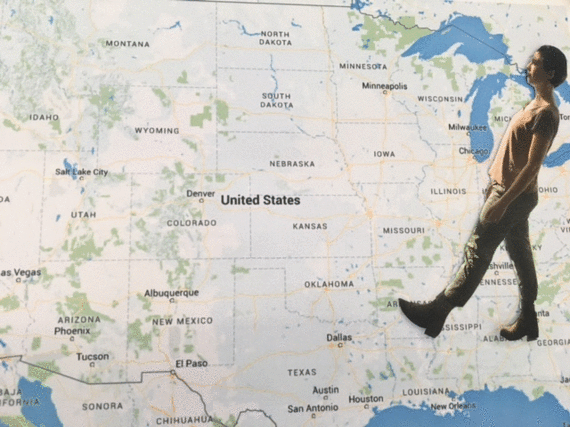 My self-inflicted music boot camp trip begins June 6, where I will be traveling to the below cities.
Washington, D.C.
Asheville, N.C.
Nashville, Tenn.
Atlanta/Athens, Ga.
New Orleans, La.
Houston, Texas
Austin, Texas
Santa Fe, N.M.
Phoenix, Ariz.
San Diego, Calif.
Los Angeles, Calif.
San Francisco/Oakland, Calif.
Portland, Ore.
Seattle, Wash.
Idaho Falls, Idaho
Denver, Co.
Kansas City, Kansas
Chicago, Ill.
Indianapolis, Indiana
Detroit, Mich.
Pittsburgh, Pa.
REAL LIFE. REAL NEWS. REAL VOICES.
Help us tell more of the stories that matter from voices that too often remain unheard.