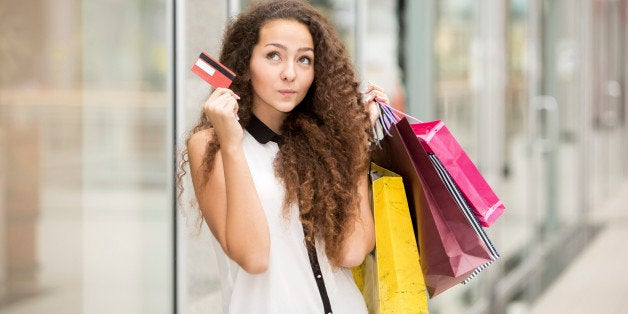 I used to be in credit card debt...
... and that's really hard for me to admit to because I had always been diligent about budgeting and money stuff prior to getting into debt.
Fortunately now it's long gone, but I've since been focusing more of my energy into budgeting, my spending habits and reflecting on my money blocks.
In the process I realized that I had been spending money quite carelessly. Spending it on things that I didn't really need -- or I thought I needed, but it wasn't giving me what I want.
After I reflected on how I spent plenty of time and money on various things without necessarily having that good of results, I started to realize: It's not necessarily the product or service itself that I'm really wanting from this, but an energy that could potentially come with it.
I was failing to get that energy that I wanted from the product or service. So I kept wanting more. I kept buying more stuff -- more products and more services -- thinking that buying something, at some point, could magically get me exactly want I wanted.
But it never did.... and it never could.
Why? Because, for some reason, I thought the purchase was enough. I had this thought in my mind (as many of us do) that if I buy that product or service that I'm going to magically and instantaneously feel better.
But it doesn't work that way.
In fact, by believing that's all I had to do I was setting myself up for failure. 'Cause we can't just buy something and then experience the energy of happiness, love, and joy that we're craving to experience. Rather, we have to do things for ourselves in order to open ourselves to that kind of energy.
If we want to feel things like happiness and love in our lives, we're not going to get it by just "buying stuff". Rather, we have to do the internal work on ourselves.
We live in a world where we all have a tendency to want instant gratification. We're upset when our computer is slow, our phone doesn't have a signal, or when our Netflix movie just isn't streaming right.
We've become impatient... and not only with things, but with ourselves as well.
And it doesn't work, because it isn't realistic.
Sure, we can do simple and short activities to help ourselves that can make drastic shifts and changes in our being, but it's not that we can totally bypass it and still get results.
We have to do our own inner work in order to create lasting positive changes. So what are some easy, simple, and very affordable ways that we can do that? Here are 3:
I used to hate meditation, but with time, practice and experience I've come to really realize the transformation that can come by having a daily meditation practice. Meditation helps us quiet, as Buddhists like to say, our "monkey mind", so, in other words, our worries, fears, anxieties, and other inner blocks. By quieting down these internal stressors, it is then easier for us to open up to feelings of happiness, love, and peace.
It doesn't matter if you do Transcendental Meditation (TM), Kundalini meditation, guided visualizations, a movement-focused kind of meditation, or whatever, you will be able to reap benefits with a regular daily practice.
So "shop around" and try out different kinds to get a better sense of what will work best for you right now. You can get started today with my guided visualization meditation Healing Blocks to Love for free. Plus, when you sign up to get a copy you'll also eventually receive one of my movement-focused meditations to try out and also learn more about my meditation album Ignite Love from Within: Meditations for Creating Relationships and a Life Filled with Love.
#2 - Emotional Freedom Technique
Emotional Freedom Technique (EFT) is like a blend of neuroscience and acupressure. The process involves tapping points on the body while making statements about your past trauma, anxiety, fear, stress, or internal block.
You can get started with EFT by finding a therapist or practitioner that is certified to teach it. You can also learn more by picking up a copy of The Tapping Solution by Nick Ortner. There are also plenty of YouTube videos out there with people teaching how to go through the points for whatever ailment you'd like to tap on.
Regardless of your religious/spiritual beliefs, prayer can be a very beneficial tool to help heal us from our own internal blocks. After all, there is a reason that prayer is used in 12-step meetings!
So start a daily practice of asking the Universe, Spirit, the Divine, God or whatever to help you release you from whatever it is that you are struggling with internally.
If you're struggling with credit card debt you may say a prayer like, "Spirit of the highest truth and compassion, I surrender my debts to you. Please help me to purchase only what is in my highest good and in the highest good of all". One of my new favorite books on prayer is Marianne Williamson's Illuminata. So if you're looking for some inspiration or guidance on prayer, check it out.
The path of trying to find happiness in "buying stuff" can be a long and very stressful journey, so remember this: What you desire to experience or feel in this world already exists within you. You just have to put forth the effort to get out of your own way to allow the change to occur. And with time, effort, and practice, the results will be nothing short of miraculous.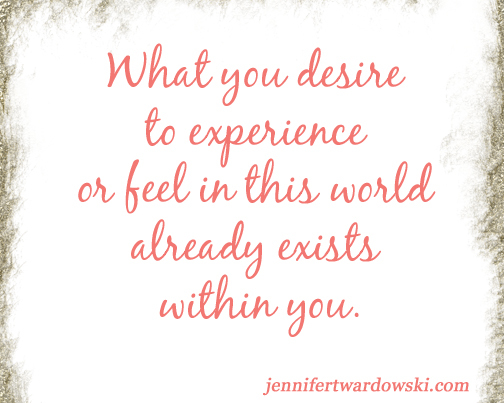 Jennifer is a self and relationship coach, writer, and spiritual teacher. She is the founder of JenniferTwardowski.com and the creator of Ignite Love from Within: Meditations to Create Relationships and a Life Filled with Love, click here for a free meditation from the album. Her mission is to help women create loving relationships with both others and themselves. Click here for her Free Self and Relationship Healing Meditation and weekly blog updates. To learn about how you can work with her, click here.
Related