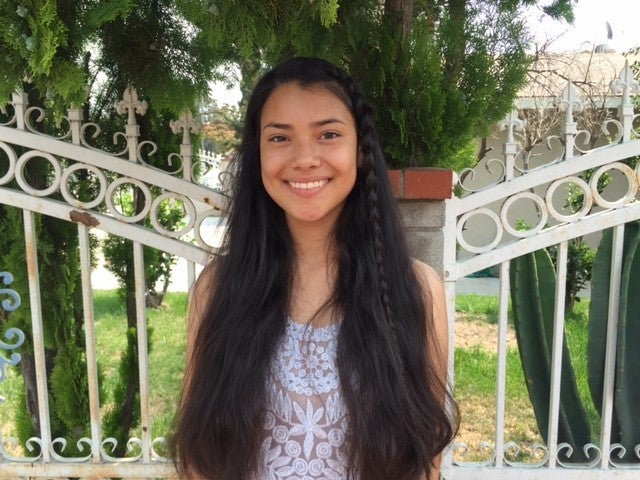 "Sometimes I would come home from school and there would be nothing in the fridge but mustard or ketchup."
Seventeen-year-old Alexandra of Los Angeles County shares a striking visual of what poverty means for her – and millions of other children across California and the nation. New data from the U.S. Census Bureau released today found that based on the official poverty measure, 1.9 million children (21.2%) in California lived in poverty in 2015.
When Alexandra was younger she lived in a house with her mom, dad, and three older sisters until a series of crises hit her family at the age of 11. Her dad was deported, the family was evicted after the owner nearly doubled the monthly rent, and her mother lost her job as a preschool teacher as she struggled with depression about the deportation and eviction.
Alexandra and her mother spent months living in a spare room of a family friend, and moved from place to place before ending up in a converted garage in Arleta, CA. The lighting in the garage made it difficult for Alexandra to read and use a computer for homework.
These are just a few of the barriers to success that poverty and homelessness inflicts on children and youth. Alexandra, who was selected as a 2016 Children's Defense Fund Beat the Odds® honoree, managed to overcome obstacles to excel at school. But for many children, growing up poor negatively impacts their futures .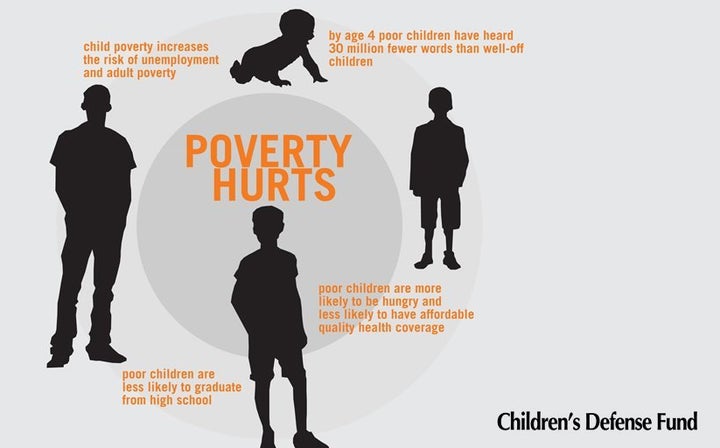 Child poverty is a moral and economic crisis for our state. We are condemning millions of children to a cycle of poverty that robs them of opportunities and undermines their ability to thrive. In addition, child poverty costs the nation an estimated $500 billion a year in lost productivity and earnings and increased health and crime costs. Children's Defense Fund estimates that California's share of the cost of child poverty is approximately $66 billion per year.
New data on poverty underscores the severity of the crisis for California's children. The data released today provide state and local figures based on the official poverty measure, which fails to factor in California's high cost of living. The supplemental poverty measure is widely considered to be a more accurate assessment of poverty in California, but 2015 state data on child poverty under that measure is not yet available.
According to the data, 1.9 million children in California lived in poverty in 2015, down slightly from 2 million in 2014. Poverty continues to disproportionately impact children of color: 28.5% of Latino children, 31.0% of Black children, 33.2% of American Indian/Alaska Native children and 11.4% of Asian children were poor in 2015, compared to 10.3% of White children.
Nearly 800,000 children (8.9%) lived in extreme poverty defined as an annual income of less than half the poverty level, or $12,129 for a family of four, which amounts to less than $1,011 a month or $33 a day
And we know the situation would be even worse absent the existing social safety net. Without key public supports including tax credits for working families with low incomes, food assistance, and unemployment insurance, millions more California children would be poor, according to analysis from the California Budget and Policy Center.
Ending child poverty is a moral and economic imperative. California, the eighth richest economy in the world, must do more – bottom line. Last year, Children's Defense Fund-California presented policy recommendations to reduce child poverty in the state, building off Children's Defense Fund's national Ending Child Poverty Now report. State lawmakers have taken several steps in the right direction, but further action is necessary to reduce the state's high child poverty rate. A bold vision to end child poverty in California involves a combination of strategies that we know work – we need a multi-pronged approach.
First, we must ensure parents have jobs that pay enough to support a family.
Expand the new California Earned Income Tax Credit (EITC) to all working poor families. The EITC is one of most effective tools for reducing child poverty by boosting income for working families and incentivizing work.
Expand the number of quality child care slots for low income children. Access to child care enables parents to work and provides quality early learning experiences that help children thrive.
Second, we must ensure that all children's basic needs are met by strengthening the safety net.
Increase CalWORKs basic needs benefits. Current grant levels are below 50 percent of the federal poverty level, leaving families unable to afford basic necessities.
Invest in affordable housing for extremely low-income families. Lack of affordable housing is a significant contributor to the state's high poverty rate.
Finally, we must make the long-term investments in children that are necessary to break the cycle of poverty by ensuring children have access to affordable health care, quality early learning and high-performing schools, and breaking down the cradle to prison pipeline that is fast-tracking too many of our poor children – especially our black and brown youth – into the criminal justice system.
Some may say we cannot afford these investments, but I would counter that we cannot afford not to protect our children, and our state, against the devastating lifelong consequences of child poverty.
Calling all HuffPost superfans!
Sign up for membership to become a founding member and help shape HuffPost's next chapter