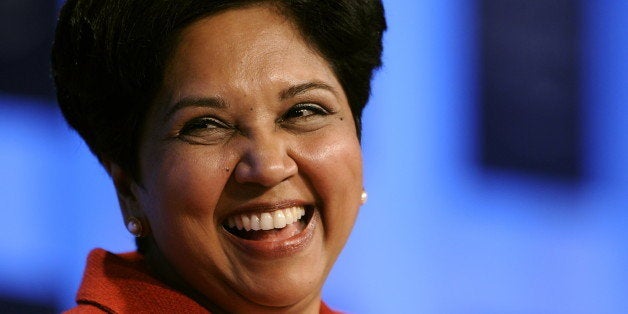 In The Atlantic last Monday, David Bradley, who is the owner of the Atlantic Media Company, posted his interview with Indra K. Nooyi, the CEO of PepsiCo, from the Aspen Ideas Festival. Obviously, Ms. Nooyi has quite the responsibility running one of the largest companies in the world, so naturally, we are curious as to how she balances that with every other aspect in her life.
It was quite interesting to read the reaction her mother had when she announced she was promoted to President and the Board of Directors for PepsiCo. Her mother didn't even want to hear the news, she just wanted Indra to go out and get milk for the house, even though her husband was already home for two hours prior (no comment).
When they moved onto the topic of "women having it all" (for the umpteenth time), this is what Indra had to say: "I don't think women can have it all. I just don't think so. We pretend we have it all. We pretend we can have it all." At this point, she gave a couple of examples about how she balances being a mom and managing PepsiCo.
To Have It All or To Not Have It All, That Is the Question
For those of you that are not familiar with the "women having it or not having it all," debate, it all started when Ann-Marie Slaughter wrote an epic essay in The Atlantic in June 2012. The motivation for the essay came when she left her position as director of policy planning for the U.S. State Department. Her basic premise was, "the women who have managed to be both mothers and top professionals are superhuman, rich, or self-employed."
For all of us women, we all have our own levels of responsibilities, whether we are married or not, with or without children, work full-time jobs or not. The point is, we have immense amounts of pressure for just being a woman. Yes, that's right! You could take away the job, marriage and children and we still have so much to deal with.
Here's my issue, though: Why can men have it all and we can't? In hindsight, we have helped them to have it all. I know that's a bold statement, but it's true. Whatever men want to aspire to, they can. Nothing really stands in their way. They can get married, have children, work to the top of their profession or build a successful business without having the same pressures or obstacles we face. It even goes as far as how they look, or how well they take care of themselves. If they want to be overweight and not give a damn, they can, and we accept it.
I wrote a post in response to Ms. Slaughter's article back in June 2012. I thought that Ms. Slaughter was being hard on herself for not feeling she could juggle her job and be a mom. I also said that this term of "having it all" is another way of saying women need to perfect. I said then and I say now: please, let's do away with this notion, this discussion and stop with the unrelenting pressures of being a woman. I talked about how it's not about having it all, but rather understanding what it is that will create a fulfilling life for you. It can be any one of many combinations, such as being just a stay-at-home mom or being a working mom or not being a mom at all and just focusing on your career and marriage.
Having It All Then and Now
What women, men and society aspired to 50 years ago has changed, has evolved and for the most part, we have evolved with it. And with that evolution, some men have actually changed what it means to have it all in their lives. Some have become stay-at-home dads, some are working from home, some are either embracing or implementing flex-hours so they can be home with their children, some are balancing the domestic responsibilities at home and the list goes on. Part of this has come from the evolution that women have gone through, thanks to the feminist movement (or whatever you want to call it. Maybe we should call it the "Wanting to Have it All Movement" instead?) We just wanted to allow women to go for their dreams and aspirations, whatever those may be. And wow, have we come a long way, but sadly, society is still trying to adapt and catch up.
If anything, the desire to have it all has really given us choices that we did not have 50, 60 years ago. At least in a general sense. We have the opportunity to create whatever life we would like to live, to pursue whatever professional goals we have for ourselves, to fulfill our desires in a way that makes us happy. Yes, we still have major obstacles in our way, major pressures to deal with, and we are scrutinized every minute of every day. However, I much rather have that battle to deal with, than to go back to the way things were for women a few decades ago.
In conclusion, I really want to stop hearing about, writing about and discussing this "having it all" topic. It's either that we engage men with the topic, because it ought to affect them as much, or just forget about it. Or rather, we ought to expand the topic to include adjusting maternity leave across the country, equal pay for women, flex-time at work, affordable at-home care, mentoring and supporting women for C-level positions, funding more women-founded businesses, need I say more? Possibly if we dealt with these issues in a more aggressive manner, we would cease to discuss "women having it all," because we would have achieved it.
Related
Popular in the Community