Asians and Pacific Islanders (APIs) are a fast-growing population, and as a voting bloc, their numbers have nearly doubled since 2000, but political candidates continue to ignore them, according to a new study.
In terms of political power, the API electorate nearly doubled to 3.9 million voters between 2000 to 2012, according to a poll of 1,337 registered Asian-American voters by Asian Americans Advancing Justice.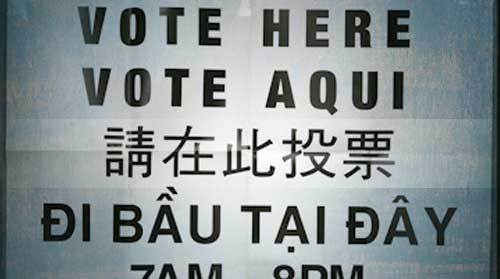 The study highlighted several characteristics of this increasingly powerful electorate.
1.About a third (27 percent) of about 4 million API voters are "up for grabs."

"The largest group is 'independent,' or 'don't know,'" the survey found, "while among partisans, Democrats have a 2 to1 advantage." The results are similar to findings in 2012, with one big difference: "There's a stronger identification with Democrats among women in 2014 than in 2012," according to the study.
2.Asian-American voters tend to favor Democrats on key issues.

"The Democratic advantage is strongest on healthcare, income inequality, moderate gun control, immigration and smallest on taxes." Republicans, on the other hand, are seen as stronger on national security. Notably, Vietnamese Americans by far find national security a "very important issue" at 72 percent, followed by Korean Americans at 56 percent.
3.The role of ethnic media is a crucial source of information for API voters.
Since API voters have the highest rates of limited English proficiency (35 percent), and since 77 percent speak a language other than English at home, many rely on ethnic media as their primary source of information. Vietnamese Americans, at 61 percent, lead among the the groups, followed by Chinese Americans at slightly over half, Korean Americans at just over a third.
4.As a group, API voters favor Democrats in U.S. House races.

Asian Indians emerged as the group with highest Democratic Party favorability at 68 percent, whereas Korean Americans leaned toward GOP candidates more than half the time, followed by Vietnamese Americans at 45 percent. But there are two exceptions. "The two parties are evenly matched among Chinese Americans and Republican candidates hold an advantage among Vietnamese American voters," according to the report.
5.Voter enthusiasm is the same as before.

Overall, women are not as enthusiastic as they were last election, and Vietnamese American voters and Republicans are the most enthusiastic this time around.
"In elections to come, it is clear Asian Americans and Pacific Islanders will have the opportunity to influence positive change," the study noted. "By 2025, APIs will make up five percent of the national electorate and by 2044, the group will constitute 10 of the national electorate."
This year, Asian-American votes can also matter in battleground states. In competitive races, the API vote could mean the margin of victory. In Virginia, for instance, Asian Americans make up about 10 percent of eligible voters, and in Nevada, that number is about 11 percent, according to AAJC. "In 60 House races in the midterm elections, Asian Americans make up more than 8 percent of the district's citizen voting age population," the study noted.
Yet, even if often overlooked, the number of Asian Americans registering to vote continues to grow. How to account for this discrepancy? The answer lies in the number of Asian Americans running for office themselves. According to the 2014 UCLA Asian Pacific American Political Almanac, there are currently at least 4,000 Asian American and Pacific Islander elected officials and appointees from 39 states. Besides congress, hundreds are represented at state and local levels, and there are currently 182 API representatives from 21 states and territories.
That the number of Asian-American voters reached a historical level has much to do with a new grassroots-based infrastructure within the various Asian-American communities themselves. "The Asian American and Pacific Islander population continues to build a viable, multifaceted political infrastructure that will have an increasingly influential impact on American politics throughout the 21st century," UCLA professor emeritus Don Nakanishi, one of the two leading specialists in Asian-American politics, explained. "They are striving to become more organized, more visible and more effective as participants and leaders in order to advance, as well as to protect, their individual and group interests."
"The key question for the political future of Asian Americans is whether they can continue to develop political-incorporation efforts in cities, counties and states with significant and growing Asian American populations," Santa Clara University professor James Lai, who co-edited the almanac, added. "This has been, and always will be, the political foundation of Asian Americans in American politics. The other key issue is the group's political potential, as represented by the hundreds of elected officials featured in this edition's political directory."
In May of 2014, Slate.com published a story with maps that got policy wonks talking. Entitled "Tagalog in California, Cherokee in Arkansas," it showed how counterintuitive it might be for Americans to guess who's where in America. Under the section of "Most common Language Spoken Other Than English and Spanish" (in other words, the third most popular language spoken), one is surprised to find that it's Vietnamese in states like Washington, Texas, Nebraska and Oklahoma. In Virginia and Georgia? It's Korean. And in Hawaii, Nevada and California? It's Tagalog.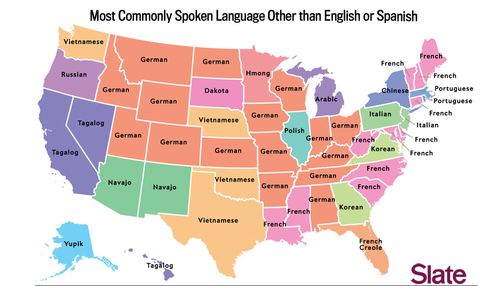 The map raises these questions: What are the fourth popular languages spoken in these states? Which will form formidable swing votes in the coming midterm and, more importantly, the presidential election in 2016? How will an increasingly powerful Asian-American electorate affect American politics?
The answers remain to be seen, but it's clear that in potential battleground states like Nevada, New Mexico and Arizona, ignoring immigrant and minority voters would be detrimental to candidates of any political stripe.
"The Asian American community is building civic and political infrastructures across the country," writes the study authors, noting that, for example, congressional candidates of API descent increased nearly fourfold to 39 in the last four years.
The report warned that "it would be a mistake for political parties and candidates to overlook the Asian-American vote." It recommended reaching API voters through ethnic media, in multiple languages, and candidates "must also think about the Asian American community from the start, not as an afterthought."
Popular in the Community