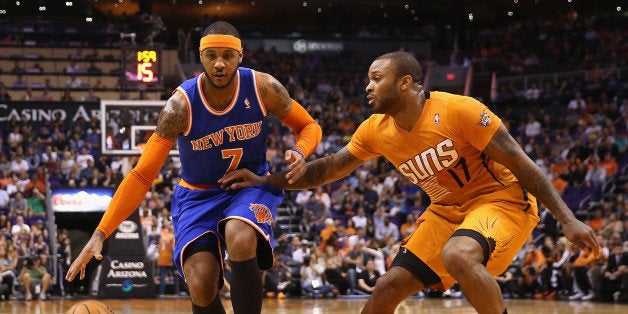 As news broke across all media outlets that Carmelo Anthony has opted out of his current contract with the New York Knicks, analysts have speculated that the seven-time NBA All-Star would either re-sign with the Knicks or become a member of the Chicago Bulls or Houston Rockets. However, as you're about to find out, the Dallas Mavericks are the best fit for 'Melo.
Reason #1: Cap Flexibility
The Mavericks have the most salary cap flexibility this offseason out of any other team in the NBA, as they sit approximately $32 million under the cap. The following players are under contract entering next season: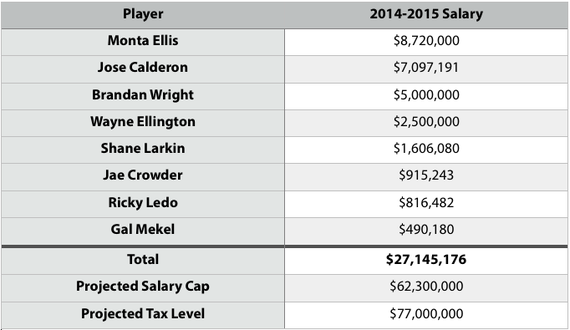 Let's say Carmelo would sign for the max contract of four years and $96 million and makes an even $24 million per season. This is what the addition of his salary would look like on the current roster.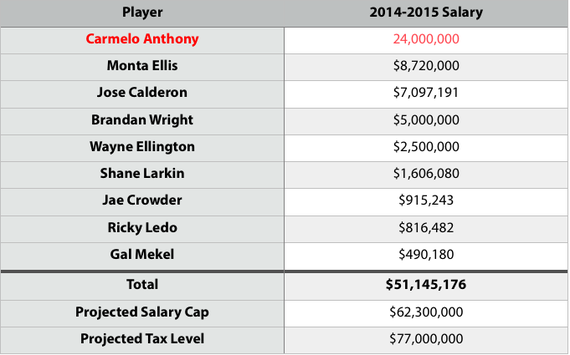 This would leave the team $11,154,824 to spend on some important re-signings, including Dirk Nowitzki and Vince Carter, for example. Nowitzki's salary has hovered right around $20 million per season and Carter's has been right around $3 million over the past few years, but each will have to take pay cuts in order to return to the Mavs with Carmelo as a newly-signed free agent.
Andrew Bynum is an unrestricted free agent that can be signed for very cheap with a huge upside. Chris Kaman is another unrestricted free agent who is on the downside of his career, and therefore will be cheap.
Here's a very possible scenario of what the Mavericks' roster could look like next season.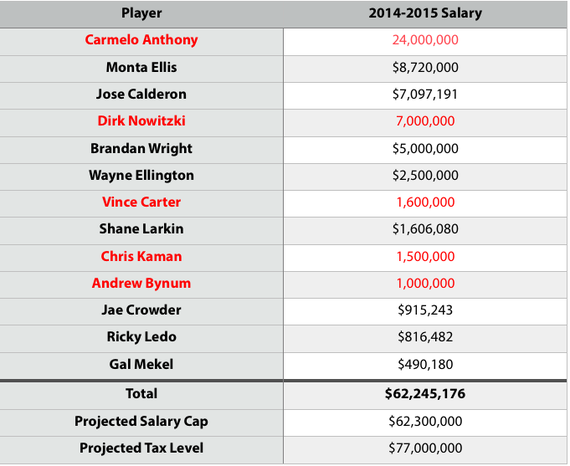 With no first round draft picks in this year's draft, I would feel comfortable entering next season with this roster, if I was a Mavericks fan.
Reason #2: Nice Supporting Cast
While the Mavs do not have a plethora of superstar players, they have two All-Star-caliber guys, including Monta Ellis (19.0 points, 3.6 rebounds, 5.7 assists per game last season), Dirk Nowitzki (21.7 points, 6.2 rebounds last season).
In addition, role players like Jose Calderon (11.4 points, 4.7 rebounds last season), Brandan Wright (9.1 points, 4.2 rebounds last season), and Vince Carter (11.9 points, 3.5 rebounds, 2.6 assists last season), if he re-signs, make it all-the-more intriguing and appealing for 'Melo.
Anthony would be able to come into a team who was searching for a leader in the playoffs last season and immediately be the unquestioned go-to guy. Nowitzki, who is on the tail-end of his career, would be able to benefit from being a secondary option and Ellis would thrive being the second or third focus to opposing defenses.
Reason #3: Experienced Coach, Correct Scheme Fit
Rick Carlisle is one of the most underrated coaches in the NBA, in my opinion. In 12 seasons as an NBA head coach, he has amassed a 569-399 career record (.588 winning percentage) and has had six 50-plus win seasons and 10 playoff appearances, including an NBA title in 2010-2011.
The Mavericks run most of the efficient offensive systems in all of basketball. They space the floor, and each player knows his role. The scheme has centered around Nowitzki getting his looks, but adding Carmelo would allow less pressure to be put on the backs of the aging Nowitzki and Ellis. Carlisle is all about team basketball and playing in your role, and adding a high-profile scorer would not force non-scorers to pick up that role awkwardly if Nowitzki or Ellis aren't in the game.
Carlisle is great at calling sets out of timeouts and is used to calling isolation sets for Nowitzki and can easily add or insert Anthony into those exact formations. Running a simple 3 out, 2 in motion-style offense, the Mavericks rely on ball screens and spacing, which will bode well for Anthony and the rest of this roster.
And oh yeah, Mark Cuban is one of the most eccentric owners in sports and has been known to do a lot for his players.
Reason #4: Winning Tradition
The Mavericks have been one of the most consistent and impressive franchises in all of sports since the turn of the century. Since 2000-2001, they have made the playoffs in 13-of-14 seasons and had 11-straight years of 50-plus wins between the 2000-2001 and 2010-2011 seasons. In that span, they went to the NBA Finals twice and won a championship once.
The other teams Anthony is rumored to be interested in are the Knicks, Bulls, and Rockets.
The Knicks have had two 50-win seasons in the last 14 seasons and have made the playoffs just four times, never once advancing past the first round.
The Bulls have also had just two 50-win seasons in the last 14 years and have made the playoffs nine times in that span, never reaching the NBA Finals.
The Rockets have had five 50-win seasons since 2000-2001 and have never made it to the Western Conference finals in that span.
Reason #5: Potential Starting Lineup, Reserves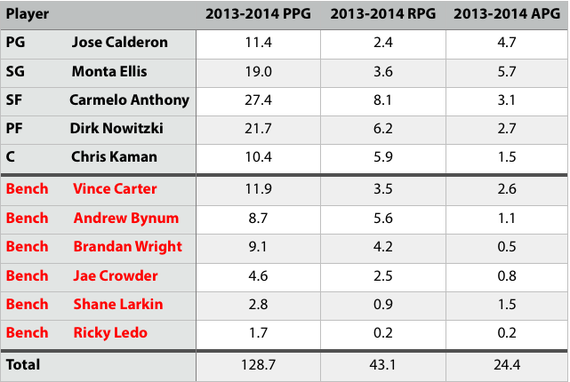 With the likely departure of veterans Samuel Dalembert and Shawn Marion, Jae Crowder and Brandan Wright will assume a greater role off the bench, which they are capable of.
As you can see, if you combine the averages that this group of players put together a season ago, the roster would have an average of 128.7 points, 43.1 rebounds, and 24.4 assists. While obviously these numbers would be altered when all on the same roster, and therefore not this inflated, this shows the talent that this roster would put out on the floor every night and is a testament to the depth that the team would have.
So, if someone can get this to Carmelo ASAP, that would be great. In my opinion, if he ever expects to win an NBA title while being the best player on the team, he has to make this move. There is no other option.
Related
Popular in the Community