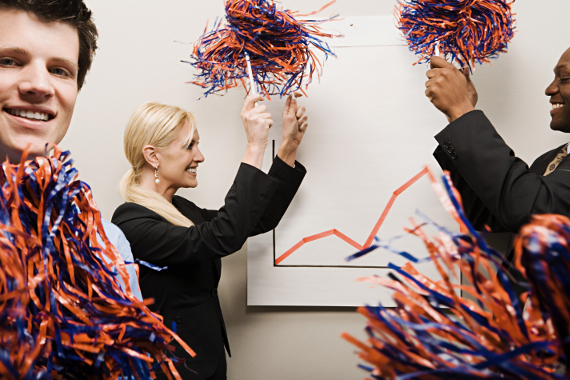 When is the last time you celebrated your own accomplishments?
I'm a member of a business mastermind group that meets quarterly. The leader of the group constantly reminds us to celebrate our accomplishments at each retreat.
That's just one of the great things I've taken away from the mastermind this year, and have incorporated into my own life and coaching practice with my clients.
Busy professionals don't celebrate enough.
I have a vision for my life and business. That vision includes big goals, mid-term and also short-term goals.
I also plan my year down to each quarter and month. Every Sunday, I plan for the new week and allocate tasks in advance for each day.
Calling myself a natural-born planner would be an understatement. I've learned that mapping out my plan and staying on top of it keeps me focused on the big picture.
Every day, I will check items off my to-do list, then move on to the next task. I'm always looking ahead to the next step and the next goal.
It's so easy to be so focused on what's next that I sometimes forget to look back at what I've accomplished.
I used to think looking back was a waste of time. But nowadays, I feel differently about that.
What I have learned is that celebrating my accomplishments, what I've learned and what I'm proud of is essential to creating the momentum I need to continue moving forward.
Because if I don't pause to realize how far I've come, I will be locked in a state of incompletion, grasping a never-ending to-do list.
The same goes for you, too.
If you don't pause to celebrate, you will live perpetually in chasing mode.
And that is simply exhausting--mentally and physically. Never celebrating your wins will ensure you get on the fast track to burn out.
Many people dismiss the need for celebration because they've been raised to feel shame around "bragging."
When I ask my clients to share their accomplishments, some will try to avoid my question by saying they have "nothing special to share."
I remind them that small steps are especially important to recognize because those are the ones that lead us to bigger goals. Small wins are easy to overlook and dismiss, which is why honoring them is so important.
"Celebration is a confrontation, giving attention to the transcendent meaning of one's actions." -- Abraham Joshua Heschel
You build your confidence by realizing how far you have come, how much you have learned and how you have evolved.
If you spend all your time only looking ahead, you will never give yourself the acknowledgment that you deserve.
Take time to look back. If you don't recognize your wins, who else will?
Question for you: What are you celebrating today?
Nozomi Morgan, MBA, is a certified Executive Coach and the Founder and President of Michiki Morgan Worldwide LLC. Addition to coaching, she speaks and trains on leadership, career, professional development and cross-cultural business communication.
Calling all HuffPost superfans!
Sign up for membership to become a founding member and help shape HuffPost's next chapter