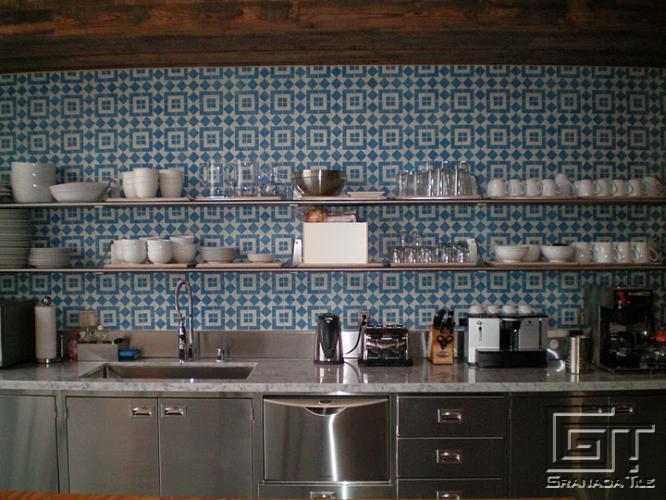 Cement tiles can be seen gracing the pages of top home decorating magazines, and on popular shows like HGTV. However, this seemingly trendy product is not a new, modern design element; in fact, decorative, hand-poured colored cement tiles have been used since they were first created in France in the 1870s. Both classic and fresh, cement tiles are making a comeback, and there are many reasons why homeowners are turning to them for their home's design.
The nearly endless variety and customization of pattern, color, and design layout is no doubt a reason why cement tiles are on the rise. While wood floors will always be a sought after choice, they can't be used everywhere, such as high-moisture areas like bathrooms. And moisture-resistant ceramic tiles are much simpler in their design options compared to cement tile. Once you've chosen your favorite look, courtyards, pathways, bathroom walls, backsplashes, and entrances can all be made-over into a space that stuns with cement tiles.
Many homeowners prefer to decorate with the minimalistic approach, but it can end up looking more like a laboratory than a home. Cement tiles are low-maintenance, simple to install, slip-resistant and anything but boring. Everything from bright colors, neutral palettes, interesting designs, and tribal patterns are available to turn a cold and simple space into one that is as functional as it is warm and beautiful.
Cement tile styles run the gamut from rustic farmhouse to ancestral tribal to bold and modern to fun and wild. All you have to do is start by picking complementary colors and a mixture of patterns and plain tiles. And unlike ceramic tiles, each cement tile is handcrafted and offers a slight variation in finish. The organic "perfect imperfection" of cement tile is the reason why homeowners will never end up with a look that appears mass-produced.
Durable and Low-Maintenance
Cement tiles have been used all over the world for more than a century for a reason; they are hard-wearing and durable. Looking at tiles that were laid in the early 20 century, ceramic tiles appear to be faded and worn, while cement tiles remain intact and in good condition. As long as they're properly sealed to combat moisture and staining, cement tiles will last for decades.
Because cement tiles are air cured, not fired at high temperatures in a kiln, they are more eco-friendly. Cement tiles do not emit fossil fuels which are burned in the kiln firing process; instead, they are created by pouring natural pigments into a design mold, which is then back-filled with cement and set by hydraulic compression. For homeowners who would like to "go green" without sacrificing style, cement tiles are the new "go-to."
Modern society is continuing to demand more designs and materials that combine functionality with style. If you prefer to invest in an authentic material that lasts, cement tiles are the perfect choice for every space in your home.
If you have fallen in love with the design elements and many benefits of cement tile, head on over to Granadatile.com where you will find a wide array of beautifully crafted, one-of-a-kind cement tiles.
Related