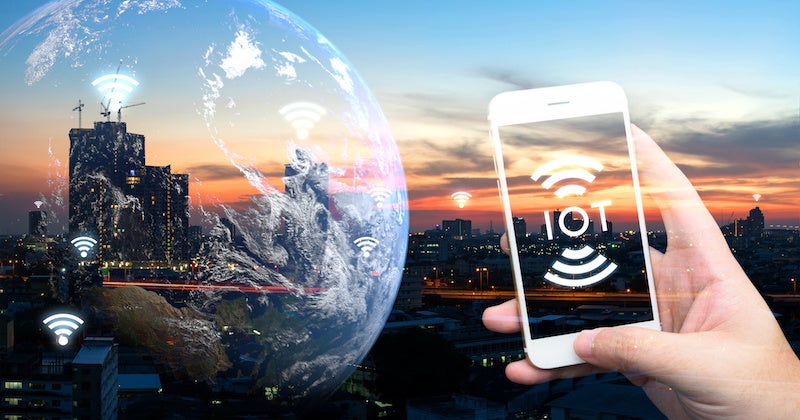 Next week is the kick off of CES 2018. If you work in technology you know that every year soon after Santa's sleigh departs, you are most likely gearing up for the mecca of conferences, the Consumer Electronics Show (CES) in Las Vegas. This year CES kicks off on January 7 and runs through January 12 and will have a new Smart Cities Marketplace and Smart Cities track.
I reached out to Steve Koenig, Senior Director, Market Research at the Consumer Technology Association (CTA)– the owner and producer of CES to find out more. At CES, you can catch him giving a 2018 Tech Trends to Watch media presentation before the show floor opens, moderating panels, presenting at the Research Summit, giving tours and more.
"The Smart Cities Marketplace at CES 2018, will include a dedicated exhibit area and conference program across several days, presented by CTA and Deloitte," Koenig said. "Our programming includes thought leaders from Bosch, Ford, Nissan, Qualcomm and more. They'll explore what's next for smart cities: smart transportation and smart grid, public safety and health care, data analytics and security, and of course AI."
According to Koenig CES is the only event bringing together the technologies, solutions, players and audiences in this evolving sectors fueled by 5G connectivity, transportation, energy and utilities, health and public safety, artificial intelligence (AI), data analytics.
"Smart Cities at CES 2018 and our related conference programming are a natural extension of the show's focus on innovation," he said. "CTA projects global spending on smart cities will reach $34.35 billion by 2020 – so, we think it's important to have a dedicated conference program and exhibition focused on this global initiative. This remarkable growth will influence tech industry growth, change the way we think about cities and address global ills. We want to help our attendees gain a better and more comprehensive sense of this trend and help encourage the continued development of smart cities."
The team at CTA believes that CES has such a broad diversity of technologies and industries – from data and sensors to digital health to mobile – they say there is nowhere better for city planners and leaders to explore these evolving, innovative technologies.
"The tech community is committed to and passionate about changing lives for the better, and smart cities have the potential to address the need for more sustainable and livable cities around the world," he said. "With the Internet of Things (IoT) as a foundation, technologies such as automated street lighting, smart energy meters, parking assistance apps and sensors have the ability to make cities safer, more efficient and more accessible. The United Nations predicts 66 percent of the world's population will live in urban areas by 2050 – so, now is the time to harness technology's potential to improve urban life. Technology is improving lives and we won't be able to realize the full impact until we can roll out tech such as self-driving cars, better energy management systems, improve response times for first responders and more."
CES 2018 will feature three full-days of programming covering everything from energy consumption to urban mobility challenges to connected emergency vehicles and more. The event is partnering with FirstNet to discuss public safety in Smart Cities – how they'll impact public safety, and how innovators can use sensor networks, human intelligence and data and technology tools to develop and share life-saving information. Sessions include Paving the Way for Connected Emergency Vehicles; Smart Buildings, Smart Homes, Smarter Emergency Response; and Consumer IoT Changing the Game for Emergency Responders.
Felicite Moorman, CEO of two IoT companies STRATIS IoT and BuLogics has been attending the conference for the better part of a decade. Both companies have been paving the way in Smart Cities products and software across the globe.
"I'm thrilled that CES is adding a Smart Cities track in 2018," she said. "STRATIS enables smart apartments and student housing by partnering with the leading smart hardware companies and service providers, to create a single platform to manage and control all devices. At STRATIS, we believe that smart apartments are the first step for intelligent commercial residential buildings, the building blocks for Smart Cities."
STRATIS IoT recently formed major partnerships with industry giants like Honeywell, Samsung, and Best Buy.
"Our Team of technologists and engineers at STRATIS have paved the way with 200,000 units installed in the U.S. alone, and additional international projects are in development. As impressive as that number is, we have monumental plans in place for 400% growth in 2018."
If your multifamily property experience package theft or package overload this holiday season, STRATIS may have the answer.
"STRATIS will be giving away a Package Place install to a select number of Multifamily apartments who enter our drawing during CES. To qualify, visit STRATISIoT.com/PackagePlace and fill out the form for a chance to win."
According to Koenig the Smart Cities Marketplace will span over 11,000 net square feet of exhibit space. Exhibitors showcasing smart city technologies include the European Commission, the cities of Berlin and Las Vegas – and the Holland Startup Pavilion.
"We have more than 100 companies committed to exhibit smart city solutions across several exhibit halls: Ford, Honda, Intel, La Poste, Nissan, Panasonic, Qualcomm and more," he said. "You can also find innovative companies such as Cognata, GenZe, Guangzhou Xiaopeng Motors Technology, Itron, Synerise and Ujet Vehicles exhibiting. Also, you'll find important technologies that support smart cities all across the show floor – from digital health, IoT, self-driving vehicles, drones, policy, 5G connectivity – and it's the only place to get the full, big picture of all of these technologies. While we have a dedicated area for Smart Cities, the story expands beyond the dedicated space at the Westgate. Make sure to check out exhibitors like Intel, Qualcomm, Ford and many others who are located in other areas of the show."
REAL LIFE. REAL NEWS. REAL VOICES.
Help us tell more of the stories that matter from voices that too often remain unheard.
This post was published on the now-closed HuffPost Contributor platform. Contributors control their own work and posted freely to our site. If you need to flag this entry as abusive,
send us an email
.