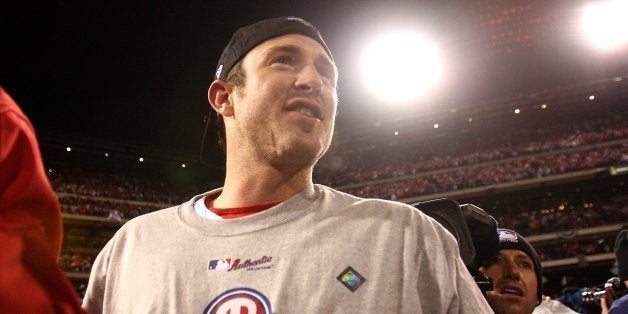 There have been a lot of likable Philadelphia Phillies over the past 10 years. Jimmy Rollins. Ryan Howard. Carlos "Chooch" Ruiz. Cole Hamels. Shane Victorino, the "Flyin' Hawaiian". Jayson Werth. Aaron Rowand. Hunter Pence. Brad Lidge. Roy Halladay. Roy Oswalt. Cliff Lee.
None were as beloved as Chase Utley.
That's a pretty crazy thing. JRoll was the team's captain, and the first to tell New York to sit on it. Howard was the first NL player to win Rookie of the Year and MVP in back-to-back seasons. Hamels won World Series MVP. Lidge threw a perfect season. Doc and Oswalt and Lee all chose to come to Philly, to a stadium John Smoltz said would never appeal to pitchers, for the chance at chasing a championship.
Yet despite all of this obvious awesomeness, it's still universally accepted that the Phillies most popular player during the past decade is Utley.
Why is Utley so beloved? Well, you can take a look at his top 10 moments in red pinstripes, or take a deeper dive into the single greatest, if you so choose. However for a majority, it was more about all that Utley encompassed, not just on the diamond, but off of it.
His first hit was a grand slam. Well, if you want to be Philadelphia's favorite son, you need to make an entrance. This is the best opening act in South Philly since Apollo Creed came in wearing stars and stripes. Right from the start, Utley put Philly on notice, with quite literally the best first hit you can ever have.
He once told New York Fans "Boo? F*** You!" Playing in an All-Star Game in New York, Utley was noticeably booed by Mets fans in attendance. The man Harry Kalas referred to as "The Man" responded with what every Phillies fan was thinking. Oh, and it was caught on national television.
He was the consummate runner-up. While he had flashes of being the Phillies best all-around player (a 35-game hit streak in 2006, for example, or the 11 home runs he hit in April of 2008), he never seemed to get the national recognition as the Phillies Top Dog. It was JRoll and Howard who won MVP awards; it was Roy Halladay who won the Cy Young; it was Hamels who won World Series MVP. Yet that never seemed to bother Chase; the man doesn't have an ounce of premadonna in him. He wasn't there to win awards, he was there to do his job. That suited Philly fans just fine.
He rocked a soul patch. Yeah, and he still rocks a soul patch. 'Cause Chase Utley has soul, that's why. On days off you half-imagined he was rocking a fedora and playing the horns in some ska band. I know I sure can't rock a soul-patch, but then again, I'm not Chase Utley.
Everything Mac said was true. The infamous Always Sunny episode where Mac writes a child-like letter to Chase might have seemed hilarious to the rest of the world, but to Phillies fans this was perfectly reasonable. "In a lot of ways, yes, I do love him, but that is not a love letter in the way that you're thinking of!" said Mac, and everyone else from Philly. It still seems perfectly reasonable, and heck yes there should be stickers 'cause Chase deserves his letters to be jazzed up!
Oh, and the best part? Chase responded. Because of course he did. As Mac wrote, "I know you have not been getting my letters because I know you would write back if you did." Wasn't even worth writing. We all knew.
He's Roy Halladays favorite baseball player. In a Twitter rant shortly after the Dodgers acquired Utley, Halladay said "when (Utley) talked to me ....On the field I got goose bumps every time!" Future Hall of Famer Doc Halladay, one of two players to throw a postseason no-hitter, a man who has nothing in his veins except ice water and adamantium, said Utley was his ultimate teammate. That's like Superman telling you he's jealous of your cape.
He hit five home runs in a World Series. Sure, they didn't win that Series, but he still hit five freakin' home runs. The only other guy to do that got the nickname Mr. October.
He pulled the greatest defensive fake throw in Philadelphia history... in the World Series clincher. If you've never actually seen this clip, go watch it right now. Wait for the second view though, because Utley's fake is so fantastic, even the cameraman is thrown off.
That's the kind of move you pull in backyard softball. Utley pulled it off to perfection, and in the clinching game of the World Series, to boot. One gets the feeling this is how Utley always envisioned it: while most kids growing up imagine themselves up to bat with two outs in the bottom of the ninth, Utley probably was out back practicing this.
He trademarked the phrase "World F****** Champions." Two days after the Phillies ended the city of Brotherly Love's 25-year championship drought, a parade was held that included more than a million people on Broad Street. The celebration ended with a rally at Citizens Bank Park, where everyone from Harry Kalas to Charlie Manuel to Jimmy Rollins was given a few moments to speak. During his time with the mic, Chase uttered three magical words that simply, yet perfectly, captured how every Philadelphia sports fan was feeling.
During their remarkable run, fans in Philadelphia have had the privilege of watching some of baseball's greatest players. Through it all, Chase Utley was their favorite, and it's always been clear why.
Calling all HuffPost superfans!
Sign up for membership to become a founding member and help shape HuffPost's next chapter