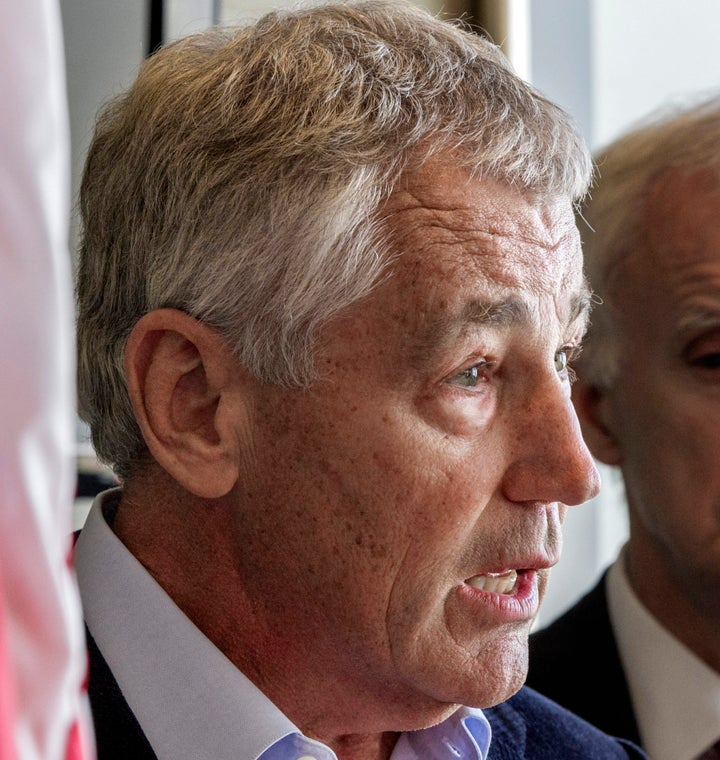 Former Sen. Chuck Hagel (R-Neb.) has a problem if hisand the White House's goal is to quell criticism for his anti-gay past. And that problem is only getting worse.
Openly gay outgoing Rep. Barney Frank (D-Mass.) slammed Hagel on New Year's Eve, saying he "strongly opposes" a Hagel nomination for secretary of defense. Other progressive LGBT critics have been speaking out in recent days, as well. Already under relentless attacks for weeks from neocons opposed to Hagel's views on Israel and Iran and determined to stop President Obama from nominating him to the Defense Department post, Hagel will have only himself to blame if the gay issue helps sink him.
Hagel offered a pathetically weak apology two weeks ago for having opposed the nomination of openly gay James Hormel as ambassador to Luxembourg when President Clinton nominated him in 1998. At the time he'd called Hormel "openly aggressively gay" and therefore unfit to represent the country abroad, because being gay is "an inhibiting factor." But all Hagel will say about it now, releasing a statement only after the Human Rights Campaign expressed concern over a possible nomination, is that those remarks were "insensitive."
Insensitive? Come on, Senator. Surely you can do better than that. And if you can't, you don't deserve the job.
Hagel scored a zero on the Human Rights Campaign's Senate scorecard between 2001 and 2006 (which is not that long ago), voting against pro-gay initiatives and for anti-gay ones, and was on record as opposing allowing gays to serve openly in the military (calling it a "social experiment"), let alone representing this country as ambassadors. And yet in his recent apology for the Hormel remarks, he seems surprised that LGBT Americans would question his "commitment to their civil rights," says he supports open service and claims that the remarks about Hormel don't represent "the totality of my record."
Am I missing something here? From what I see, the remarks do pretty much represent the totality of Hagel's voting record -- a big fat zero on equality. The Washington Note's Steve Clemons, a noted and respected foreign policy expert who is openly gay and a friend of mine, lauds Hagel as pro-gay and as perfect for the job of defense secretary, explaining that Hagel, whom he knows personally, has made a dramatic transformation on gay rights that few have known about. Steve chides critics for not reaching out and asking Hagel about his supposed change over the years.
But why is it solely their job to ask? Two years ago we had a loud and sometimes ugly debate over repealing "don't ask, don't tell," something Democrats and the president eventually were able to do, with only eight GOP senators signing on. Why wasn't Hagel speaking publicly about his dramatic shift on the issue and urging his Republican colleagues to support repeal? Why was it our job to ask? Why didn't he tell?
And all Hagel can come up with now, as his name is being floated to lead a military that is open to gays and lesbians but which will need a strong defender of LGBT rights to further implement DADT repeal, foster equality for lesbian and gay couples and push for allowing transgender people to serve, is that he was "insensitive"? Do we really think that 15 years after a senator called someone "aggressively black" and opined that being African-American is an "inhibiting factor" to a government job, he or she should get away with saying that the remarks were merely "insensitive"? It's hard to imagine that a person like that would even be nominated to lead a military as racially diverse as ours.
Hagel and the White House may have thought they got past the gay problem after the Human Rights Campaign (HRC), which had initially expressed concern about Hagel as defense secretary, accepted Hagel's weak apology. James Hormel himself didn't accept the apology at first and questioned its sincerity, but he, too, modified his position (though he still acknowledges that the timing of the apology is "self-serving").
All of that smells like the White House trying to save an embattled potential nominee by putting the pressure on. But it's not working, largely because this White House hasn't learned, though it's had ample opportunity, that strong-arming HRC into submission doesn't do much to silence criticism within the community. More activists, including Richard Socarides, former Clinton advisor on LGBT issues, are speaking out, expressing concern and saying that the apology is inadequate. And then we have Barney Frank slamming a Hagel nomination entirely.
Certainly, the way Hagel is being attacked by neocons and even smeared as an "anti-Semite" is ugly and reckless. It's also pathetic (and laughable) that the Log Cabin Republicans and some other gay conservatives are coming out against Hagel on the gay issue, clearly just allowing themselves to be used by the neocons. Having endorsed Mitt Romney and many other anti-gay Republicans, they have little credibility.
But that doesn't mean that Hagel's comments about Hormel, his voting record and his insufficient apology should not concern many LGBT activists and progressives. If Hagel and the White House want their support, they're going have to say and do a lot more.
Popular in the Community