When a judge struck down a St. Louis city ordinance in a highly anticipated ruling Monday afternoon, he added the city to a growing list of places around the country where voters don't have any say in whether their towns spend millions of dollars on building new stadiums.
The state of Missouri has been trying to put funding toward a new stadium in an effort to keep the NFL's St. Louis Rams from moving to Los Angeles. The local stadium authority launched a lawsuit against the city in April, kicking off the effort to move forward with construction and forgo ballot-box approval.
Circuit Court Judge Thomas Fawley's ruling that an ordinance requiring lawmakers to gain voter consent before building stadiums was too vague to enforce eliminates at least one potential roadblock to the construction.
It also follows a growing trend. Across the country, lawmakers have increasingly found their way past laws and ordinances meant to guarantee public votes on stadium projects or the taxes and spending that finances them.
To name just a few examples: Minnesota lawmakers avoided public referendum requirements to put money toward new stadiums for both the NFL's Vikings and MLB's Twins. Opponents of a new ballpark in Cobb County, Georgia -- where MLB's Atlanta Braves will soon play -- were also shut out of public hearings. In Washington, D.C., last year, councilmembers waited to release details of a new stadium for MLS franchise D.C. United until after Election Day.
No matter the method, the practice of avoiding the public's opinion appears widespread: In the last decade, cities and states have put more than $8 billion toward stadiums without holding votes, ESPN The Magazine reported last year.
The idea of even holding referendums or accurately gauging sentiment on stadium projects is a fairly new one, borne largely out of growing public skepticism about whether stadiums are a worthwhile use of taxpayer money.
"The public is becoming more aware of how these deals happen, and people are looking around and starting to ask the question: Could we be using this on something else?" said Tim Kellison, a University of Florida professor who has studied voters' reactions to stadium proposals. "They are asking these questions more than they used to."
St. Louis is indicative of this trend: The ordinance in question only went on the books in 2002, years after the city and state decided to spend big on the Edward Jones Dome, the Rams' current home, and shortly after it agreed to fund the construction of Busch Stadium, home of baseball's St. Louis Cardinals.
"We sort of decided, if we're going to get screwed a third time, let's at least have a vote on it," said John Ammann, a law professor at Saint Louis University who threatened to sue the city in an attempt to take the Rams stadium proposal to the public.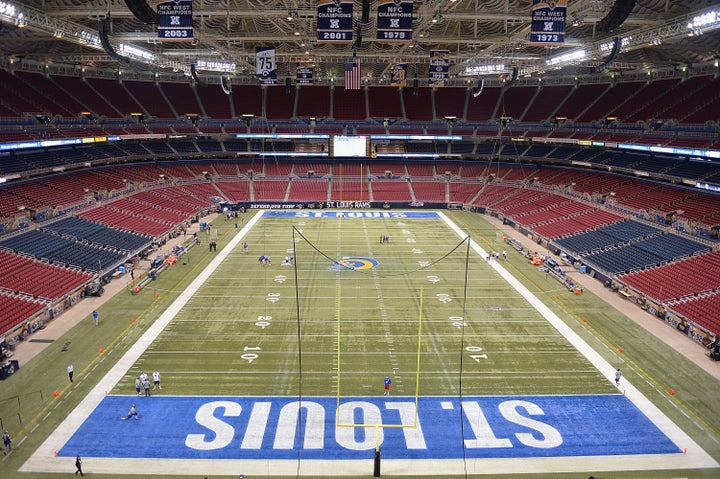 Naturally, more scrutiny about spending money on stadiums has led to team owners looking for ways around referendum requirements and public input -- even though proposals to fund new venues still win a lot of the time. Still, referendums give voters a chance to say no, and if owners and lawmakers know they can win in the legislature or city council, why introduce the possibility of a loss at the ballot box?
Beyond the possibility of a loss, the potential for delays has helped turn lawmakers against public input. When teams and leagues can threaten to leave town if a city doesn't deliver stadium money by a certain time, it makes it even more appealing to avoid public votes that can slow down the process.
"Our issue is time -- not a public vote," Missouri Gov. Jay Nixon (D) insisted when the lawsuit was filed, as the NFL and the Rams urged the city to speed up the process of financing a new stadium.
Can voters and their representatives stop it? A handful of cities have started to push back against the pressure to build new stadiums and arenas, and to shield the public from the process. In Calgary, Alberta, for example, the mayor recently promised to "actually engage the public" in the decision to build a new arena for the city's NHL franchise, the Flames, and said he would only approve the construction if it came with a "net public benefit."
St. Louis could continue to fight back, too. Mayor Francis Slay supports the stadium but has said he wants the public to have its say, and his office indicated it may appeal the court's decision. The mayor could also push the city's board of aldermen to pass a new, legally enforceable ordinance on future stadium plans, his aides said Monday.
But that's unlikely to address the Rams deal, to the dismay of Ammann, who said he plans to file his own appeal.
"We want a vote on this billion dollars," he said.
Support HuffPost
The Stakes Have Never Been Higher
Related
Popular in the Community