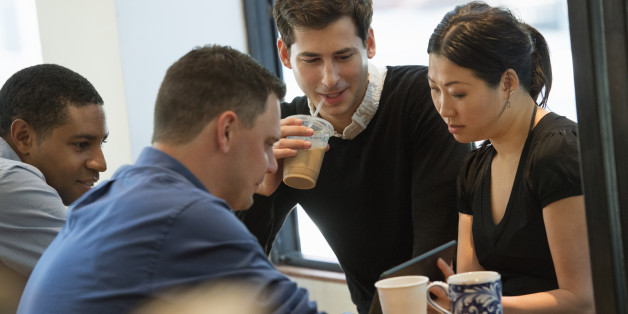 In the earlier stages of startups and small businesses, when committing to an office space is not in the budget or unrealistic, coffee shops are substituted for their working and meeting needs. In the new era of entrepreneurs and freelancers, coffee houses are a nice way to break away from the usual scenery of the home office desk. Sometimes just people watching can provide a spark in creativity for writer's block. After recently reading an article about Coffee Shop Etiquette on the Huffington Post I became interested in speaking to not only the rules as a patron, but also as someone who "Coffee Shop Camps" when deadlines are due. With the increasing amount of coffeehouse commuters, I know I am not alone. Here are the top guidelines for what's appropriate and what's a lack of manners can be a bit grey.
BYOD (Bring Your Own Device)
When having your business meeting outside of the office, make sure to be fully prepared and BYOD (Bring Your Own Device). Nothing is more annoying than having someone ask if they can log on your computer! Your potential/current client might think your lack of organization and preparedness corresponds to your work level. Whether a tablet, laptop, or smart phone, make sure you come to your business meeting fully prepared and ready to show your information. I always carry a copy on a USB and sync up my cloud on all devices in case of any potential error.
Turn the Sound Down
Group meetings are great, as long as you don't invite the entire coffeehouse into your meeting. Whether on the phone, on Skype, or meeting in person, make sure to keep your conversation to yourself and whom you are speaking to.
With coffee shop etiquette, if you are working alone or in a group, make sure the presentation and what you are listening to is on silent. If you don't have headphones, refrain from it. Coffeehouses aren't your private setting; they're a public place for everyone! No matter what the presentation, if there is sound to it, then look elsewhere and rent a conference room.
Coffee Shop Etiquette: Be respectful to those working/enjoying themselves around you.
Group Meetings
Group Meetings are appropriate in public settings as long as you respect those surrounding you as well as maintaining business professionalism.
If you've spent time in a coffee house, you most likely are aware at how many people you can comfortably hold around one table. In most cases, the magic number is 4 per table. Call ahead and ask the baristas if there is enough space during the time you plan having your meeting. Nothing looks more unprofessional than planning a meeting and making someone stand!
Coffee Shop Etiquette: Make sure to purchase beverages/food and support the business
Clean Up After Yourself
You wouldn't leave extra sugar packets, dirty napkins, or empty coffee cups at in your cubicle, so why leave them on the table that you used? Make sure to clean up the table that you use. It may seem obvious, but think about all the times you've wiped off crumbs or sugar off a table before putting your bag on the table. "If you spill your food or drink on the table, it doesn't take much to grab a napkin or ask for a cloth", Blogger Miss Sue Flays explains. She even goes into suggesting to make a relationship with your barista. Show your support; talk it up to your friends, and the staff will thank you. They'll also be less likely to grumble when they see you setting up camp for the day.
Coffee Shop Etiquette: Clean up after yourself and be respectful for your baristas.
So freelancers and entrepreneurs, next time you think about heading to your "coffice" of choice, take these rules into consideration. The baristas, your potential/respective business partners, and other patrons will thank you.
Calling all HuffPost superfans!
Sign up for membership to become a founding member and help shape HuffPost's next chapter