Every generation thinks they do it better than the previous. But now there is a new form of philanthropy that every generation can call their own, do it their own way and have tremendous impact on the community issues important to them. It is a form of high-impact grantmaking that is growing exponentially around the country. It is called collective giving and it is especially appealing to women.
Historically, women donors have supported organizations with small, individual donations. The collective giving model is different. It changes the paradigm on women's giving. It pools individual dollars to make significantly larger grants allowing women of all levels of wealth to participate in big gifts. It engages women in philanthropy and as philanthropists. There is a difference between responding with an individual $100 donation and being part of a $25,000 or $100,000 grant to an organization. These larger grants can move the needle on issues. And women are creating these organizations in order to transform their communities.
The national oversight organization, Women's Collective Giving Grantmakers Network (WCGN) is dedicated to the creation, development and expansion of the women's collective giving grantmaking nationwide. The WCGN does not make grants. It is focused on helping its member organizations in do their work even better. The size of individual member organizations varies widely, from as large as 500 to as small as 40 as the new organization get off the ground. Annual contributions range from $200 to $10,000, but are the same for all women in the same collective. Key to all members is the one woman, one vote, democratic concept used for determining grant recipients.
The WCGN shares with its members, best practices about grantmaking, governance and membership; offers monthly educational programming and holds national conferences. The last conference was recently held in Charlotte, NC, hosted by the member organization based there, The Women's Impact Fund.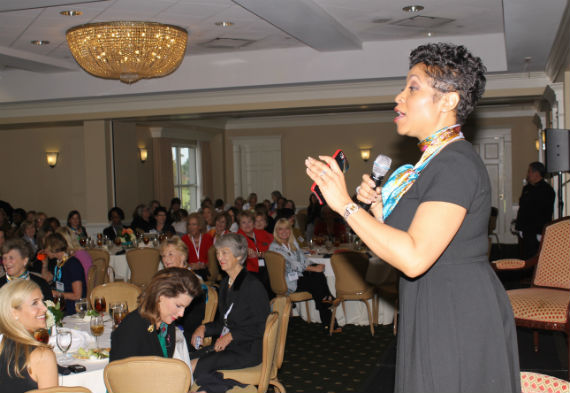 WCGN Conference Co-Chair, Sonja Nichols, speaking at a conference luncheon about why women's philanthropy is on the rise. Photo Credit: Daniel Coston
While providing a funding mechanism for the community, this model as defined by the Women's Collective Giving Grantmakers Network also provides leadership development for the women philanthropists. The process for how the dollars are allocated lies solely within the organization, which is to say, it is equally shared by every woman in the fund. Members themselves determine the funding areas; size of grants to be given; grant proposals to be considered; and ultimately awards grants based on a rigorous vetting process. The keystone of this process is the education of the members in all facets of their philanthropy, including grant assessment process, understanding of the community needs as well as the nonprofits working there. Why does collective giving appeal to multiple generations of women? It is a flexible, grass roots model easily adapted to the community interests and financial resources of the women in each collective. Collective giving also speaks to several emotional drivers of women: creating relationships and community as well as working together for common causes.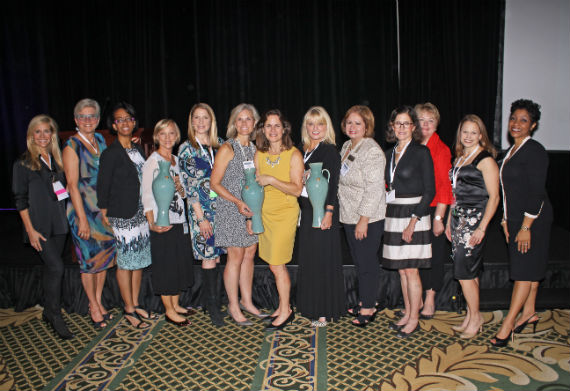 Winners of the WCGN 2015 Transformational Grant Spotlight Awards: Impact 100 Cincinnati, Women's Giving Circle of Cumberland County, and Impact 100 Greater IndianapolisPhoto Credit: Daniel Coston
What does the research say about how different generations look at giving and how does the collective giving model satisfy those distinctions?
WCGN Member organizations train their members to be good financial stewards, providing the education to support sound philanthropic decision-making that is applicable in the community as well as in personal philanthropy in the home.
Collective giving organizations expose members to community organizations and their missions and processes, broadening the women's community knowledge and encouraging personal involvement in any non profit in addition to her own collective giving organization.
For many women with significant assets, developing the confidence to make large grants comes from the "learn as you go" opportunities offered by the WCGN collective giving grantmaking model.
4. In cases where only one spouse determines who will receive charitable gifts, the wife decides twice as often as the husband.*
Knowing the community and knowing the right questions to ask starts with the collective giving experience.
Collective giving is a new area of philanthropy that is attractive to women of all ages. It represents a new source of funding for nonprofits across the country because it is attracting women who had not previously been giving in a strategic manner. Women's Collective Giving Grantmakers Network supports this exciting philanthropic movement and the women involved in it.
*(Source: IU LILLY FAMILY SCHOOL OF PHILANTHROPY Improving Philanthropy to Improve the World; Brown, E. (2006). Married couples' charitable giving: Who and why. In The Transformative Power of Women's Philanthropy, (M.A. Taylor & S.Shaw-Hardy, Eds.), pp. 69-80. Wiley Periodicals Inc.: San Francisco, CA.)
This is the fifth article in a series on women's collective giving movement, published in support of the national leadership forum in Charlotte, NC, Oct 15-17th, 2015. Hundreds of female philanthropists gathered to share best practices, gain new skills, and network with globally-recognized philanthropists. For an overview of the social impact movement, tune into this NPR podcast with the WCGN founder and other key leaders.
Support HuffPost
The Stakes Have Never Been Higher
Related
Popular in the Community