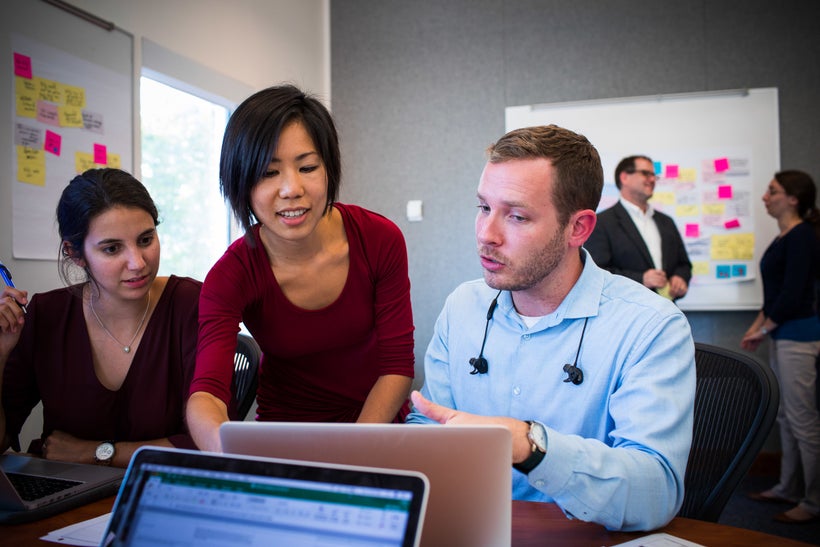 A great way to learn whether a college is doing its job? Look for a school that promotes the key experiences proven to help ensure fulfilling lives and career success after graduation: specifically, personal support, hands-on experience, and co-curricular learning, according to a Gallup-Purdue report.
The study found that the size or type of school (public or private, selective or nonselective, type of degree granted) didn't make much of a difference in the overall outcome of a student. What did matter was the subjective experiences that the individual student had while in school and their reaction to those experiences. Here are things to look for:
Personal support. Relationships can be life-changing, and often boost confidence and growth. Gallup-Purdue highlighted the value of a professor who cares about students as a person, or a mentor or sponsor who encourages that student to pursue goals and dreams. Relationships with fellow students proved just as important to success as relationships with teachers. These friendships and connections can last a lifetime and you never know what doors they may open down the road.
Hands-on experience. Experiential learning—learning by doing, trying, succeeding and failing, and trying again—is essential to both left-brain (logical, technical, analytical) and right-brain (creative, intuitive, artistic) skills sets. The Gallup-Purdue study found that experiential learning is magnified when undergraduates take on long-term projects or complete an internship that will apply skills they've learned in the classroom. (Internships should be more than C-level administrative tasks, and include decision-making and working with an engaged manager. A mentor is ideal.)
Co-curricular learning. The best activities outside the classroom help students learn more about themselves, develop qualities like empathy and teamwork skills, and express their values. This could be in the form of a community service project, an athletic team (at any level), or a club. Andrew Shepardson, Bentley's vice president for student affairs and dean of students, often says co-curricular experiences are instrumental in teaching undergraduates their strengths and weaknesses as part of preparation for the world of work. And what better opportunity is there to get real leadership practice?
Watch this video to hear why the Gallup-Purdue index matters to students' success.
A terrific example of the value of impactful experiences outside of the classroom comes from CNN Political Producer Dan Merica. He came to Bentley intending to study international business but switched to communications during his sophomore year. His decision was based on writing for the school newspaper while studying abroad. Merica says, "…it was then that I realized that what I really wanted to do was to be a writer, to be a journalist, to be a reporter."
As today's students search for the right path, there are important questions for them to ask before deciding on a college, and to keep in mind throughout their college years: Will there be good people supporting me on my journey? Does the curriculum offer experiential opportunities relevant to my goals? What is co-curricular life like on campus and where can I spend my time making a difference? What will best prepare me for life after college? The answers to these questions may differ for every student, but finding a college that offers the right balance among these critical questions is a sign this school might be the right fit.
REAL LIFE. REAL NEWS. REAL VOICES.
Help us tell more of the stories that matter from voices that too often remain unheard.
This post was published on the now-closed HuffPost Contributor platform. Contributors control their own work and posted freely to our site. If you need to flag this entry as abusive,
send us an email
.