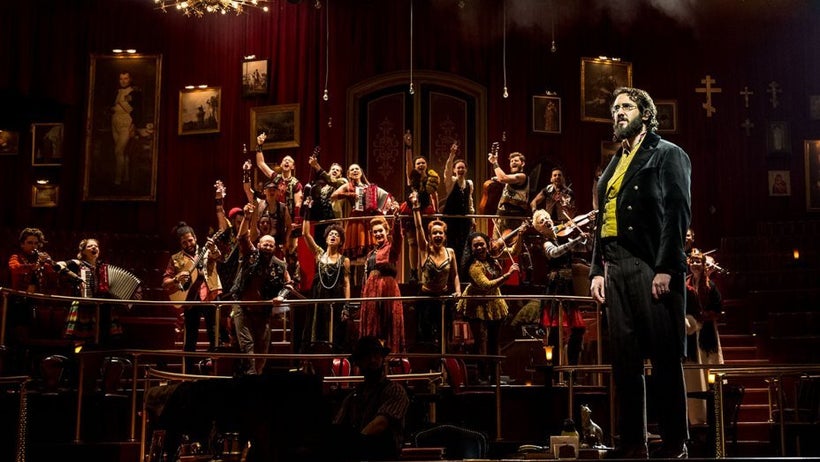 It is often hard to judge a director's contribution to a work. A script changes during previews—who requested it? Did an actor just naturally walk left at a moment, is it in the script or was it part of a director's vision? Often I read plays that I like only to hate them onstage. Is that the director's fault? Most critics tend to pan the play, because they haven't read it, but I wonder. Directors frequently get attacked when there is a bizarre overarching concept or the pacing is totally off, but often they remain unscathed when all the actors are essentially in different shows. When shows are widely successful critically, the director is (most times rightfully) praised. Yet as a reader of reviews, and someone who talks to award voters, I often wonder what people think a director does or should be responsible for doing. This is all to say, picking the Best Director of the year is often difficult. This year I do not think it is, at least in terms of musicals.
This year was a strong one for musicals, despite what Jesse Green might believe. There was much to admire in the product that all five Best Direction of a Musical nominees put forth. Obviously Hello, Dolly! is joyous and Jerry Zaks brought it to us that way. Groundhog Day is probably the most technically complex comedic musical I've ever seen and Matthew Warchus' work is genius. As an audience member, I think what is onstage at the August Wilson Theatre is probably a perfect realization of his vision. Christopher Ashley managed to shepherd Come From Away, a good-natured musical about an unlikely musical subject, to Broadway after multiple tryouts. The show could seem too earnest or cloying, but Ashley manages to put forth a really impactful musical without many gimmicks. Dear Evan Hansen packs an emotional wallop and Michael Greif can certainly be credited for bringing a difficult story to life so effectively. But there is one director who stands above the rest this season--Rachel Chavkin, director of Natasha, Pierre & The Great Comet of 1812.
Chavkin, making her Broadway debut with Comet, had a herculean task. Even for an off-off-Broadway space, Natasha, Pierre & The Great Comet of 1812 was an unusual musical. Part musical, part experience. On paper it seems impossible to stage effectively. No doubt it was a huge collaborative effort for it to get to even Ars Nova. And look how far it has come. I like the show, yet even I thought transferring it was a bad idea. How could you possibly stage it effectively on Broadway? Even when I heard about Mimi Lien's amazing set design (which should win a Tony easily), I was hesitant about revisiting the show on the Great White Way. Chavkin has done an amazing job with staging it and with getting very specific performances out of her actors—it's all so well done. I've become fond of saying that Chavkin made a hat where there never was a hat. She took something that seemed virtually impossible and pulled it off against the odds. Everyone on the team talks about her vision, her execution of that vision. It's a remarkable triumph.
Comet has its weaknesses, but even its detractors admit that it is something. The energy behind it, the engagement of the audience, that could all veer into the chaos. In fact, some of it is staged to seem chaotic. But Chavkin did such a brilliant job that it all works. At a theater so much larger than the theater I first saw it at, many years after I first saw it, the show still conveys a sense of spontaneous inspiration.
I've spoken to people in the last couple of weeks who were voting for Michael Greif. These people mention the great job Greif did on Dear Evan Hansen but they also inevitably mention the fact that Greif has never won. That's right, over twenty years after making his Broadway debut as a director, he's never won the Tony. That is unfortunate, but it is not a reason to give him a Tony this year. This is not a lifetime achievement award—it is about what you did for the show you are nominated for, as hard as that is for a typical audience member to judge or ever really know. Of course it never really is that. Award season is about so much: your career, your ability to schmooze, how much momentum your show has generally and more. But at its purest it should be about the work. Chavkin's work is the best this season.
Natasha, Pierre & The Great Comet of 1812 should take home at least two Tony Awards on Sunday: Chavkin and Lien should win. They both deserve their awards more than anyone in their categories. This year. For this show. At least to the extent we can judge as an audience members. End of story.
Calling all HuffPost superfans!
Sign up for membership to become a founding member and help shape HuffPost's next chapter
This post was published on the now-closed HuffPost Contributor platform. Contributors control their own work and posted freely to our site. If you need to flag this entry as abusive,
send us an email
.