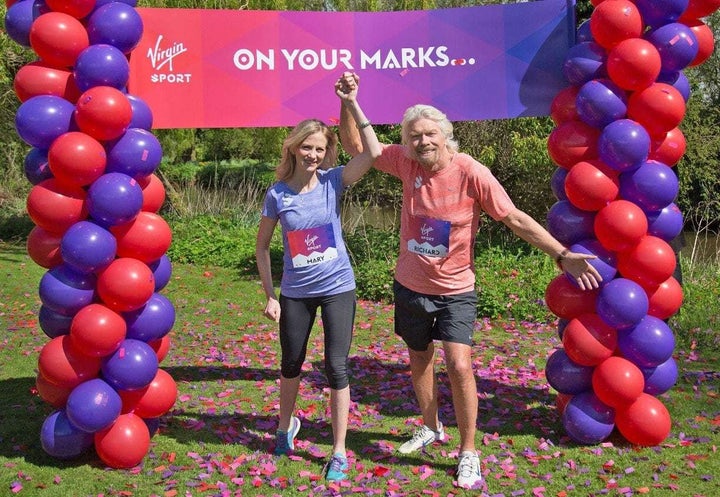 I recently sat down for a conversation with Richard Branson, Founder and Chairman of The Virgin Group, right before his presentation at the Commonwealth Club in San Francisco focused on his newly released book, Finding My Virginity. Even as 67 year-old, Branson's daily routines for maintaining his health are more than most. Aside from playing tennis everyday and going kitesurfing and surfing, he sets a major annual challenge for himself. Last year, he took his children on an eight-day trek from Switzerland to Italy and that was only the beginning. He then bicycled two and a half thousand kilometers across the mountains to the southernmost tip of Italy and then swam from the southernmost tip of Italy to Sicily. Then, another marathon and another bike ride. He then hiked up and finished at the top of Mount Sicilian. "If you don't lead a healthy lifestyle, your productivity will be completely screwed," he told me.
In our culture, our health and well-being is becoming extremely important as the obesity rate among American adults reached an all-time high this year. Overweight employees cost their employers $73.1 billion a year and file twice the number of workers' compensation claims. Today, there's a national movement toward meditation, yoga and fitness classes, accompanied by health trackers, coaches and facilities to help us be healthier and happier. We care about how our food is made, where it comes from and how it affects our lives like never before. This is all happening because we are becoming more stressed out about the uncertainty of the country, and the American Psychological Association links the affects of constantly change to chronic stress. In the workplace, change is constant as companies are being disrupted, merged, acquired or downsized at a moments notice. As a result, employee's health can be affected and it can be a high expense for their companies.
Healthcare coverage is the largest employee related expense for employers at eight percent of total compensation. Next year, the average healthcare cost is projected to be 7.2 percent, up from 6.9 percent this year, rising from $4,895 to $5,248 in employee premiums and out-of-pocket costs. Companies seek to lower their expenses through well-being programs, which simultaneously increase employee productivity and decrease absenteeism. These programs can include yoga classes, healthy snacks, fitness centers, as well as the hottest new workplace perk, standing desks!
I asked Branson what the connection is between the health and well-being of employees and corporate profit and he said "Any good and sensible company and will come up with clever ways to try to incentivize their employees to get fit. We give people air miles for flying a lot, so we should give people miles and rewards for keeping healthy and fit." One of the Virgin Group's companies is Virgin Pulse, which helps over 2,200 companies in 185 countries stay fit through an employee well-being solution. They found that nearly 100 percent of HR professionals agree that employee well-being programs can positively impact the achievement of each of these broader business priorities and goals. Virgin Pulse integrates with Fitbit, the popular wearable technology, which has a wellness program for their corporate clients. Target and other companies that use the Fitbit Corporate Wellness program paid 25 percent less per employee on average in total annual healthcare costs.
Aside from physical health, mental health has become a critical component of employee well-being. Every year, 18.2 percent of American adults suffer from some mental illness, enduring conditions such as depression, bipolar disorder or schizophrenia. Companies that even talk about mental health can not only support employee well-being but become more profitable. A recent analysis of FTSE 100 companies found that the companies who used the words 'mental health' and 'well-being' are more than twice in their annual reports last year raked in up to three times more profit than those that didn't. PwC UK has reacted by creating a well-being champions program of volunteers who can support the well-being agenda in their local office. More than 12,500 people across the firm wore a green ribbon to symbolize their willingness to talk about mental health.
Companies will continue to allocate more money to well-being programs because they benefit financially and their employees will be more productive, happy and healthy as a result. With the rising costs of healthcare, these programs can save money, increase engagement and give companies a competitive advantage in the marketplace.
Related
Popular in the Community