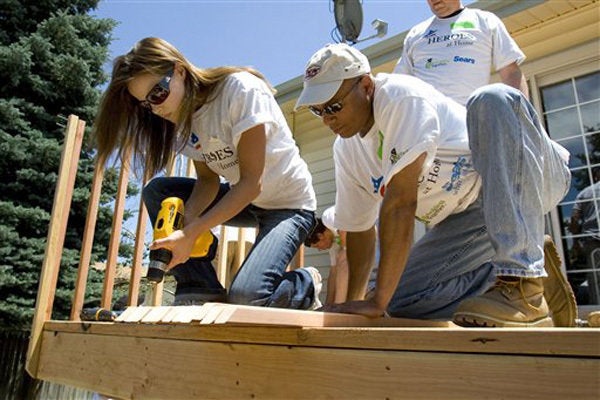 Despite the bipartisan majorities that created AmeriCorps in 1993, saved it a decade later when it was last at serious risk, and enacted the Edward M. Kennedy Serve America Act less than two years ago, radical conservatives still can't get past the program's association with Bill Clinton. Or the fact that AmeriCorps members receive poverty-level living allowances and modest college scholarships in exchange for their year of service. (We get it -- they are not volunteers; they are people willing to work for a year in some of the most dire circumstances for practically nothing.)
Sadly, their ideological extremism prevents Congressional naysayers from reading for comprehension. If they did, they would understand that AmeriCorps is the kind of government program they ought to support.

Three decades ago, President Ronald Reagan called for a bigger role for charities in solving the problems of the country. He looked to volunteers to play a bigger role. But volunteers aren't free -- somebody needs to recruit them and manage them -- and charities often struggle for resources, especially during down economies. AmeriCorps members, by recruiting and supervising community volunteers, make it possible for millions of people to make a real difference. As a result, the charitable sector is stronger and volunteers more effective, thereby lessening the need for greater government spending.
While associated with President Clinton, AmeriCorps is actually based on a demonstration program signed into law by President George H.W. Bush. It was enacted with bipartisan support, boldly expanded by President George W. Bush, championed by Republican Presidential nominee Senator John McCain (R-AZ), and further expanded through the bi-partisan Edward M. Kennedy Act co-written by conservative Senator Orrin Hatch (R-UT).
In fact, its design is eerily similar to the model proposed by House Budget Committee Chaiman Paul Ryan (R-WI) to reshape workforce development policy in his Roadmap for America's Future. It's based on competition -- 100% of AmeriCorps funds are competed every three years -- there are no presumptive providers or guaranteed grantees. Unlike many government programs, those who don't perform don't get refunded, and those who break the rules have their grants pulled early. AmeriCorps is outcome-focused -- every AmeriCorps program establishes and reports on progress toward outcomes. And it leverages private sector support -- this year, nearly every federal dollar was matched by a private sector contribution.
All that is important. But the most important reason for liberals, moderates, conservatives and everyone else to support AmeriCorps is the critical role it is playing in solving America's biggest problems. Take education.
City Year, an AmeriCorps program, is helping end the dropout crisis by putting extra human resources in schools to keep students in school and on track. In a pilot study, it significantly reduced absenteeism and behavior problems - and increased student performance in math and reading. It has a robust plan to reach 50 percent of the nation's dropout factories, a goal that can't be met without AmeriCorps support.
Experience Corps, also an AmeriCorps program, is helping struggling readers achieve literacy by the end of third grade. Research documents that found that kids tutored by Experience Corpsmembers, who are adults aged 55 plus, make more progress in reading than their peers.
Jumpstart, another AmeriCorps program, starts even earlier, with preschoolers. With the support of the college students in Jumpstart, these low-income preschoolers start school ready to read in greater numbers than the kids who didn't get the extra attention.
With AmeriCorps support, Teach For America is filling hard-to-fill teaching positions with America's top college graduates, who are outperforming even experienced teachers in many schools. This weekend, 10,000 program alumni are gathering in Washington, DC, to celebrate the 20th anniversary of Teach For America. Almost all of these alumni -- amazing people who have, for the most part, stayed in the teaching field, or become education reformers, principals, civic leaders, and social entrepreneurs -- were AmeriCorps members. And if AmeriCorps had not funded the organization in the early 1990s, Teach For America would probably have folded, if one is to believe Wendy Kopp's own account of the early years of the organization.
Without AmeriCorps, these programs and others like them will have to reduce their reach dramatically, or close sites all together.
Other organizations beloved by Americans have similarly relied on AmeriCorps support in small or large part -- Habitat for Humanity, the Red Cross, and Boys and Girls Clubs all receive resources, as do thousands of grassroots groups. If the House conservatives have their way, who knows how many of these bedrock neighborhood organizations will have to shut their doors or turn away people in need?
We do know that as many as 100,000 jobs will go away if AmeriCorps is zeroed out as Chairman Rogers proposes.
For nearly two decades, AmeriCorps members have been doing the hard work of building educational and economic opportunity in hard-hit neighborhoods across America. Zeroing out the program will have immediate economic consequences in every one of those places.
And it will have lasting consequences for our country if we turn away the time and talent of those willing, but not able, to serve. That's something all of us should appreciate, whatever our ideology.

Popular in the Community