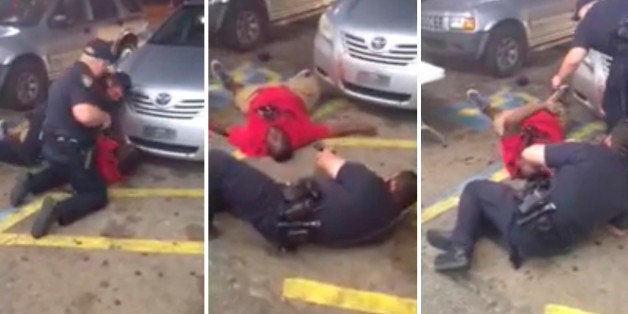 It's a headline we have become all too familiar with: "police kill (another) black man." Cell phone video, filmed by witnesses in a nearby car, is now circling the Internet. The footage provides at least some of the details from the shooting death of 37-year-old Alton Sterling in Baton Rogue, Louisiana.
The sad thing: both of these cops will eventually go free.
48-seconds of video
It's nighttime, but the video still captures two police officers outside a convenient store yelling at an African American man to "get on the ground!" One cop rushes the man, now identified as Alton Sterling, then throws him on the hood of a car and the two tumble down onto the pavement. The assisting officer quickly comes in to help physically restrain the suspect. As the first officer appears to frisk Sterling, the cop yells, "he's got a gun, gun!" The second officer takes out his firearm, points it directly at Sterling and says: "You fucking move, I swear to God!"
Over the next two seconds, some unintelligible words are spoken, and there appears to be some sort of struggle, where Sterling and the officers move. Two shots ring out, presumably from the officer's gun.
At this point, the camera quickly pulls away and the onlookers in the car begin screaming. Then two or three more shots seem to be fired in the background. One person in the car says the cops just "killed this boy."
A preliminary autopsy report states that Alton Sterling died from "multiple gunshot wounds to the chest and back."
What the law upholds
Witnesses claim that Sterling did not brandish a gun and that the officers removed the weapon from his pocket after the shooting. However, early reports suggest that the police first tazed Sterling and they can easily claim they feared for their lives, since they discovered a gun, told Sterling not to move, and he continued to struggle.
From a legal standpoint, the Baton Rouge officers will argue that they acted with "due force" while detaining Sterling.
If history is any indicator, the officers responsible for this death will walk free, just like the officers responsible for the deaths of Tamir Rice, Eric Garner, Freddie Gray, and countless others. (Four officers are still up on charges in the Gray case, though legal experts predict the outcome will likely follow the two officers already acquitted.)
The cops who shot Sterling will not be held accountable because the law protects their lethal use of force. At the same time, the law denies Sterling's Constitutional rights of "due process" under the law and his protection against "cruel and unusual punishment."
In many ways, this is how legislation has been structured throughout U.S. history: to favor law enforcement and subjugate the rights of African Americans and other people of color.
Another statistic
Those who knew Sterling remember him kindly as a member of the community who liked to joke with others. With permission from the owner of the convenience store, where he was shot, Sterling sold CDs and DVDs to make a living.
Unfortunately, Alton Sterling will become another statistic. Those numbers represent the fact that African American men are disproportionately killed by law enforcement everyday -- and are twice as likely to have police triggers end their lives.
Latinos and Native Americans are also killed by law enforcement at disproportionately high rates, and police harassment is a regular occurrence in their communities. Altogether, people of color accounted for almost half of 1,134 police killings in 2015, even though they are only 38 percent of the total U.S. population.
African Americans, Native Americans, and Latinos make up the majority of those killed by police while unarmed (54 percent in 2015). These officers rarely see jail time or receive reprimand for these actions. Law enforcement has killed 560 people (and counting) already this year and into the tens of thousands over the past few decades.
Routine
It's unfortunate that the law protects cops who escalate tense situations instead of de-escalating them and using non-lethal force. But this is not only one percent of police officers or just a few bad apples -- it's systematic and routine.
And the routine will continue. If he touches on it, President Obama might stand before cameras distraught at the shooting. Hillary Clinton may reignite her call for police to wear body cameras -- although police were wearing cameras when they shot Sterling, authorities claim the devices were knocked off during the struggle.
Republicans won't say much at all, though the real estate mogul might chime in to blame the victim who was "resisting arrest" -- and mass media will be all over this, reporting his outlandish, yet now ordinary, comments. The NRA will remain silent on Sterling's 2nd Amendment gun rights.
When we think power is out of our hands, it's important that we continue to speak up, make sure people hear the message, and continue to put pressure on authorities for restructuring the police system in our communities.
The bottom line is not about whether or not these officers go to jail; they won't. It's about gathering support and continuing to recruit people to a movement who haven't yet been receptive to the message.
The task before us is finding ways to get everyone to stand up to demand changes that will ensure all people are treated equally and fairly under the law.
Popular in the Community