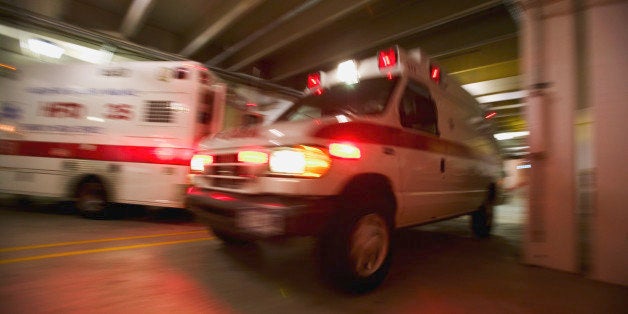 Imagine you were involved in a motor vehicle accident and an ambulance needed to come to the scene. Imagine further you are unconscious. The paramedics know absolutely nothing about you, and likely cannot get any information. Some information could be critical to your survivability, such as your underlying medical conditions as well as any medications you might be taking.
What if, it's not an accident but a traffic stop? Before the police officer even exits his car, he has already reviewed significant information about you - including past traffic violations, previous arrests or warrants, as well as your height, weight, and age. Based on this information, the officer has made an assessment of risk before he approaches the car. And it doesn't matter what jurisdiction you were in. The information is accessbile and available everywhere. And it meets the law enforcement officer's needs for your safety as well as his.
Isn't the need to provide the best care at an accident equally as important in getting information about our traffic violations? Now I know that these issues aren't exactly the same, and health issues can be complicated. But this is 2015 and if we can wear watches that receive texts, surely we can create health care data systems that meet our needs both in and out of hospitals and doctors' offices.
I know we are making progress, but it's not enough. Why can't I access information electronically from any hospital in the country that a patient was recently discharged from? And please don't quote me the classic "privacy" concerns. Although there are some legitimate privacy concerns, that's too often used as an excuse. As it stands now, if I want information about a hospital or emergency room visit you had while travelling on vacation, I would need to spend an enormous amount of time getting release of information forms signed before I could even begin the dance of faxing back and forth! Yes, faxing! I think doctors' offices remain the last bastion of places that still rely on faxes.
I am by no means an expert in health IT, but I do know that we need to demand more from these systems. And that includes more interoperability, easier access, and up-to-date information. Patients need to start demanding more from these systems. Physicians can only do so much in trying to improve and simplify systems; the general public also needs to get involved. Just as patient groups have worked hard to increase insurance coverage as well as foster drug development, now is the time to turn attention to electronic health records.We need your active involvement and your demand for a better, more user-friendly system that meets your needs as well.
Because don't you want your paramedic to know as much about you as a cop?