This week is World Creativity and Innovation Week (which runs April 15-21) and in honor of it, Emmy-winning filmmaker and Founder of "I Sell the Shadow," will be posting a series of articles outlining the importance of building meaningful and sustainable relationships between artists/innovators and the global health and development community.
One of the most challenging aspects of making development films is ensuring they get seen. Creativity matters for global health advocacy because utilizing innovative distribution strategies can help a film and its message reach a wider audience.
Back in 2003, given my background in global health and my new found passion for documentary filmmaking, I wanted to make a film for the upcoming Cairo +10 and Beijing +10 conferences. Considering they were high level gatherings where heads of states and civil society leaders would come together to review progress made in women's reproductive rights, I wanted to highlight an issue that was not getting the attention it needed. I decided to make a film on a horrific childbearing injury called obstetric fistula for two reasons. One, there were hardly any films done on the issue at that time. And two, despite the fact that over two million women around the world were living with obstetric fistula and an estimated 50,000 new women were developing it each year, hardly anyone knew about it. So I felt making a film would generate a much needed discussion at the UN conferences and with the general public about just how far we are from fully realizing women's reproductive rights.
When I started looking for funding, I was turned down by every media funder and production company I approached (one actually asked why anyone would want to see a film about poor women in Africa who "urinated on themselves" and more importantly, how would his company would make money.) So, I decided to approach pioneering organizations who were doing ground-breaking work on the issue. I asked for small funds from a variety of leading global women's health organizations (UNFPA, EngenderHealth, International Center for Research on Women, Women's Dignity Project, Global Health Council, and One by One. Collectively, with their funds I was able to complete my 15-minute advocacy film, LOVE, LABOR, LOSS on obstetric fistula that I shot in Niger.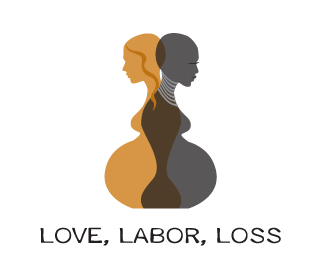 Preview to 15-minute advocacy film, LOVE, LABOR, LOSS.
The film was finished in 2005 and premiered to an engaging audience at the Beijing +10 conference. I was excited to get the film out. However, I quickly learned that not too many film festivals program UN/NGO advocacy films and broadcasters don't fund programs that are financed solely by UN/NGO entities as they are deemed too "promotional." Social media outlets including YouTube did not exist at that point, so I had to come up with different means to get the film seen. I ended up doing something completely unexpected.
I took the film on tour across the United States.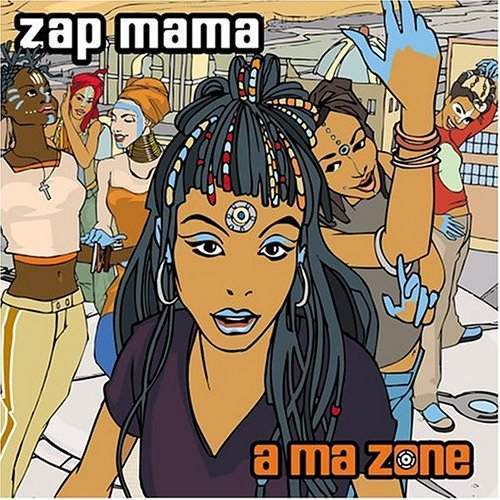 Preview Zap Mama's song, "Rafiki", here.
While completing LOVE, LABOR, LOSS, I had managed to secure pro bono rights to the song, "Rafiki" by the incredible Afro-European artist, Zap Mama (of Congolese-Belgian background) who had already done work promoting global women's health with CARE. Zap Mama was the perfect artist to collaborate with given her African roots and influence on women of the African diaspora. After the film was completed, Zap Mama (aka Marie Daulne), her manager at the time, Angie Aguirre and I decided to join forces for her 2005 nationwide tour and "The Woman Tour" was born.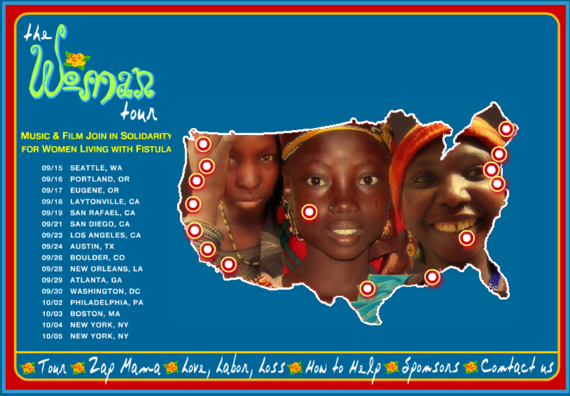 Check out the full "The Woman Tour" website here.
Although I could never imagine myself traveling across the United States with a band on a tour bus (!), I spent three and a half weeks with inspiring female artists and musicians witnessing the incredible impact that performing artists, especially of Zap Mama's authenticity and caliber, have on helping to share a positive message about women. At each city, I worked with Planned Parenthood's VOX community of student activists to schedule screenings at local universities during the daytime and set up a "merchandise table" for the film at the show in the evenings. We partnered with different organizations and student groups in each location. For our debut event, we collaborated with PATH in Seattle and invited David Loud, the Community Liaison for the Office of Representative Jim McDermott (D-WA) to say a few words and speak about the "Repairing Young Women's Lives around the World Act" (H.R. 2114) that was introduced by Representative Carolyn Maloney (D-NY). Several screenings ended with a special acapella performance by Zap Mama.
What I learned from that tour (which set the model for my film outreach activities ever since), is how cross-pollinating two artistic worlds - her music world and my film world - helped each of us reach new audiences around a common cause. Music and film reach different parts of our brain (a musician friend of mine once said, "your art requires people to sit down and thin while mine asks people to get up and dance.") Through film and music, we translated the issue of women's reproductive rights, to make it more accessible and digestible to a wider audience.
In addition, we were able to highlight the great work of the sponsoring organizations who, of course, couldn't accompany us on the tour. At each event, I distributed fliers and brochures from the sponsors which helped share their work. What transpired from that tour was the creation of a new community of "fistula advocates" around the country (with many of African descent) and a plethora of additional screening requests from student and community groups interested in supporting women living with fistula. Some ended up raising funds for the organizations (one student raised $14,000!), some started global health clubs and others shared what they learned in their schools and with family and friends.
Fifteen years later, I still screen LOVE, LABOR, LOSS each summer for 350-400 high achieving high school students at the National Youth Leadership Forum on Medicine in Boston. It was overall a very successful example in how creativity helped bring a film about a relatively unknown issue to the mainstream.
Some concluding suggestions for UN/NGO agencies producing and distributing advocacy-type films:
PROMOTIONAL VERSUS CHARACTER-DRIVEN FILMS: Decide who your audience is then decide what is the best type of film to make. In my experience, people tune out when films are too promotional for the organization, campaign or a cause. Illustrate the issue through strong and multidimensional characters, show a transformation of characters and shy away from repeating typical development jargon. Distribute the film with additional resources on the issue instead of trying to cover everything in a short film. Use the film as a tool to illicit interest by an audience who will take their own initiative in researching more information. Finally, create innovative calls to action that you can end the film with or provide as an additional resource to really work toward affecting change.
WORK CLOSELY WITH THE FILMMAKER: As an artist, the filmmaker has an invested interest in getting his/her work seen. By working closely with them, you are also reaching their extended networks. Invite them to screenings, promote them on your social media, and engage them in the brainstorming sessions on how to get the film widely distributed instead of seeing them only as a "work for hire". Remember, they have experience making films, showing films, and their knowledge about the film and film festival industry can compliment plans by UN/NGO communications experts who do not always walk in the film world.
BRING THE MESSAGE TO THE PEOPLE: Posting videos on YouTube or Vimeo, for example, and promoting them only through their usual networks and expecting tons of hits is unrealistic unless you have something that is an additional draw (celebrity narrator, award-winning film, etc.) While social media is a popular means of distributing messages, you may have better luck reaching a wider audience if you employ creative distribution strategies. Bringing the film to the audience in innovative ways makes it easier on them. Community screenings, cultural events, collaborating with "unusual suspects", etc are some basic suggestions.
THINK OUTSIDE THE BOX: We live in an era where creativity and innovation are encouraged. Pay attention to these sectors and get inspired by the new ways creatives and innovators are working for the social good.
For more information on World Creativity and Innovation Week, follow the hashtag #WCIW on Twitter. Zap Mama performs and speaks on KCRW's Morning Becomes Eclectic program.
Related