For many years e-tailers have been relying on the Amazon-style model of online commerce, whereby a ready-made, in-stock item is shipped to the customer upon purchase. While other methods - like groupon.com, which allows customers to get together and buy products at a lower price - have come along and become successful, few have really challenged the basic Amazon concept.
Over the past two years, online shopping and consumer habits have been evolving. Many shoppers now want products they can say no one else has, and they want them at an affordable price. While online stores can offer lower prices by avoiding certain overhead fees and other expenses, traditional e-commerce sites lack the personal touch today's customers are craving.
In response to this demand, a slew of new start-up companies have rushed to carve out a niche in the expanding market for customized products. With the help of some clever web development, customers now have a never-before-seen level of creative control over the products they purchase.
Among Amazon's extensive clothing range are a great number of mass produced and uninspired dress shirts. ShirtsMyWay.com is one of the clothing companies which have filled the personalization void by allowing shoppers the chance to design their own custom made shirts; including choice of collar, fabrics, buttons, buttonhole color, monograms and a host of other options. Customers can also input their measurements for their custom dress shirts to ensure a great fit.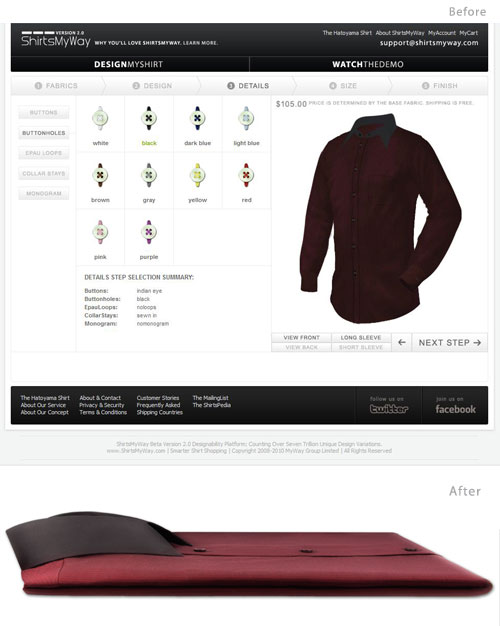 This model solves two problems shoppers face when buying clothing: the fit and lack of flexibility when it comes to the design and style. ShirtsMyWay.com offers shoppers complete customization at a price well below many off-the-rack brand name dress shirts sold through online retailers. ShirtsMyWay.com has so far sold mens shirts to over 30 countries and has garnered worldwide attention from the press.
Another interesting company, focused on food, is Chocomize.com. This site allows customers to design and purchase their own personal milk, white or dark chocolate bars by mixing and matching dozens of ingredients - like chocolate chips, bacon, nuts, sesame seeds, coconut flakes and cinnamon to name just a few. Chocomize.com has received attention from O! - The Oprah Magazine as well as numerous newspapers and food-oriented websites. So far, the same degree of customization has yet to make its way to Nestle's Kit Kat or Hershey's Almond Joy.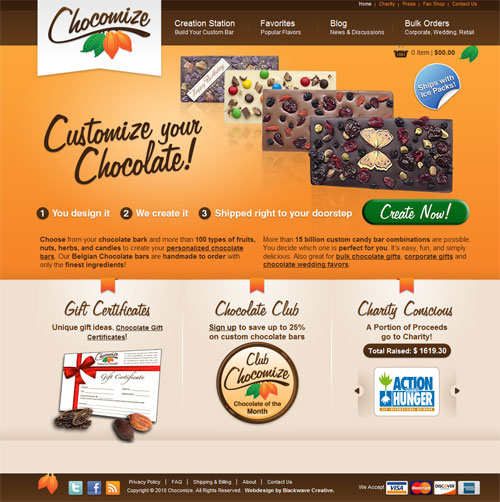 Of course, some of the world's largest brands have also embraced customization to branch out to a wider market. This is especially true in the world of footwear. Several years ago, Nike launched Nike ID, their own online store that allows customers to design their own sneakers in minute detail. Other giants like Puma and Adidas followed suit into the realm of customized products.
Another company, Zazzle.com, managed to make it big through customization. Of all the companies and websites offering customized products, this one perhaps comes closest to Amazon in terms of the range of products it offers - everything from clothes, mugs, hats, postage stamps, stationary and calendars. Already Zazzle.com has managed to rack up more than 50 million dollars in capital and now visited by nearly 3 million unique visitors every month.
When so much is happening in the online customization space, it's surprising Amazon has not taken a more aggressive stance to this angle of e-tailing (although they have attempted to make one acquisition of a some what customization focused start up). Soon the day may come when the giant e-tailers of the world may need to stop resting on their low-priced/ready-made laurels and respond to ever growing demands for unique, one of a kind goods. If they don't, they may be loosing out on a big part of the online retailer market and weakening their position as the main player.

Related
Popular in the Community