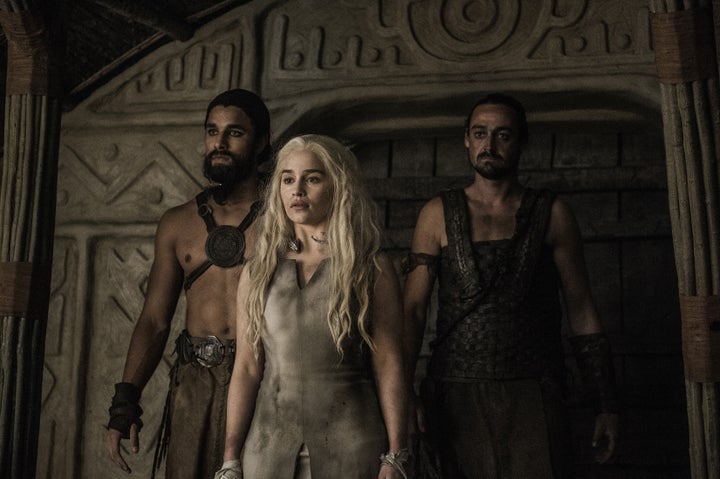 Holika sat on fire with her "Never Letting You Burn" Scarf and the fire ate her- the sad part of Indian Holi Celebration. Coincidentally relating to our Hindu myth of fire and frame, with the same sort of base emerges an inspiring fictional character Daenerys, 'The UnBurnt." Daenerys also known as Khaleesi overcame everything from surviving a storm to being sold to an inhumane killer Khal Dro. Being a sex-slaved wife, to making her equivalent position as Khaleesi, leading an ever-growing army of more than 40,000 strong men and building it further to "Take what is hers with Fire and Blood," the iron throne. Popular with the real name 'Emilia Clarke' has garnered so many accolades and applauds for her stunning acting in the season "Game of Thrones."
Vow that she has grown and groomed, here she is to motivate us all. An epitome of what a woman shall dream to be "A Woman" in real sense. Why she isn't just a fictional characters but an inspiration of fortitude and dauntlessness? She is the one who changed the whole level of 'Male Protagonist Culture' of the Television.
Feminism in today's modern yet mediocre society is mistaken as 'Merely Walking Rallies', indirectly bullied and harassed by men with no stronger arm. Today, both are privileged to raise the voices of their own. Daenerys Targaryen proved her simple approach of utilizing her strong points and uses it at the perfect time. She knew that the hard times are going to end one day but she waited for that moment; patience and persistence made her through every damn hurdle. She is humble though reveng-y, gentle though aggressive, polite but wise enough to destroy the rival army with anything that it could take. Not everyone believes and have faith on themselves in the hard times. In the difficult times of her life, she stood by her conscience and made the right decision to keep the utmost belief in herself. For her worth and some quotes why she is an ideal for women, here are some famous quotes that led her become the most influential women of the Television and is in the minds of all. "Men wants her; Women wants to be her."
"When my dragons are grown, we will take back what was stolen from me and destroy those who wronged me! We will lay waste to armies and burn cities to the ground!"
"The next time you raise a hand to me will be the last time you have hands."
"You are small men. None of you are fit to lead the Dothraki. But I am. So I will."
"You're both here to advise me. I value your advice, but if you ever question me in front of strangers again, you'll be advising someone else. Is that understood?"
"Unsullied! Slay the masters, slay the soldiers, slay every man who holds a whip, but harm no child. Strike the chains off every slave you see!"
REAL LIFE. REAL NEWS. REAL VOICES.
Help us tell more of the stories that matter from voices that too often remain unheard.