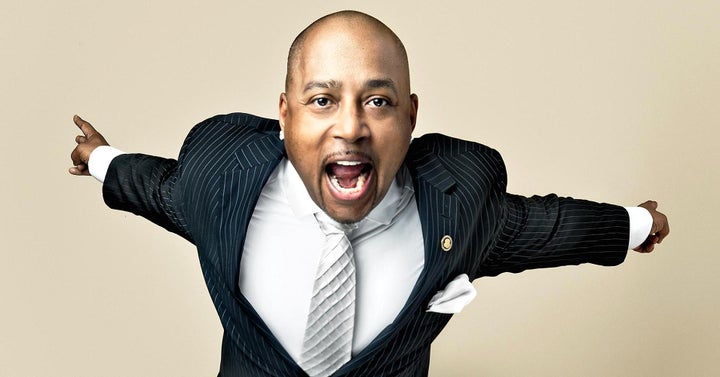 An exclusive interview with the new book that's ready to transform the way we view (and break) the rules of branding.
Two years and three rewrites in the making, David Brier's new book, Brand Intervention, is just about ready to start transforming the way we view the rules of branding.
"It's the job of each of us to rescue ideas, dreams and inspirations before they reach the junk heap of compromise and mediocrity. This book is dedicated to that purpose." That's what branding expert David Brier told me when I asked him why he decided to write a book on branding.
I was able to get an early copy and, in short, Brand Intervention is a must-read for today's businesses and startups that want to stay ahead of the endlessly shifting marketing options we all try to keep up with. Plus it has an inspiring Foreword written by none other than Shark Tank star and CEO of FUBU, Daymond John.
The book content and format are killer, unlike any other book on branding I've ever read or seen. It's specifically created for those of us who have too much on plate, or have the attention span of a goldfish (something Brier talks about in his book).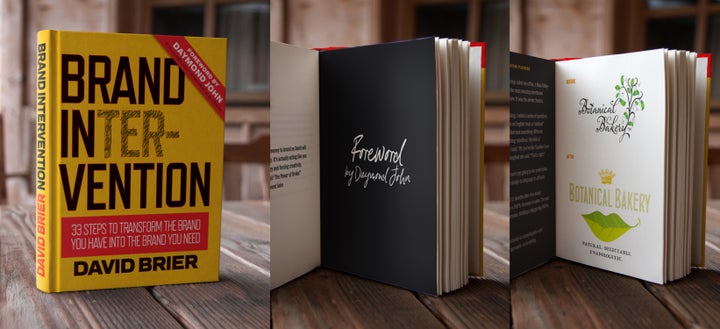 First, I have to ask, how did you get Daymond John to write the Foreword to your book?
"I'd written an article for my Fast Company column on the hit show Shark Tank, a TV show my wife and I loved. I was fascinated about why certain pitches won and others died on the show. So I wrote down the four qualities I saw amongst the winning pitches and the entrepreneurs who pitched them.
"After seeing my article, Daymond (who I didn't know at the time) blew my mind and tweeted: 'Best article ever written about Shark Tank…'
"THAT was freaking awesome. Of course, I retweeted it.
"Up to that point, Daymond and I didn't know each other! Then one thing led to another and now we're friends and collaborate on different things.
"So, when I started looking at writing the book, I asked Daymond about writing the Foreword, and his response was 'Yes.' "
I heard Gary Vaynerchuk Wants Your Sneaker? What's That About?
"It's not like Gary has a foot fetish, at least not one that I know about! (laughs) The story's actually simple.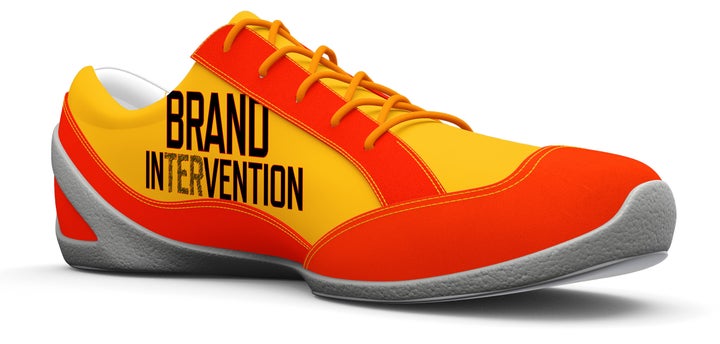 "Gary was approaching his 42nd birthday mid-November. On that same day, his sneaker with K-Swiss was coming out so there was this buzz building around his sneaker.
"So, I thought, "Shit! I love this idea of a sneaker and with my book coming out, I thought what would be more perfect for Brand Intervention than to have a sneaker for my new book!?
"So I designed a sneaker with the Brand Intervention design and colors and tweeted it with the image of the sneaker, thanking Gary for his inspiration.
"Not more than 15 minutes went by when Gary retweets it with the three words I'll forever remember, 'I want it.'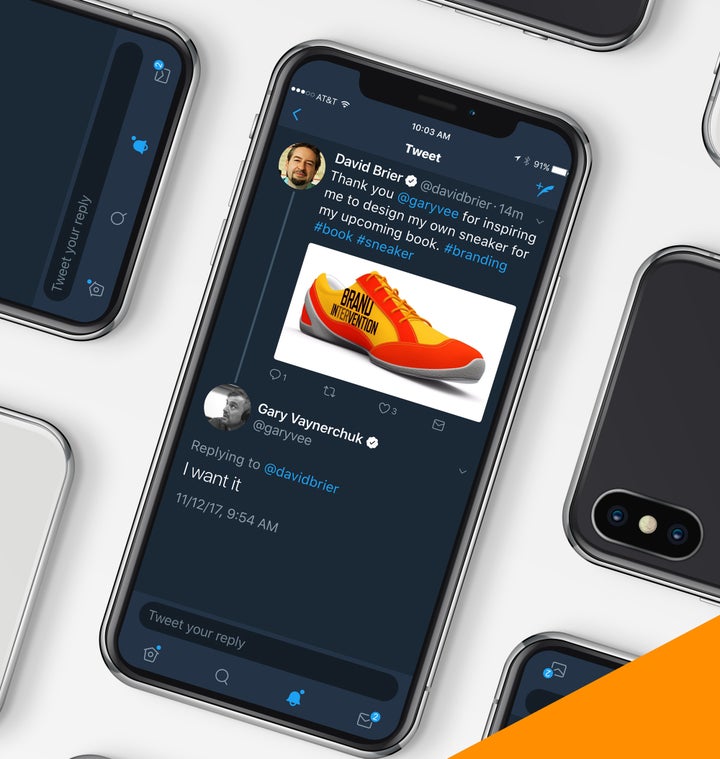 Some things have evolved since then, but I'll share that as it evolves."
With there being 8,000+ books on Branding, Why Write Another?
I kept hearing one complaint from clients, business owners and colleagues: business books were too long to read. They needed the information now. No fluff. No unnecessary words.
"So, with super short chapters, and zero fluff or filler, I culled all the same principles and strategies I used to help various companies achieve some amazing results:
"These strategies helped a boutique chocolatier triple sales—300%— in 30 days.
"They helped a city increase its tourism 500% in 12 months.
"They helped NYC's premier skin care expert increase new customers 800% in 3 months.
"They helped a Napa Valley startup increase sales 300% the first year and another 300% the second year, for a total of 900% increase in sales in 24 months.
"And they helped a longtime client (and now friend) Stu who, after retiring from his fourth IT company for a whole 5 days, started another new company. That was six years ago when we first sat down and developed the name, the brand, and the company position. Six years later, his startup is now valued at $250 million."
"I knew this information was needed as it always is. That's why I wrote it."
The Book Format Isn't Like Any Book I've Ever Seen. Why Write a Book on Branding, When There Are So Many Out There?
"I was tired of all the 300-page business books I'd read that have 8 pages of brilliance and 292 pages of fluff. This book is my answer for all the CEOs, brands, startups and entrepreneurs who don't have time to read a book on branding.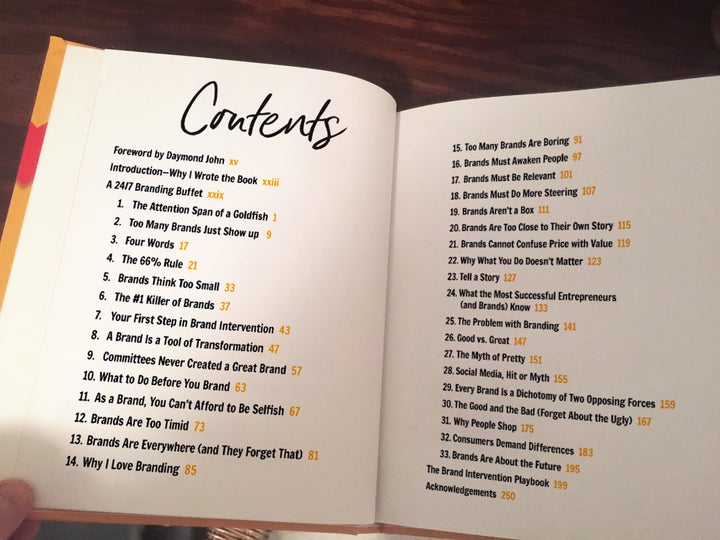 "Part of it was the frustration of 'keeping up with all the changes' I kept seeing and hearing around me.
"After I'd found out there were 8,000+ books on Amazon on branding alone, I was dumbstruck by that amount of books on one vitally important business tool.
"I knew from experience branding was simpler and that none of the 28 million entrepreneurs in the world have the time or luxury to chew threw all these books to isolate and find (like buried treasure) the few truly useful bits and core fundamentals.
"So while technology is changing practically everyday, I saw there were principles I would always go over with brands with every project. Those principles and strategies somehow never changed. That is what is included in this book with one major addition I've thrown in: the Brand Intervention Playbook which showshow some of these brands used these principles. You see what was done which is why it's a full-color book cover to cover.
"You not only get the exact insights you need to grow your brand, you also get to SEE how they're used.
"And I designed it so it would be a super-fast read that you could complete on an airplane ride."
Last question: I keep hearing about this "Cure No. 34" Chocolate You Designed and Had Manufactured for the Book Launch. What's That About?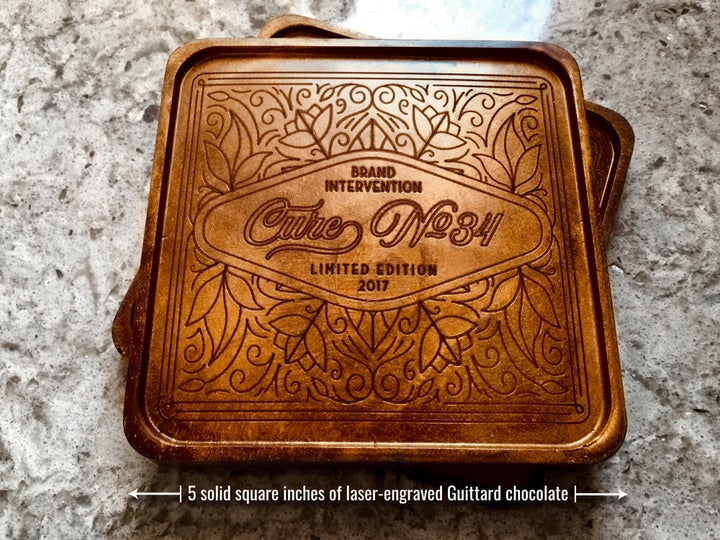 "I had a ball with that part of the launch. It's all part of an exclusive Webinar we're having on December 13th. I had to come up with various exclusives you could only get at this Webinar. The result was dark chocolate (of course!), an exclusive roasted whole bean coffee, some signed copies of the hardcover and exclusive posters of The Rules of Brand Intervention.
"First, I designed and hand selected the finest roasted coffee in America and we now have Brand Intervention Coffee which hints at being able to cure shyness. (laughs)
"Concerning the chocolate, the book's subtitle is: 33 Steps To Transform the Brand You Have into the Brand You Need.
"The inside joke was this: the book outlines 33 steps to transform any brand into the brand it needs to be.
"What if by some weird set of factors, the 33 steps didn't help you achieve the exact results you were seeking?
"The answer: Cure No. 34 since fine dark chocolate pretty much cures anything which we're making available to the first 30 purchasers that day of the hardcover edition of the book from Amazon. We even took a page from Apple's playbook and compared the chocolate's thickness to an iPhone."
Thanks for Fitting This Interview into Your Schedule
"Thanks so much for fitting me into yours! Really appreciate it."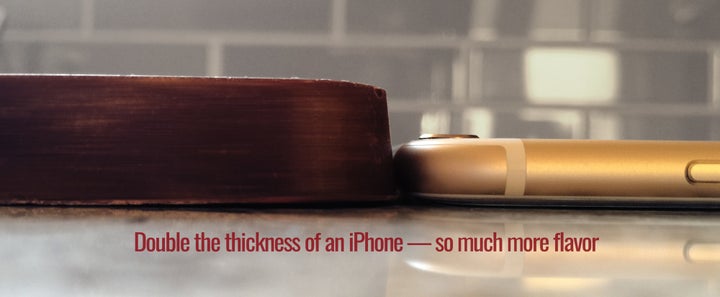 Related
Popular in the Community