The two-weekend-long Desert Trip that's billed as a "once in a lifetime concert" opened Oct. 7 and resumes next weekend and features rock legends The Rolling Stones, The Who, Bob Dylan, Paul McCartney, Neil Young and Roger Waters. Given the lineup and the setting on the Empire Polo Grounds ― site of the Coachella music festival ― Desert Trip quickly earned the moniker "Oldchella." And while there were a fair number of Woodstock-goers there ― including me ― there were plenty of differences between the two events. Here's what Desert Trip had that Woodstock lacked.
1. The Rolling Stones and Bob Dylan.
As legend has it, Dylan was physically in the neighborhood of the Woodstock Music Festival but decided not to play. He brought that same "my fans mean nothing to me" 'tude to Desert Trip where he played just an 80-minute set and didn't say a word to the audience. Not. A. Word. While diehard Dylan fans will likely tar and feather me for saying this: a little audience engagement would have been nice. Also, what's the point of those big screens if not to be able to watch the pinhead-size musicians on the stage up close? Dylan allowed the cameras to show him for the first few songs then switched to old newsreels.
But The Stones! The Stones! Those septuagenarians pranced and strutted their stuff for a full two hours. Mick Jagger told the boomer-heavy crowd that he wasn't going to "do a bunch of age jokes." And then in the next breath, the 73-year-old called the three-day concert "the Palm Springs retirement home for genteel English musicians." Keith Richards told the crowd how glad he was to be here, and added "I'm actually glad to be anywhere." We feel you, Keith.
The Stones played hits including "Wild Horses," "Miss You," ''Gimme Shelter," '"Midnight Rambler" and "Sympathy for the Devil." When the band closed with "Satisfaction," fireworks lit up the desert sky. And yeah, there was lots of lighting up.
2. Desert Trip lacks the hardship factor, but it'll cost you.
"There is always a little heaven in a disaster area." That was an announcement from the stage at the Woodstock Festival of Music and Art and Aquarian Exposition, August 1969. The festival organizers ― no one actually ― had anticipated the huge crowd. There weren't enough bathrooms, food or water. It rained torrentially, the area and everyone in it was soaked in mud. Only one-third of those who reached the festival stayed the full three days. The other two-thirds succumbed to the physical discomforts, perhaps not quite believing the mantra from the stage that, "If we all share what we have with those around us, we'll all have enough."
Mud-less Desert Trip had plenty of food and nobody leaves early. The food wasn't a bargain, but they didn't run out of it. The Culinary Experience package will set you back $175 per person per day for gourmet dining. Or you can pay $11 for a cup of Coors. But with this monied crowd, nobody was complaining.
Heck, even the bathrooms were air-conditioned. And the lines for them were short, a fact perhaps attributable to the $11 Coors.
3. Nobody questions authority at Desert Trip, but politics were certainly present.
Questioning authority was the whole premise behind Woodstock. A generation united behind the music to end a war, shun materialism, and maybe get stoned and laid because we could. It began with concert-goers tearing down the perimeter fence and declaring the concert "free."
The security fence at Desert Trip reportedly cost just under a million. Security staff were omnipresent. You couldn't move down a row to an empty seat without being busted and sent back to your seat. No fence-tearing-down. No gate-crashing.
And yes, politics were alive and well. Neil Young joked about Roger Waters' performance and said, "Come back tomorrow night. They're going to build a wall and we can make Mexico great again." And Waters did so in spades.
The Pink Floyd legend brought a statement-making political pig balloon with him — making clear that he's not a Donald Trump fan. The balloon read "ignorant, lying, racist, sexist, pig" and "f— Donald Trump and his wall" stenciled alongside a scary illustration of a skull-headed, gargoyle-like Trump.
Tell it, bro. The performance sure beat watching Trump-the-stalker during the second presidential debate.
4. The times are a'changing.
McCartney nailed it when he said, "We know which songs you like," because his view from the stage is a sea of cell phones. "When we play one you don't know it's like a black hole out there."
Woodstock will always be Woodstock. Here's hoping these guys are around long enough for a Desert Trip redux.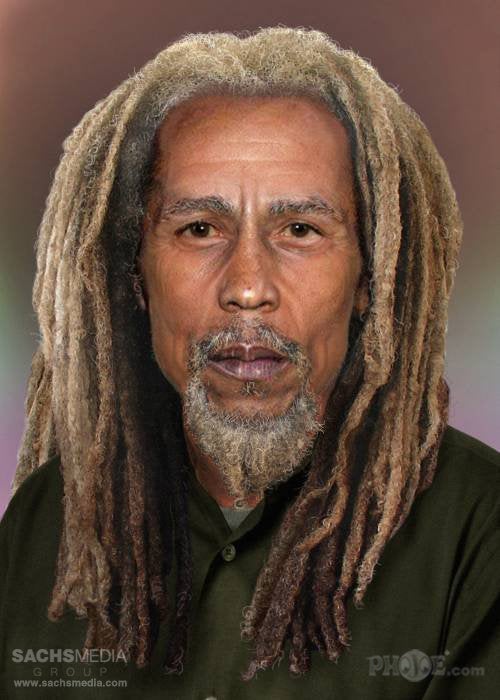 If Dead Rock Stars Had Lived...