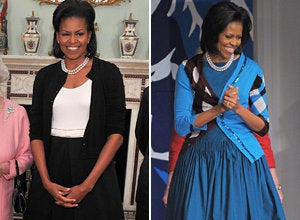 When Oscar de la Renta lambasted Michelle Obama last week in Women's Wear Daily for wearing a cardigan to meet Queen Elizabeth II - sniping, "You don't go to Buckingham Palace in a sweater" -- he betrayed a disdain for the First Lady's sense of style that is at the heart of the fashion establishment's criticism of her.
Since the Inauguration, I've been hearing fashion insiders - designers, journalists and scholars complain that many of Michelle's clothes by the relatively obscure U.S. designers Jason Wu, Isabel Toldeo and Thakoon Panichgul don't fit right or are unflattering. They think that Michelle doesn't have enough fashion savvy to know what looks good on her, and that she's relying too heavily on Ikram Goldman, owner of the eponymous Chicago boutique, to choose her outfits.
De la Renta, Donna Karan and Vera Wang have gone on record saying that Michelle should start wearing their clothes and other luxury labels, what WWD calls "the big guns of American fashion... whose names resonate around the world."
The designers say that Michelle will help the struggling fashion industry if she spreads her sartorial self around. But it's hard not to read in their complaint a note of condescension. How can Michelle, who comes from a working class background and probably doesn't know the difference between silk ziberline and silk twill, dare to snub them?
Since the beginning of Fashion, designers have had no trouble upholding a tradition of imperiousness. Snobbery is part of their world and dates back to the Court at Versailles and Louis XIV, who invented the kind of luxury dressing that requires rules and constant reinvention. The modern standard for snootiness was set in the nineteenth century by Charles Frederick Worth, who became famous making clothes for Empress Eugenie, wife of Napoleon the Third. Worth was the first couturier to present his clothes at biannual fashion shows and the first to sew a designer label into his creations. He required clients to have a letter of introduction to get past his front door, and he sometimes turned away a woman whom he deemed too old or fat, or simply because he didn't like her hat.
Ever since, fashion has been all about exclusion - this, despite the fact that some of America's greatest designers, including Halston, Bill Blass and Norman Norrell came from humble homes in the heartland. ("There is nothing like the dull, unattractive childhood to give a bedazzled boy the right push," Blass wrote in his memoirs.) But by ascending to the heights of Fashion, they renounced their drab pasts and lived out their dreams in a rarefied world of fabulousness. They never looked back.
The clothes they made were for the rich -- gorgeous dresses, gowns, suits and coats affordable only to a few women of extreme privilege. Some of these women, such as the Duchess of Windsor, Babe Paley, and Jackie Kennedy, became style icons, idealized figures to whom ordinary mortals looked for fashion inspiration.
Michelle does not have the polished chic of a woman who grew up wearing high end creations. Nor is she a clotheshorse who's made dressing the center of her life. She's an impeccably educated working mother who loves fashion, but never aspired to the Best-Dressed list. Fashion immortality has been thrust upon her.
To be sure, Michelle has her champions in the fashion establishment. Anna Wintour and Vogue magazine have been great supporters of the First Lady, and The Council of Fashion Designers of America (CFDA) will honor her this June with a special tribute for her support of American designers. I wouldn't blame her if she didn't show up at the CFDA gala at Lincoln Center, since the diplomacy of the situation seems so fraught. If she wears Thakoon, who's up for the Swarovski award for emerging talent, will she offend Jason Wu, also in the running for the Swarovski, and Narciso Rodriguez (another Michelle favorite) who is one of three finalists for the top womenswear prize?

Last week WWD ran pictures of four looks they thought Michelle should try: a checked coat by Oscar de la Renta, a gray coat with round black buttons by Calvin Klein, and a draped, below the knee dress with cut out shoulders by Donna Karan. My favorite was a photo-shopped image of Michelle's head superimposed on a model wearing an ensemble from Ralph Lauren's fall collection. It's a shimmery gray metallic dress under a gray wool coat - classic, subdued and very Upper East Side. These clothes are, indeed, beautiful and would look great on the First Lady. They just don't happen to be clothes she chose. Let Michelle wear what she wants.

Related