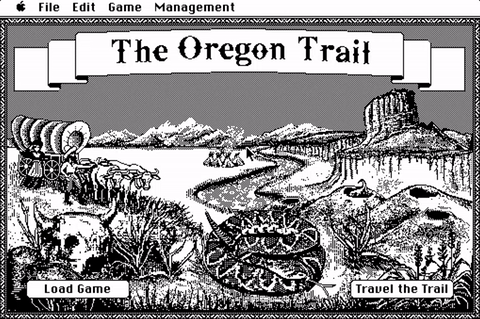 I was out with friends from the East Coast on the night before Thanksgiving in California's western-most metropolis, San Francisco. I'd been in Oregon's Willamette Valley, specifically Portland, just the week before. As we chatted about the HBO hit television show Westworld, this lead to topics not limited to robots, pioneers, reality, and the American West. Naturally, our nostalgia and uninhibited conversation brought us to memories of grade school and The Oregon Trail video game. Every person in our group had vivid, formative memories of playing that game. Talk to any adult between 21- and 41-years old and they'll say the same. Why is that?
How did the The Oregon Trail start?
The first incarnation of Oregon Trail was a dice board game conceived by Don Rawitsch. The game was not unlike Dungeons and Dragons and was designed with the intent to engage students in the history of Jefferson, Lewis & Clark, western expansion, etc. Rawitsch sketched the first version on a piece of butcher paper and traced a path from Independence, MO to Willamette Valley, OR. Like many role playing games, players collected money and goods that could be traded. A roll of the dice determined the player's (mostly dire) fortunes, such as broken legs, wagon axles, and immune systems.

Rawitsch describes his inspiration for the game, which he soon realized could be translated into computer game:
I wanted a game to help me teach about the Westward Movement in the mid-1800s. My partner math teachers knew some programming. We had access to a mainframe computer that did all its communicating via printed text. The result was the first version of what became the most popular educational computer game of the 1980s and 90s. I brought the game to the Minnesota Educational Computing Corporation (MECC) when I started work there in 1974.
In 1971, Rawitsch teamed up with Bill Heinemann and Paul Dillenberger, who had recently learned to program and they agreed to help build a text-based computer version of the game. The trio created the game during a 2-week marathon coding session on a teletype mainframe in a janitor's closet at Bryant Junior High School in Minneapolis, MN.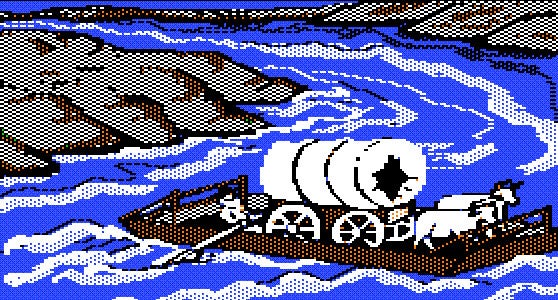 Why Was The Oregon Trail So Popular?
The Oregon Trail sold over 65 million copies and is the most used educational video game of all time. The idea of three teachers in Minneapolis was developed into a game for the Apple II by the Minnesota Educational Computing Consortium (MECC).
MECC was a group conceived by Minnesota teachers and technologists who believed that computers should be part of primary education. Rawitsch went to work for MECC, a few years after first prototyping the game. The organization provided school districts in Minnesota with access to computers and software. In 1973, they were short on engaging software content, so Rawitsch proposed a revival of his game. He ported the code, updated the historical accuracy, improved the portrayal of Native Americans, and optimized the game play.
At the same time, MECC decided to buy Apple II microcomputers (instead of the RadioShack's TRS-80) and bundle educational software and games with the Macintosh. Due to word-of-mouth excitement about Oregon Trail, MECC gave subscriptions in the forms of binders of diskettes to school districts around the U.S. and world. MECC went on to create many other games including Number Munchers, Spellevator, Museum Madness, and Lemonade Stand. This explains why the game was well distributed, but that alone doesn't account for it's popularity.
The Oregon Trail was the first video game many young people played. The game was so successful and was a touchpoint for so many young people too young to be Generation Xers and too old to be Millennials that Anna Garvey uses the term Generation Oregon Trail to define the shared characteristics of people on the cusp of these generations. According to Garvey, this group of "The Luck Ones" played Oregon Trail in the early 90s during an era of peace and prosperity, before Columbine, 9/11, and the second Iraq war.
The game jumped the shark in some regards in the 1990s when it was ported to CD-rom. The storytelling and history of the trail became more serpentine and the mini-games of skill, such as wagon steering and point-and-shoot bison hunting, became more like Doom-like. MECC was sold to a private company and became part of a consolidated educational software industry that was driven by profits more than education. In a financial fuckup of historical proportions, Mattel overpaid by about $3.6 billion for the company owning all of the MECC games. And despite all the disks sold and money exchanged, the original game creators received basically zero of the game's revenue over the years.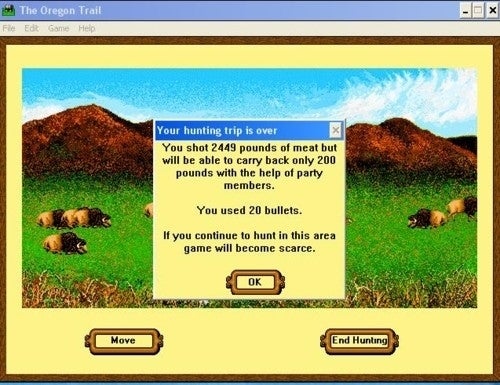 "The original game creators received basically zero of the game's revenue over the years"
What Did Oregon Trail Teach Us?
I don't believe that I ever completed The Oregon Trail game. Perhaps, I'm not alone. The trials, diseases, robberies, and deaths of players in the 1980s were fitting as many pioneers in the 1800s never completed their journey either. Also, it was time for the next class to use the computer lab. In this regard, it is the cantankerous father of games; it teaches you that life is hard via repeated lessons of suffering, loss, and disappointment. It was like a "choose your own adventure" book, but the Sisyphus (or maybe Syphilis) Edition.
As a simulation, it no doubt taught hardship and consequences, but how was the game successful as an educational tool?
Students certainly learned more about cross-country trip planning and the history of American western expansion than they otherwise would have ever retained into their twenties and thirties. The usefulness of this knowledge— say the ratio of oxen to yokes— is debatable, but clearly demonstrates the importance of play and self-discovery in learning:
When the object of a game is to teach, it's natural to want to guide players' behavior from the very beginning toward that goal. But play, by its very nature, is an unstructured activity. Intent is important when designing a game, but it's better to allow players to arrive at that intent organically, rather than wave it in their faces. — Why Oregon Trail still matters, Dennis Scimeca
Interactive play with other people's stories has the unique capacity to teach empathy and ethics. It's the flip side of HBO's Westworld, where players seeks escape and vice. Oregon Trail allowed you to embody others and rise to the challenge of something you were not, remarks Joe Streckert, and thereby it achieved the promise of educational games years before video arcades or virtual reality.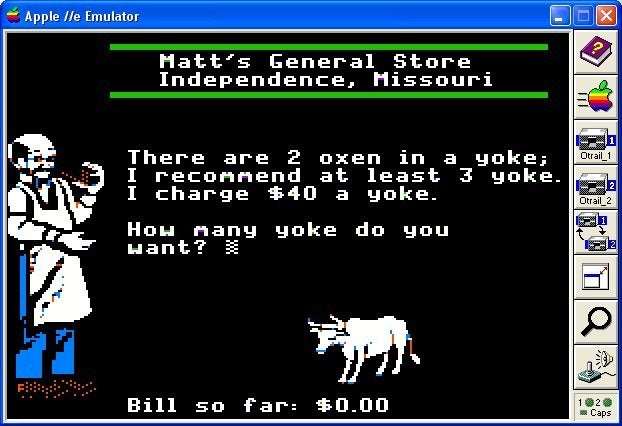 As Garvey writes, the game problem taught us less about history, than it did technology:
But, when we first placed our sticky little fingers on a primitive Mac, we were elementary school kids whose brains were curious sponges. We learned how to use these impressive machines at a time when average middle class families were just starting to be able to afford to buy their own massive desktops.
This made us the first children to grow up figuring it out, as opposed to having an innate understanding of new technology the way Millennials did, or feeling slightly alienated from it the way Gen X did.
Oregon Trail and the Apple II mark a key milestone in history. It was the first simulation game—or game, period— for millions of first-time computer users. It was an interface for starting to understand the machines and simulators that now govern nearly every aspect of our lives.
"It's hard to think of another game that endured for so long and yet has still been so successful. For generations of computer users, it was their introduction to gaming, and to computer use itself."
Happy trails and thanks for taking a moment to read this article. Below are places on the web where you can play the game and trace the trail. This article is a waypoint in my research into computer simulations. Follow along here and on Twitter (@stevepepple).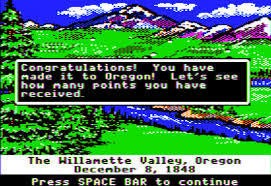 REAL LIFE. REAL NEWS. REAL VOICES.
Help us tell more of the stories that matter from voices that too often remain unheard.