As we reported earlier today, Barry Silbert may soon find himself in regulatory hot water. The influential New York-based Bitcoin financier, whose Digital Currency Group acquired leading cryptocurrency outlet CoinDesk, is accused by some members of the community of influencing markets with his clout - and profiting from such influence.
For all intents and purposes, Ethereum Classic is a worthless scam. The major cryptocurrency exchange BTC-E agrees, and recently stated Classic is just that: a "scam."
Last weekend in Palo Alto I had a chance to wade deep with some of cryptocurrency's best, and I didn't hear much in favor of Classic's legitimacy.
Ultimately, however, it is regulators that will decide. Is the shameless promotion of "Classic" a violation of the spirit of U.S. securities laws?
Certainly, some believe the tone and coverage of CoinDesk's reporting has shifted since Mr. Silbert's DCG acquired it. Here are some examples from late July: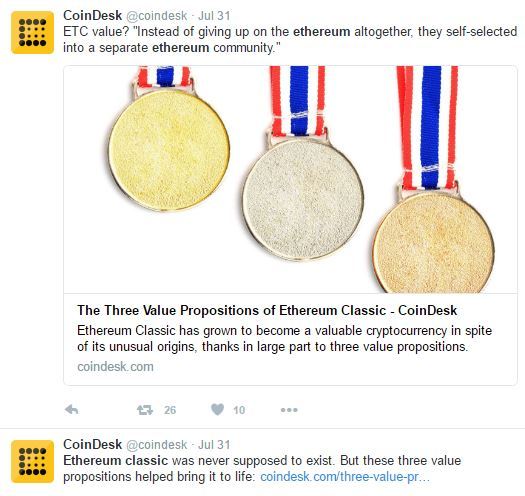 Is this wrong? It's not for me to say. If penny stock pumpers bought their own media outlets, however, it would make it much easier for authorities to prosecute them.
Disclosure: At time of publication, I hold some bitcoin, ether, US dollars, and gold in my long term portfolio. As I held ether at the time of the fork, I also have a "Classic" position by default but have not sold any - Classic is a scam and I am uninterested in profiting from the sale of duplicate tokens.
Popular in the Community