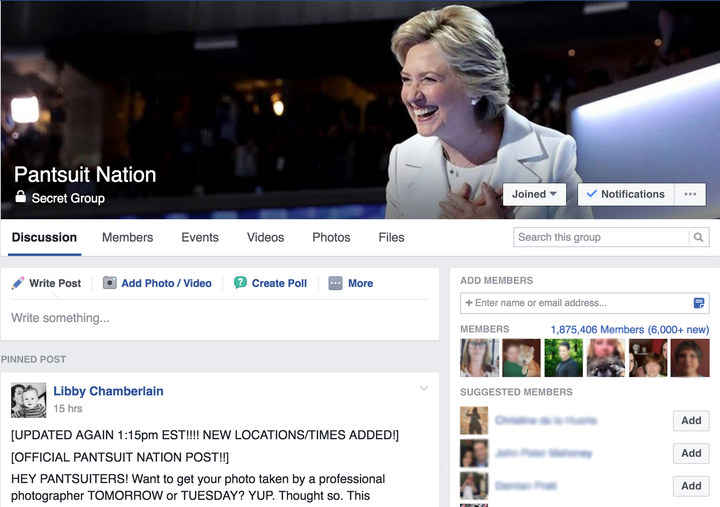 Why have two million people supporting Hillary Clinton joined the secret Facebook group Pantsuit Nation in just two weeks?
Libby Chamberlain wanted a place for Clinton supporters to have a positive discussion about the Democratic nominee, her policies and the positive reasons why millions of women, indeed millions of Americans are voting for her to be the first female President of the United States.
So she formed the secret Facebook group Pantsuit Nation that's sweeping America.
"It was the morning after the third debate," Chamberlain, who is a Maine resident, told me on Miami's 880 the Biz radio, "and I thought Hillary looked incredible in her pantsuit and I was chatting with a friend of mine that I wanted to wear a pantsuit on November 8th to honor her and think about the symbolism of the pantsuit and what it means to women's rights and the fight for equality in our country"
Within 24 hours, the group supporting the Democratic nominee had 24,000 followers and it kept growing and growing and growing.
It's become a rare positive island in a grossly negative presidential campaign.
In between the time we spoke and the interview was broadcast, over 200,000 new members had joined the secret group, which can only happen when another member ads one of their Facebook friends.
Inside, one will find hundreds of individual stories of perseverance, of camaraderie and heartfelt stories from every corner of America.
There's stories in the Pantsuit Nation group that you won't find anywhere else on the internet, which is why this underground community of Clinton supporters is growing rapidly.
"The pantsuit is often misunderstood or maligned in our culture, especially by younger people. It's considered a dowdy symbol or only for people that don't have a lot of style." said Chamberlain about her secret Pantsuit Nation Facebook group, "I wanted to re-appropriate it as a feminist symbol, but also as something we can really use to celebrate Hillary Clinton."
"She really loves her pantsuits and we love her for it."
Calling all HuffPost superfans!
Sign up for membership to become a founding member and help shape HuffPost's next chapter