"Bill O'Reilly settled a sexual harassment lawsuit by his former producer last night, ending what he called a 'brutal ordeal' without an apology," the Washington Post reported. The article is titled "Bill O'Reilly, Producer Settle Harassment Suit," with the sub-header, "Fox Host Agrees to Drop Extortion Claim." It's also from 29 October 2004.
To my knowledge this is the earliest public instance in which Fox News, who is as of Wednesday is O'Reilly's former employer, paid a settlement due to accusations of sexual harassment by women working for or with The O'Reilly Factor. When the story first came out, O'Reilly defended himself vigorously, saying, "please do not believe everything you hear and read," when referring to revelations about the case. Remember, if journalists are accurate in reporting on the details of your own actions, just call it "fake news".
I'd like to give a brief aside to another recently sacked sleazeball: former Fox News CEO Roger "Red Like Raw Hamburger Meat" Ailes. Last summer, former Fox News anchor Gretchen Carlson won a settlement from Fox News to the tune of $20 million after she recorded audio of sexual advances made on her by Ailes. More and more women got in touch with Carlson's lawyer with their own stories painting a similar picture: Roger Ailes would promise these women career success if they performed sexual favors for him, and would threaten their careers if they refused.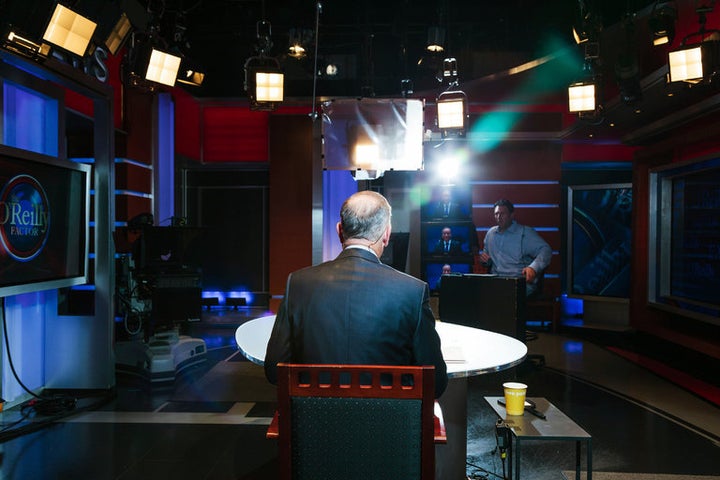 (By the way, just to address my favourite argument in these cases: when male public figures are accused by multiple people of sexual violence, there is a rush to paint those speaking out as hungry for money. We saw it with Bill Cosby. Nevermind that these people have not an ounce of comprehension for the complex ways in which pain and trauma manifest itself in survivors of sexual violence, here's a simple fact: when multiple people all come out with stories that match those of people you've previously settled similar cases with, it's not gold-digging. It's evidence.)
Here's what should now be obvious: Fox News, like many corporations, is an absolutely hostile organisation for women. Roger Ailes and Bill O'Reilly are predators, but with each settlement paid on behalf of these two pervy pricks, Fox News Channel and parent company 21st Century Fox are enablers. By looking at a cost-benefit analysis of disciplining O'Reilly and Ailes when these accusations arise vs. paying hush money, FNC and 21st Century Fox showed that they are complacent to harassment so long as their top sources of revenue are pleased. When you don't punish bad behaviour, it continues.
Through increasing media attention on the allegations and irrefutable evidence, it is finally the right corporate decision to let go of Ailes and O'Reilly. Even though 21st Century Fox is reportedly under a culture change (as staunch conservative Rupert Murdoch has handed over his multinational media empire to his two more liberal sons) but Fox deserves no credit for making moves to end the toxic culture that they have perpetuated. Can we talk about Fox News' actual coverage? Media Matters made a great compilation video featuring instances of sexism on Fox News that only covers things 2015 and before. Just last December I ripped O'Reilly apart for his use of racist rhetoric to divide Americans (video below). He has a history of racist statements against the Black community (which are in retrospect a special brand of irony when you read into some of the details of his sexual allegations)
Bill O'Reilly has been spewing toxic rhetoric and harassing women for more than a decade. Breitbart is a relatively new outlet, but The O'Reilly Factor has been the media brand for Trump-style politics since the second Bush administration. The difference between now and then is that advertisers are speaking with their money and that hurts the bottom line. Don't downplay how shameful and disrespectful this is to Fox's employees, its audience and the news media itself. This kid-glove treatment of sexual harassment in the workplace must be stopped to send a message to newsrooms, offices, and lecture halls across the world that mutual respect for other human beings must always come before protecting high-profile offenders.
I attend UC Berkeley, a prestigious university at which faculty are routinely accused of and not appropriately disciplined for sexually harassing fellow faculty members and students. The dean of our law school admitted to sexual harassment, and yet will be able to keep his tenure and will remain on faculty for another year, after which he will "voluntarily resign."
When people feel unsafe in their own homes, we often call that domestic violence. When people feel unsafe in their universities, their workplaces, and in their careers — where their livelihoods are on the line — why is it that the more one gets paid, the less responsible one is to be a decent human being to one's colleagues?
To 21st Century Fox, to UC Berkeley, and to all other institutions who give sexual predators with high salaries a slap on the wrist at the expense of those who are more vulnerable, don't be sorry. Be better.
Calling all HuffPost superfans!
Sign up for membership to become a founding member and help shape HuffPost's next chapter