NEW YORK, New York -- More than 25 years after the bloody contra war in Nicaragua faded from the nightly news broadcasts of network television, this small Central American country is about to make its return to American consciousness.
This week the Emmy award-winning reality TV series Survivor premieres its 21st season (Wednesday, September 15, 2010) filmed near the tourist center of San Juan del Sur, Nicaragua.
For 14 weeks on prime time fall television, an average of 13 million U.S. households will tune into the show. The program, which will also be rebroadcast in 154 countries, is expected to singlehandedly do more to change Nicaragua's international image than any other effort over the past three decades.
Families gathered in their living rooms will see luscious jungle, virgin beaches, and yes, bikinis. And while plenty of natural beauty and elite pockets of privilege do exist in Nicaragua, this glamorized image couldn't be any farther from the reality of struggle and oppression faced there today. Violence against women, attempted murder of U.S. citizens, and even illegal seizure of U.S. owned property has been happening with increasing frequency in the past few years.
This has left me feeling uneasy. Let me explain.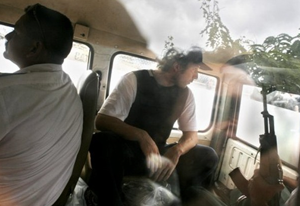 In 2006, while living in Nicaragua, I learned that my ex-girlfriend had been found dead in her clothing boutique in the same San Juan del Sur -- brutally beaten, raped, and strangled. Two days later, I found myself wrongfully accused of her murder, imprisoned, and ultimately sentenced to 30 years. I suffered subhuman conditions, illness, deadly riots, a lynch mob, and torture at the hands of Nicaraguan officials who enjoyed using my case as a political touchstone in backroom negotiations with Washington. It wasn't until a former CIA operative got involved that I was freed in December 2007, after spending more than a year in a maximum-security prison.
I published a memoir on what I experienced, and now lecture on topics of travel safety and arbitrary rule of law. At a recent brown bag, a law student asked how I "felt about Survivor doing Nicaragua". Around the same time I started to receive emails and see posts on my Facebook and Twitter pages expressing "disgust" over Survivor: Nicaragua.
At the time I didn't feel the need to take a position. That is, until the following happened:
Out of the blue, I received an email from the host and executive producer of the show, Jeff Probst. In very few words, he politely, yet directly queried -- "wondering where the rights stand, what kind of exposure your story and book has had". I responded, "to be honest, many people were quite surprised by the announcement that Survivor chose Nicaragua as a production location considering what has gone on there -- not only with my case, but those of several other American citizens under Ortega's administration." I also asked why he was interested in who controlled life rights to my story. "Collaboration" I asked? He never wrote back.
I wondered why one of the biggest television personalities in history would be concerned with how much exposure the story of an American framed for murder in Nicaragua had received? Why no response? Two weeks before CBS announced the new season's location, a show from that same network, Inside Edition suddenly and without explanation canceled a segment they had started to produce on my story and book. Strange, I thought, until I discovered that both shows shared the same distribution company.
CBS also published a "fact sheet" stating that Nicaragua was chosen for "the country's natural beauty and the high level of support from the government." This being the government of Daniel Ortega -- current president and former communist leader of the 1980's, who continues to flagrantly violate his own constitution in order to remain in power.
I believe it also might be appropriate to ask the creator of the Survivor franchise, Mark Burnett, for a response to the annual terrorism report just released by the State Department accusing Nicaragua, under Daniel Ortega, of having "a corrupt and highly politicized judiciary that could be taken advantage of by terrorist", as well as "expanded ties with Iran." The same Iran that currently holds hostage the American hikers, Sarah, Josh, and Shane.
Even Oliver Stone's recent film South of the Border has received heavy criticism for the way he misrepresented some of Latin America's leftist leaders in a sympathetic light and glossed over crimes committed under their rule. Although I agree with most of the film's critics, at least Stone can point out that all he did was interview his subjects. Survivor, on the other hand, has partnered with the government of one of the most outspoken anti-American leaders in the world today.
It seems that pop culture critics, turned off by the Stone film, would logically hold Survivor accountable in the same way. Or will it take some future season to be shot on location in the "Killing Fields" of Cambodia, at the gates of Auschwitz, or on the beach in Aruba where Natalie Holloway vanished in the night for people to take on this reality giant?
The Nicaraguan Tourism Ministry and the show's producers are skillfully claiming that the show will propel a tourism surge that will help Nicaragua. Even the ailing real estate market has suddenly coined the phrase "The Survivor Factor" and is boasting that it has suddenly become an investor's paradise.
Undoubtedly, there will be short term benefits. The production claims they will have created 200 jobs for the duration of six weeks. Nicaragua needs long-term sustained investment, not just one season of Survivor.
Although primetime TV has never claimed to be responsible and the discussion on power of media is nothing new to the blogosphere, CBS's choice is none the less a cynical ploy that will generate misinformation about how people are living in Nicaragua and more importantly will allow the perpetrators violating human rights in Nicaragua to further avoid notice. For many of us Americans the realities of terror, oppression, abuse, and injustice are kept far from their door. With primetime TV failing to reveal the full story, maybe Americans aren't fully to blame for our reputation abroad of ignorance when it comes to the global neighborhood.
Of course it's not all bad, the host has visited an orphanage and brightened some faces.
Popular in the Community