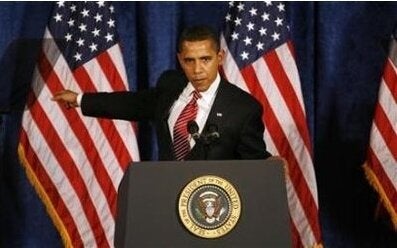 I love Helen Thomas. During the past eight years she was the only reporter who stood up to Bush, took on this rotten war, and, in general, acted like a journalist. Last night, the great hall looked like it was populated by a president, a reporter, and 11th graders from local high school newspapers. I think I saw a cub reporter from the Dillon, Texas high school paper. (sadly, not Lilah Garrity).
Ms. Thomas' moment came when she asked the president about nuclear proliferation. Her question ended with the query: does he know of any Middle Eastern state with nukes?
Why did she ask that? She asked it to see if Obama would refuse to respond as previous presidents have. The answer is Israel, of course. And everyone knows it. In fact, the State Department has published reams of material about JFK's concern about the Israeli bomb. Israeli politicians talk about it. Every Arab in the world knows about it. And Israel's nukes are its number one deterrent against attack by Iran -- and everyone knows that too.
But Israel has a policy of not talking about its nukes in any official capacity because acknowledging them might lead to Israel having to sign the NPT and opening itself up to nuclear inspection.
So Israeli Prime Ministers try (not always successfully) not to acknowledge that Israel has a nuclear arsenal while ensuring that everyone knows it does.
That may be a sensible policy...for Israel.
But why is it our policy? Why is the American president forbidden from being honest on such a critical subject. Answer: there is no reason, unless we are to believe that Israeli policy guidelines, by definition, apply here as well.
So why did Obama refuse to answer? Simple. Because if he did, the media would have reported it as a gaffe. Reporters either know nothing about the Middle East or, for the most part, have adopted Israel's perspective.
Had Obama spoken the truth, the media would have made his "blunder" the story of the night. He cannot afford that because, frankly, we have more important things to worry about, like rescuing the economy.
So I don't fault Obama. But I salute Helen Thomas. Next time she should ask how he felt about those pictures that came out of Gaza. As the father of those two precious girls, we all know how he felt. But it would help America in the eyes of the world if he'd just say it.
Popular in the Community