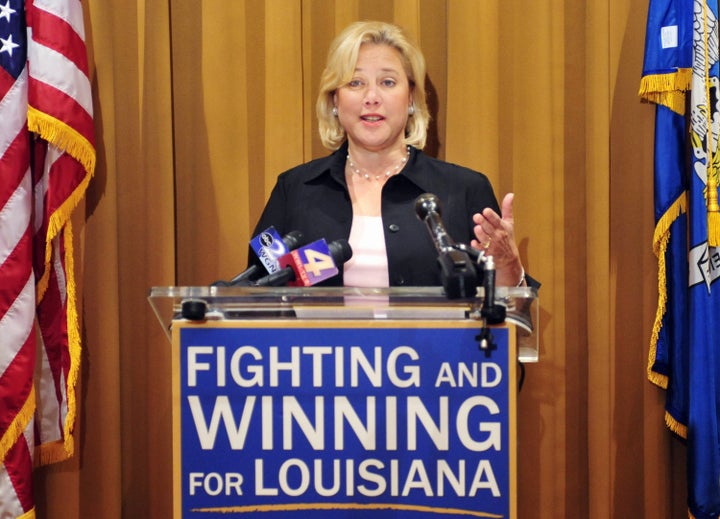 When a political campaign returns dirty donations, it usually releases a statement of some kind praising the integrity of the candidate. So why didn't the campaign of Sen. Mary Landrieu (D-La.) say anything when it donated $25,300 in campaign funds to the U.S. Treasury Department in August 2008?
Progressive watchdog group Citizens for Responsibility and Ethics in Washington noticed the donation and wondered if it had something to do with an investigation by the Senate Ethics Committee. In January 2008, CREW had asked the committee whether Landrieu violated Senate rules in 2001 by requesting a $2 million earmark for the Voyager Expanded Learning literacy program for D.C. public schools -- "a mere four days after receiving $30,000 in campaign contributions from company executives and their relatives."
The committee announced it had cleared Landrieu of wrongdoing on Thursday, two years after the complaint. To CREW, it seemed odd that $25,300 had been returned during the investigation.
Landrieu's campaign said CREW is barking up the wrong tree.
"It has absolutely nothing at all, whatsoever, in any way shape or form to do with the CREW ethics complaint, or Voyager, or anything like that," said Marc Elias, a lawyer for the campaign, in an interview with the Huffington Post.
So why did the campaign return that money? Elias wouldn't say.
CREW executive director Melanie Sloan said she believed Elias' statement that it had nothing to do with Voyager. But she has become even more curious about the donation.
"Now there's something else out there and we don't know what it is!" she told HuffPost. "It may not be Voyager, but I believe something bad happened, and I'd sure like to know what it is... Somehow the money is tainted in some way, and when a senator has a contribution that's tainted in some way the public has a right to know what happened."
Elias said the campaign was protecting the identities of its donors.
"The concern is that these are private citizens who in most instances may not have done anything wrong," he said. "So to throw them in an article that scratches an itch that CREW has isn't fair."
Sloan's response: "Too bad. Life isn't fair."
Incidentally, D.C. public school officials did not even want the literacy program. It didn't even rank among the top three when they searched for a new system-wide program in 2005, according to the December 2007 story by the Washington Post's James Grimaldi that prompted CREW's complaint.
Grimaldi described how Congress' predilection for meddling with D.C. public schools has hurt the system:
"The Voyager story...highlights the haphazard way that curricula end up in the District's classrooms," he wrote. "For many years, educators have said that the patchwork of instructional material is one reason the city's students hover near the bottom of rankings in national test scores."
Popular in the Community