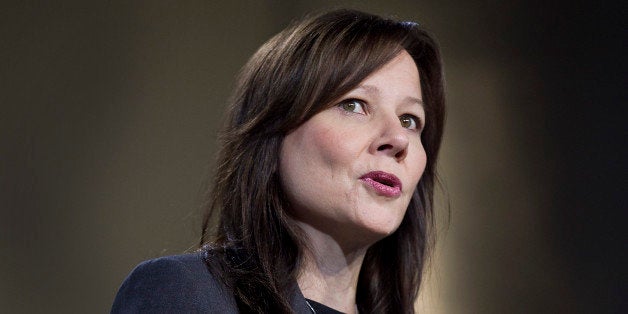 During Thursday's Today Show interview with Mary Barra, CEO of General Motors, Matt Lauer asked her if she can be a good mother and run this company. There's plenty of commentary on the Internet discussing the validity of Lauer's question. After all, it's doubtful Lauer would have asked a male CEO that same question. But what's more disappointing than Lauer's question is Barra's response: "I think I can. I have a great team ... and I have a wonderful family and a supportive husband, and I'm pretty proud of my kids the way they're supporting me in this."
Earlier in the interview Lauer noted that many believe Barra was appointed CEO because she is a woman and a mother, in an effort to give the company a "softer touch." She responded firmly by stating she was selected for the job based on her qualifications.
So when Lauer asked the question about whether she can run a company and be a mother, why didn't she call him out on the biased nature of the question? Barra could have stated that gender shouldn't play a role in being a CEO or leading a company. Sadly, she missed a huge opportunity for herself and fellow female executives.
This is a time when Sheryl Sandburg is telling women they need to "lean in" and be part of the executive roundtable, while so many women are choosing to opt out of executive roles because of family commitments. Barra is an example of a working mother who has successfully climbed the corporate ladder. For her to defend her position to Lauer appears as if she needs to justify her choice to have children and a successful career.
To be sure, nearly every woman in America has questioned whether she can be a good mother and have a career. Barra probably confronts the reality of that situation every day. But the fact is, she chose to lead General Motors. She does not have to defend that choice to Lauer simply because she's a mother.
Related
Popular in the Community