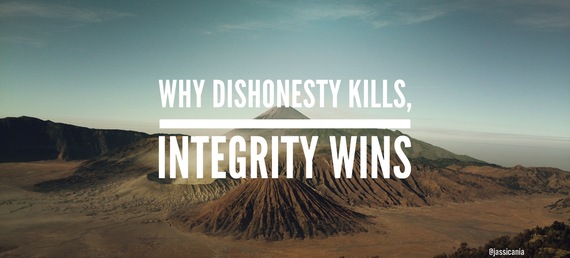 From my recent experience of Life, I have come to see that that is a very common way of being wherein people feel that it is necessary to be say something which is less than the truth, all in the name of survival.
As you already might know, telling the truth, and being honest isn't exactly the easiest thing to do. It stems from the fear of what others might think of you, and it relates to our natural human desire to want to be socially accepted and fitting in. And what's more, in the career line, and corporate society, it seems to me that it is more for the sake of being able to get that next promotion, or to get a better 'deal' if you like. It is for the sake of pleasing the other person who is higher up the rankings than you, so you can get yourself in their rated 'A' book.
Gosh, what a way to live.
Now, I realized I have changed much for as I grew older, I realized my capacity to say 'no' grew as well.
I stopped being willing to say 'yes' to things that goes against my gut feeling. I stopped filling my brain with countless doubts of 'Am I wrong?, What did I do?', to looking at things in an overall context, and preventing myself as much as I can, to be a victim of another's moods.
That does not prevent me however to feel like as though I am caught in the scheme of things of being compromised because other people have a way of being and behaving which is completely unlike mine.
(Anyone else feels the same way?)
So for a while, I felt this ultimate sense of discomfort which gnaws at my gut and my heart. My facial skin definitely shows for it because I broke out in pimples far more than I could count in the last 2 months.
I am a lover of the New thought, age old knowledge and wisdom, and indeed, it has helped me through my darkest times. However, what I have found is that sometimes, such New age or spiritual advice or wisdom has been overly abused where it is completely misunderstood and hence used wrongly.
So let's talk about the age old advice of the New Age proclaimed "Self-love"; in the form of Integrity, in the context of Transparency, Truth and Honesty with yourself.
Now this is not about some overly abused New age or spiritual morally justified theory of 'I love and accept myself, so I don't need to care about what others think of me and so I am going to do my own thing, and you do yours.'. Nor is it about some fighting for the survival for your own personal viewpoints by insisting that you are right and others are wrong.
No, rather, this is a balanced, all rounded, grounded approach in managing your own values and expectations while at the same time being able to navigate your way around your daily life and relationships, and sometimes this really involves putting your feet down, and a hand up saying 'Sorry, I can't do this.'
Ultimately, it is up to you as to what you personally desire to uphold as personal principles and values.
For me, given my tolerance of dishonesty, and less than the truth and transparency has drastically reduced, I am much less willing to say or do anything that does not reflect the truth, even if the truth might not sound pretty. Nor am I willing to undertake anything which goes against the boundaries I have set for myself hence saying 'No' has become a common occurrence recently.
And quite frankly, the sleepless nights ain't worth it.
So let's dissect a few simple ways on why the title of this article is at it is.
Who do you have to live with for the rest of your life when you push against your own integrity?
You.
Who lives with that burden of guilt, shame and blame?
And we all know all of that creates some psychological impact on our mind and soul, which then can have a not so wonderful impact on our bodies.
With enough integrity and value for yourself and what you uphold, I.e your principles and values, you will be more aware of situations where your integrity, self-honor might be wavered and therefore, you will be likely more inclined to put yourself in a better position to be able to handle it.
Oh, and you have nothing to hide. #SelfConfidenceTipNo.1
Also, why do you want to live with all the mental discomfort which dishonesty brings?
#IntegrityBringsSanity.
Listen folks, this is a touchy subject I agree, with being honest and transparent with yourself and others. I can already hear people saying 'She ain't know what she talkin' about' but seriously, take it from me.'
Nothing is worse than going against yourself, going against integrity with you, your principles and values, and being dishonest with you. And once you're become good at being honest with you, I can bet that you will become a bit more uncomfortable with not being honest with others as well. So, you might want to start telling the truth to others as well then.
The more we do this, the more we get better at it. And if the more of us start doing this, the more we begin leveling out the playing field in the corporate world and in all your relationships too. And once being honest and transparent becomes a society norm, the world will then become a little bit better, if not a better place.
Note:
Being in integrity has resulted in sense of lightness, freedom, instead of the feeling of burden and heaviness which have engulfed the author her whole adult life. Also, she sleeps better, lives a little more care freely without all the guilt and burden, and does not have to deal much with those horrible huge pimples breaking out overnight.
Catch her on Instagram: @jassicania and her website: https://www.jassicania.com/